Aggie Newsroom
Latest News
N.C. A&T Professor Partners with Greensboro Parks & Rec, Hayes-Taylor on Edible Garden
An N.C. A&T State University adjunct faculty member, a community advocate, Hayes-Taylor YMCA and North Carolina Cooperative Extension in Guilford County have partnered with Greensboro Parks and Recreation to create the edible community garden program at Gateway Gardens.
Aggie Headlines
North Carolina Agricultural and Technical State University Junior Journalism and Mass Communication multimedia student, Denver Lark will spend approximately two months traveling the country as a 2018 Chevrolet and National Newspaper Publishers Association (NNPA) "Discover the Unexpected (DTU)" Journalism Fellow.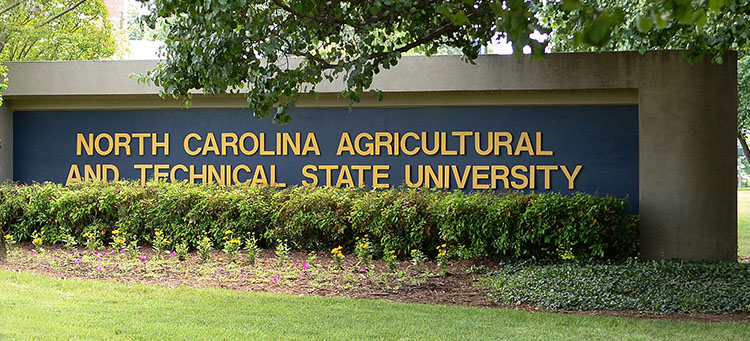 As Congress considers the Farm Bill and agricultural appropriations, agricultural researchers from a variety of disciplines are updating Congressional members and staff on research covering current challenges and emerging threats in agriculture, food, and natural resources.
While working at his internship at the John F. Kennedy Space Center in Florida last academic year, applied engineering technology student Dominique Breland hatched the idea to compete in a nationwide, National Aeronautics and Space Administration (NASA) competition with his friends.
Featured Expert
Radiah Corn Minor
Associate Professor, Animal Science
Research Interests: Cell and molecular biology, mammalian immune regulation, health and immunity.
Expert Faculty Directory
Points of Pride
Largest HBCU

N.C. A&T is the largest public HBCU in the nation

Engineering

N.C. A&T is the No. 1 producer of engineering degrees on the undergraduate level awarded to African Americans.

Admired CEO

Chancellor Harold Martin Sr. is named among the Triad's Most Admired CEOs by the Triad Business Journal.

Academic Excellence

The university's Center for Academic Studies in Identify Science is the first and only National Intelligence Science and Technology CASIS in the United States.

Higher Research Activity

N.C. A&T is classified as an R2: Doctoral University of Higher Research Activity by the prestigious Carnegie Classification of Institutions of Higher Education.

Teaching / Research

N.C. A&T is the highest-ranked public school for combining research and teaching by the Wall Street Journal.

Engineering Professor and Student

N.C. A&T is an inaugural and pioneering tenant of the innovative Union Square Partnership for healthcare training.
2016 MEAC Champs

N.C. A&T Women's Basketball team are the 2016 MEAC Champions

Bowl Champs

Aggies win 2015 Inaugural Air Force Reserve Celebration Bowl and Black National Championship.

Tarik Cohen

Running back Tarik Cohen broke the university and MEAC record becoming the MEAC all-time leading rusher.

Hall of Fame

The 1968 Aggies football team was inducted into the N.C. A&T Sports Hall of Fame as the first A&T team to win a black college national championship.

Aggie Track & Field

Three track & field athletes are named to the NCAA All-Academic team for excellence in their events and in the classroom; maintaining a minimum 3.25 GPA.

Kim Terrell-Kearney

Former professional bowler Kim Terrell-Kearney named N.C. A&T bowling coach

Track & Field Ranking

The United States Track & Field and Cross Country Coaches Association ranked A&T men's track and field team among the top-25 in program history.
Gail Wiggins

JOMC Professor Gail Wiggins selected as the NABJ Educator of the Year

PALO! Lyceum Series

The Band PALO! performed at N.C. A&T for the Lyceum Series

CD - Jazz Preeminence

A&T Theatre arts performs first production of "Radio Golf" by African American playwright August Wilson.

Theatre

The Theatre Program at A&T was the first accredited Bachelor of Fine Arts (BFA) at an HBCU in North Carolina; second in the nation.

Black Nativity performances

The Theatre Arts Program is nationally ranked by Black Broadway as one of the top five Theatre Arts programs for African American students

Travis Alexander

Travis W. Alexander has been named National Conductor for the 105 Voices Of History National Concert Choir