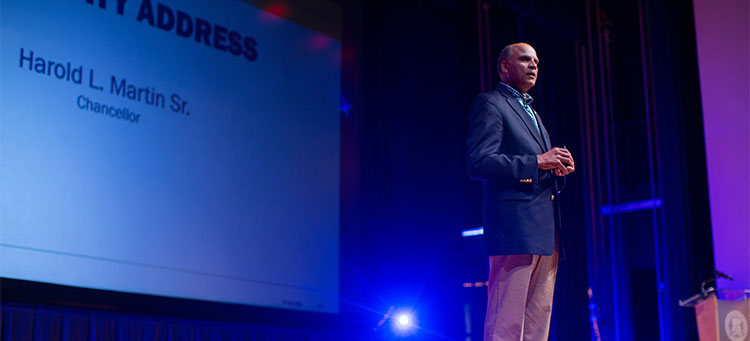 Focusing on Advanced Student Performance, N.C. A&T Opens 2019-20 Academic Year
EAST GREENSBORO, N.C. (Aug. 21, 2019) – On the heels of a grand and inspiring opening day for faculty and staff, North Carolina Agricultural and Technical State University Chancellor Harold L. Martin Sr. recapped the previous year and forecasted anticipated successes for 2019-20, continuing the momentum of his key question to faculty and staff, "Do we want to be transformative?" in a press conference on the first day of class.

Martin shared current university successes as well as the substantial areas where the university intends to be a transformative land grant, doctoral research university. Among the achievements in 2018-19:

Enrollment reached an all-time high of 12,142 students, an increase of 2 percent from the previous year, indicating N.C. A&T State University's elevated academic profile continues to attract high-achieving students.
The university maintained a third-consecutive year of record research funding and fifth year of research growth.


The Aggies football, women's basketball, men's cross country, men's and women's indoor track and field and men's and women's outdoor track and field teams each earned Mid-Eastern Athletic Conference championship titles.


The university is close to fulfilling its $85 million capital campaign goal.


A recent Gallup poll indicated 96 percent of A&T alumni would return and earn their degree again, leading the University of North Carolina System in alma mater attachment and loyalty.
While proud of 2018-19 success, the university continues to strategically move forward, focused on being transformative, offering a competitive academic environment, engaging in community and professional partnerships, and cultivating a safe and secure campus. 

"We have lofty goals for the future. Excellence is not cheap and we have to invest in significant ways in order to support the growing expectations of the university," said Martin. Those expectations include:
Boosting enrollment to 14,000 by 2023.


Acquiring new properties to continue tremendous expansion and constructing a new residence hall to address increased demand for campus housing.


Continuing progress on the Engineering Research and Innovation Complex, deepening the university's engineering instruction and research capacities, growing partnerships with local and regional industry and creating job opportunities benefitting the East Greensboro community.


As an accomplished land grant research university, serving as the standard of a 21st century historically black university.


Building upon a strong record of campus and community safety by using round-the-clock armed and unarmed law enforcement personnel, a campus-wide camera monitoring system, Aggie Alert emergency notification system and LiveSafe mobile safety app.


Strengthening its sexual assault policy to include more stringent checks and balances, mandatory training, more resources for students impacted by sexual violence and dedicated professional for oversight.


Continuing investment toward East Greensboro development, supporting various initiatives, community groups, relationships, job creation and more.  
A&T is committed to cultivating an advanced competitive environment for students, faculty, staff and community partners.
Points of Pride
Largest HBCU

N.C. A&T is the largest public HBCU in the nation

Engineering

N.C. A&T is the No. 1 producer of engineering degrees on the undergraduate level awarded to African Americans.

Admired CEO

Chancellor Harold Martin Sr. is named among the Triad's Most Admired CEOs by the Triad Business Journal.

Academic Excellence

The university's Center for Academic Studies in Identify Science is the first and only National Intelligence Science and Technology CASIS in the United States.

Higher Research Activity

N.C. A&T is classified as an R2: Doctoral University of Higher Research Activity by the prestigious Carnegie Classification of Institutions of Higher Education.

Teaching / Research

N.C. A&T is the highest-ranked public school for combining research and teaching by the Wall Street Journal.

Engineering Professor and Student

N.C. A&T is an inaugural and pioneering tenant of the innovative Union Square Partnership for healthcare training.
2016 MEAC Champs

N.C. A&T Women's Basketball team are the 2016 MEAC Champions

Bowl Champs

Aggies win 2015 Inaugural Air Force Reserve Celebration Bowl and Black National Championship.

Tarik Cohen

Running back Tarik Cohen broke the university and MEAC record becoming the MEAC all-time leading rusher.

Hall of Fame

The 1968 Aggies football team was inducted into the N.C. A&T Sports Hall of Fame as the first A&T team to win a black college national championship.

Aggie Track & Field

Three track & field athletes are named to the NCAA All-Academic team for excellence in their events and in the classroom; maintaining a minimum 3.25 GPA.

Kim Terrell-Kearney

Former professional bowler Kim Terrell-Kearney named N.C. A&T bowling coach

Track & Field Ranking

The United States Track & Field and Cross Country Coaches Association ranked A&T men's track and field team among the top-25 in program history.
Gail Wiggins

JOMC Professor Gail Wiggins selected as the NABJ Educator of the Year

PALO! Lyceum Series

The Band PALO! performed at N.C. A&T for the Lyceum Series

CD - Jazz Preeminence

A&T Theatre arts performs first production of "Radio Golf" by African American playwright August Wilson.

Theatre

The Theatre Program at A&T was the first accredited Bachelor of Fine Arts (BFA) at an HBCU in North Carolina; second in the nation.

Black Nativity performances

The Theatre Arts Program is nationally ranked by Black Broadway as one of the top five Theatre Arts programs for African American students

Travis Alexander

Travis W. Alexander has been named National Conductor for the 105 Voices Of History National Concert Choir