Obare Named American Chemical Society Fellow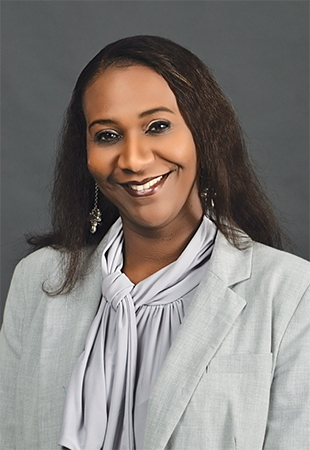 EAST GREENSBORO, N.C. (July 19, 2019) – The American Chemical Society (ACS) has named Sherine O. Obare, Ph.D., dean of the Joint School of Nanoscience and Nanoengineering (JSNN), as a 2019 fellow.
The ACS Fellows program honors two percent of its membership for outstanding achievements and contributions in the field, in addition to exceptional volunteer service to the society.
"We all strive to make a difference in our respective fields, and to be honored with such a rare designation is truly humbling," said Obare. "This recognition means my previous scientific contributions have made a high impact in my discipline and I look forward to using those experiences and accomplishments to bring value to JSNN, North Carolina A&T, UNCG and the Greensboro community."
Obare's nomination recognized her significant contributions to the profession through her work developing novel synthetic routes for nanoparticles and promoting studies to understand their use and impact.
Her nomination further cited her innovative service as technical program chair of the society's Division of Environmental Chemistry by organizing premier symposia and successfully increasing public outreach through the Environmental Film Competition.
Obare has been an ACS member for nearly two decades and has played a significant role in mentoring and encouraging women pursuing careers in STEM, as well as increasing the number of students who pursue STEM careers.
"It's important for young women to consider the benefits of joining professional disciplinary organizations as it allows them to exchange ideas and collaborate with other expert colleagues to solve issues affecting our world, and also creates opportunities for mentorship," said Obare. "I would not have made it to this point without the support and collaborative efforts of others in my field, and the ACS has done an admirable job creating an inclusive and diverse community of great minds."
In addition to this honor, she has received other notable accolades, including the National Science Foundation CAREER award and in 2013 was named as one of the top 25 Women Professors in Michigan.
Obare joins a cohort of 70 ACS fellows and will be formally recognized at the society's national meeting in San Diego this fall.
Points of Pride
Largest HBCU

N.C. A&T is the largest public HBCU in the nation

Engineering

N.C. A&T is the No. 1 producer of engineering degrees on the undergraduate level awarded to African Americans.

Admired CEO

Chancellor Harold Martin Sr. is named among the Triad's Most Admired CEOs by the Triad Business Journal.

Academic Excellence

The university's Center for Academic Studies in Identify Science is the first and only National Intelligence Science and Technology CASIS in the United States.

Higher Research Activity

N.C. A&T is classified as an R2: Doctoral University of Higher Research Activity by the prestigious Carnegie Classification of Institutions of Higher Education.

Teaching / Research

N.C. A&T is the highest-ranked public school for combining research and teaching by the Wall Street Journal.

Engineering Professor and Student

N.C. A&T is an inaugural and pioneering tenant of the innovative Union Square Partnership for healthcare training.
2016 MEAC Champs

N.C. A&T Women's Basketball team are the 2016 MEAC Champions

Bowl Champs

Aggies win 2015 Inaugural Air Force Reserve Celebration Bowl and Black National Championship.

Tarik Cohen

Running back Tarik Cohen broke the university and MEAC record becoming the MEAC all-time leading rusher.

Hall of Fame

The 1968 Aggies football team was inducted into the N.C. A&T Sports Hall of Fame as the first A&T team to win a black college national championship.

Aggie Track & Field

Three track & field athletes are named to the NCAA All-Academic team for excellence in their events and in the classroom; maintaining a minimum 3.25 GPA.

Kim Terrell-Kearney

Former professional bowler Kim Terrell-Kearney named N.C. A&T bowling coach

Track & Field Ranking

The United States Track & Field and Cross Country Coaches Association ranked A&T men's track and field team among the top-25 in program history.
Gail Wiggins

JOMC Professor Gail Wiggins selected as the NABJ Educator of the Year

PALO! Lyceum Series

The Band PALO! performed at N.C. A&T for the Lyceum Series

CD - Jazz Preeminence

A&T Theatre arts performs first production of "Radio Golf" by African American playwright August Wilson.

Theatre

The Theatre Program at A&T was the first accredited Bachelor of Fine Arts (BFA) at an HBCU in North Carolina; second in the nation.

Black Nativity performances

The Theatre Arts Program is nationally ranked by Black Broadway as one of the top five Theatre Arts programs for African American students

Travis Alexander

Travis W. Alexander has been named National Conductor for the 105 Voices Of History National Concert Choir