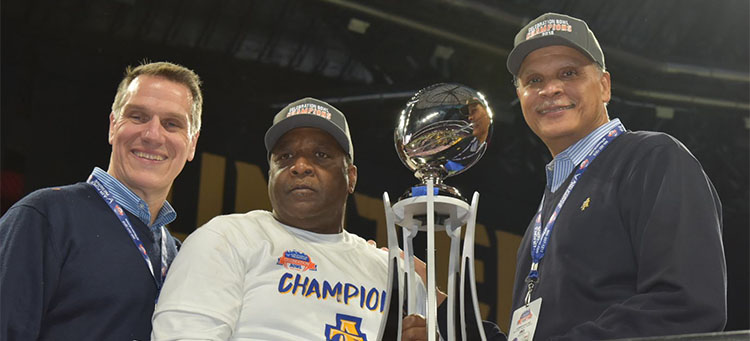 A&T wins third Celebration Bowl in four years
ATLANTA, GA (Dec. 15, 2018) – The North Carolina A&T Aggies captured its third Celebration Bowl title in four years with a 24-22 win over Alcorn State on Saturday afternoon at Mercedes-Benz Stadium in Atlanta.
The Aggies led the entire game, but it was Malik Wilson's 79-yard game winning return with 38 seconds left in the third quarter that gave A&T the 24-16 lead. Alcorn didn't take long to respond and capped a drive of nine plays under four minutes with a 59-yard touchdown run by Noah Johnson at the 11:55 mark, cutting A&T's lead to 24-22. The Braves attempted a two-point conversion that would have tied the game however A&T's defense was able to stop the Braves.
A&T set the tone early in the game and held a comfortable 17-6 advantage at the half. Lamar Raynard threw a 17-yard pass to Zachary Leslie in the opening drive of the game to give the Aggies a 7-0 lead with 12:38 in the first quarter. Alcorn cut in A&T's lead with a 29-yard field goal by Corey McCullough with less than three minutes in the first.
Noel Ruiz nailed a 36-yard field goal at the 8:33 mark in the second quarter which stretched A&T's lead to 10-3. With 53 seconds remaining in the half, Raynard connected with Elijah Bell on a 27-yard pass pushing the Aggies to a 17-3 lead. The Braves used a 25-yard field goal by McCullough as time expired in the second quarter cutting A&T's advantage to 17-6.
Raynard was impressive in the win and was 18-of-30 passing for 292 yards. Leslie caught six passes and finished with 119 yards. A&T's kicking game was fueled by Wilson who finished with 112 yards on four returns including a touchdown.
The Aggies finished the season with a 10-2 record and its first Celebration Bowl win for head coach Sam Washington. Alcorn State finished the season 9-4 overall.
Points of Pride
Largest HBCU

N.C. A&T is the largest public HBCU in the nation

Engineering

N.C. A&T is the No. 1 producer of engineering degrees on the undergraduate level awarded to African Americans.

Admired CEO

Chancellor Harold Martin Sr. is named among the Triad's Most Admired CEOs by the Triad Business Journal.

Academic Excellence

The university's Center for Academic Studies in Identify Science is the first and only National Intelligence Science and Technology CASIS in the United States.

Higher Research Activity

N.C. A&T is classified as an R2: Doctoral University of Higher Research Activity by the prestigious Carnegie Classification of Institutions of Higher Education.

Teaching / Research

N.C. A&T is the highest-ranked public school for combining research and teaching by the Wall Street Journal.

Engineering Professor and Student

N.C. A&T is an inaugural and pioneering tenant of the innovative Union Square Partnership for healthcare training.
2016 MEAC Champs

N.C. A&T Women's Basketball team are the 2016 MEAC Champions

Bowl Champs

Aggies win 2015 Inaugural Air Force Reserve Celebration Bowl and Black National Championship.

Tarik Cohen

Running back Tarik Cohen broke the university and MEAC record becoming the MEAC all-time leading rusher.

Hall of Fame

The 1968 Aggies football team was inducted into the N.C. A&T Sports Hall of Fame as the first A&T team to win a black college national championship.

Aggie Track & Field

Three track & field athletes are named to the NCAA All-Academic team for excellence in their events and in the classroom; maintaining a minimum 3.25 GPA.

Kim Terrell-Kearney

Former professional bowler Kim Terrell-Kearney named N.C. A&T bowling coach

Track & Field Ranking

The United States Track & Field and Cross Country Coaches Association ranked A&T men's track and field team among the top-25 in program history.
Gail Wiggins

JOMC Professor Gail Wiggins selected as the NABJ Educator of the Year

PALO! Lyceum Series

The Band PALO! performed at N.C. A&T for the Lyceum Series

CD - Jazz Preeminence

A&T Theatre arts performs first production of "Radio Golf" by African American playwright August Wilson.

Theatre

The Theatre Program at A&T was the first accredited Bachelor of Fine Arts (BFA) at an HBCU in North Carolina; second in the nation.

Black Nativity performances

The Theatre Arts Program is nationally ranked by Black Broadway as one of the top five Theatre Arts programs for African American students

Travis Alexander

Travis W. Alexander has been named National Conductor for the 105 Voices Of History National Concert Choir