Air Force Reserve Celebration Bowl – A Champion will Rise
ATLANTA (Dec. 13, 2018) – For three of the last four years, the North Carolina Agricultural and Technical State University football team has made the trek down Interstate 85 to play in the Air Force Reserve Celebration Bowl. This week, the university will feature brief stories highlighting the experiences of the players, coaches, alumni and fans as we cheer the team to victory against the Alcorn State Braves.
See highlights of the team's stay in Atlanta on the university's main Facebook, Instagram and Twitter accounts.
---
'It's a Different Atmosphere'
ATLANTA (Dec. 15, 2018) – Players, cheerleaders and Aggie football fans all agreed on one thing about the 2018 Air Force Reserve Celebration Bowl – it felt different.
"It's a different atmosphere than from before," said Lamon Lawhorn, Ph.D., assistant director of North Carolina Agricultural and Technical State University Bands. "People are starting to understand the Celebration Bowl is a real thing."



The two previous times the North Carolina A&T Football team attended the bowl, energy was high because in 2015, it was the first one, and because of the Aggies' historic undefeated season in 2017.
"Now, people are starting to understand the magnitude of a bowl game," Lawhorn said.
Senior cheerleader Talia Thomas agrees that the atmosphere is a bit more kicked up and has surpassed her expectations.
"It is definitely a different vibe. I thought we would have been at a disadvantage by being on the away side this year but we weren't. Our spirits (were) high," she said.
Both groups performed well in spite of a cold and snowy start to the week in Greensboro. With more than a foot of snow and the university on suspended operations for two days, the band and cheerleaders lost valuable practice time.
"We didn't rehearse until Wednesday and didn't see a practice field until Friday in Atlanta," Lawhorn said. "But that just goes to show you that the Blue & Gold Marching Machine has high-level, professional musicians and not just regular students."
---
Aggie Pride – It's a Family Affair
ATLANTA (Dec. 15, 2018) – When Donna Ford ('86) began the Ladies of NC A&T (LOAT) group on the social media platform Facebook, it was only open to women in her home city of Atlanta.
"We started with 341 women. In January of this year, I decided to open it up worldwide," she said. "In 48 hours, we were at 8.8 thousand."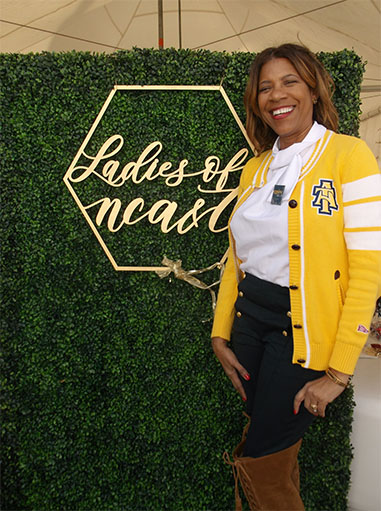 Now with more than 12,000 members, LOAT serves as a group of ambassadors for North Carolina Agricultural and Technical State University and stands on four pillars: giving back, building community, economic empowerment and living well. As a first step in fulfilling the first pillar, LOAT ran a campaign selling gold LOAT sweaters that raised approximately $10,000 for the cheer and volleyball teams.
For Ford, LOAT is simply an extension of the love she and her family have for A&T. She and her husband, Daniel, have established an endowed scholarship that is one payment away from fulfillment.
"We both come from families where we were first-generation college students. We both paid our way, and now we are committed to helping students not have the same distractions we had having to work our way through school," she said.
Prior to the start of the 2018 Air Force Reserve Celebration Bowl, Ford and her LOAT sisters hosted a VIP (Vested in Purpose) tailgate experience for those members of LOAT who have participated in the current campaign.
Friday evening, the Aggie Athletic Foundation (AAF) hosted a reception for donors and friends in town for the bowl. Attendees were encouraged to give to the AAF to help reach the $1 million annual goal by Dec. 31. Prior to the reception, AAF was just $150,000 shy of its goal.
---
'It's bigger than us'


ATLANTA (Dec. 15, 2018) – As the events leading up to the big game started to wind down, a handful of North Carolina A&T football players spent their Friday morning spreading a little holiday cheer and Aggie Spirit at Children's Healthcare of Atlanta at Hughes Spalding.



"It's a powerful thing we do when we come here," said senior Julius Reynolds. "It's important that they know that we care about them and that we are praying for them in their time of need."

Players from the Alcorn State Braves football team joined the Aggies in presenting ailing children with university-branded gifts and words of motivation and encouragement.

"It's important for us to come here because our being (at the Celebration Bowl) is bigger than us," said long snapper Ernest "Petie" Bush III. "We get to be here for these kids and their families to help take their minds off the journey ahead of them for a few minutes."

This is Bush's first trip to the Celebration Bowl and Reynolds' second. While they remained focused on the game, the pair agree that their presence at Hughes Spalding was just as impactful on them as it was the children.

"It is nice to have these little kids look up to us and it helps us show our Aggie Pride," Bush said. "When we say Aggie Pride, it shows that we are a part of a huge family and we care about each other." 
---
'This is a Business Trip'
ATLANTA (Dec. 14, 2018) – As seniors on the North Carolina Agricultural and Technical State University Aggies football team, Lamar Raynard and Leroy Hill get to view this year's trip to the Air Force Reserve Celebration Bowl from a unique position.
"This one is special. It's my senior year, my last go 'round," Raynard shared. "But we are here on a business trip. We came down here to take care of business."
Hill agrees and said that while all the events are great, he and his teammates must stay focused on the matter at hand.
"I've been telling them in practice all year to keep fighting and keep grinding because we never know if someone might go down and a freshman or sophomore has to step up," he said. "These are big roles for them to fill on a huge stage. So, we have to stay focused and keep grinding."
Though the pair is staying focused in Atlanta, they got to celebrate their former coach, Rod Broadway, who was inducted into the Celebration Bowl Champions Circle at the Chik-fil-A College Football Hall of Fame, and enjoy themselves at various events.
"We are thankful to the Air Force Reserve and the city of Atlanta for hosting this event," Hill said. "This year was a little different in that we weren't sure we were going to make it back, but we are happy to be here."
Raynard agreed.
"This is a great experience. It shows that hard work pays off," he said. "It shows these younger (players) that you can do this every year if you want to."
---
Celebration Bowl Begins with Reception, Tour
ATLANTA (Dec. 13, 2018) – On the far side of Oceans Ballroom at the Georgia Aquarium, the N.C. A&T Aggies football team sat down to a champion's feast on Wednesday opposite a familiar opponent in the Alcorn State Braves.
With Saturday's Celebration Bowl at the top of the players and coaches minds, ESPN SportsCenter Anchor Jay Harris got the competition started early with a friendly game of Celebration Bowl Family Feud before a private tour of the massive aquarium.
Though many of the upperclassmen on the Aggie football team have visited the aquarium as a part of the team's two previous bowl appearances, kicker Michael Rivers was there for the first time.
"This has been fun," shared the Wilmington, N.C., freshman, who plans to major in mechanical engineering. "The jellyfish are my favorite part because it's just so peaceful to watch them move."
That peace for Rivers may be exactly what he needs after what he describes as an intense, yet predictable season.
"Aggie football is exactly what I expected. It's been a lot of hard work – intense work. But this is what I expected, to win a lot of games and to get back to the Celebration Bowl," he said.
While the team works to stay focused on Saturday's nationally televised game, the first of the college bowl season, Rivers is also looking forward to visiting the Chick-fil-A College Football Hall of Fame on Thursday.
"It's going to be great for us to see representations of ourselves," he said.
The Aggies face the Braves at noon, Saturday in Mercedes-Benz Stadium in Atlanta. Watch live on ABC.
Points of Pride
Largest HBCU

N.C. A&T is the largest public HBCU in the nation

Engineering

N.C. A&T is the No. 1 producer of engineering degrees on the undergraduate level awarded to African Americans.

Admired CEO

Chancellor Harold Martin Sr. is named among the Triad's Most Admired CEOs by the Triad Business Journal.

Academic Excellence

The university's Center for Academic Studies in Identify Science is the first and only National Intelligence Science and Technology CASIS in the United States.

Higher Research Activity

N.C. A&T is classified as an R2: Doctoral University of Higher Research Activity by the prestigious Carnegie Classification of Institutions of Higher Education.

Teaching / Research

N.C. A&T is the highest-ranked public school for combining research and teaching by the Wall Street Journal.

Engineering Professor and Student

N.C. A&T is an inaugural and pioneering tenant of the innovative Union Square Partnership for healthcare training.
2016 MEAC Champs

N.C. A&T Women's Basketball team are the 2016 MEAC Champions

Bowl Champs

Aggies win 2015 Inaugural Air Force Reserve Celebration Bowl and Black National Championship.

Tarik Cohen

Running back Tarik Cohen broke the university and MEAC record becoming the MEAC all-time leading rusher.

Hall of Fame

The 1968 Aggies football team was inducted into the N.C. A&T Sports Hall of Fame as the first A&T team to win a black college national championship.

Aggie Track & Field

Three track & field athletes are named to the NCAA All-Academic team for excellence in their events and in the classroom; maintaining a minimum 3.25 GPA.

Kim Terrell-Kearney

Former professional bowler Kim Terrell-Kearney named N.C. A&T bowling coach

Track & Field Ranking

The United States Track & Field and Cross Country Coaches Association ranked A&T men's track and field team among the top-25 in program history.
Gail Wiggins

JOMC Professor Gail Wiggins selected as the NABJ Educator of the Year

PALO! Lyceum Series

The Band PALO! performed at N.C. A&T for the Lyceum Series

CD - Jazz Preeminence

A&T Theatre arts performs first production of "Radio Golf" by African American playwright August Wilson.

Theatre

The Theatre Program at A&T was the first accredited Bachelor of Fine Arts (BFA) at an HBCU in North Carolina; second in the nation.

Black Nativity performances

The Theatre Arts Program is nationally ranked by Black Broadway as one of the top five Theatre Arts programs for African American students

Travis Alexander

Travis W. Alexander has been named National Conductor for the 105 Voices Of History National Concert Choir