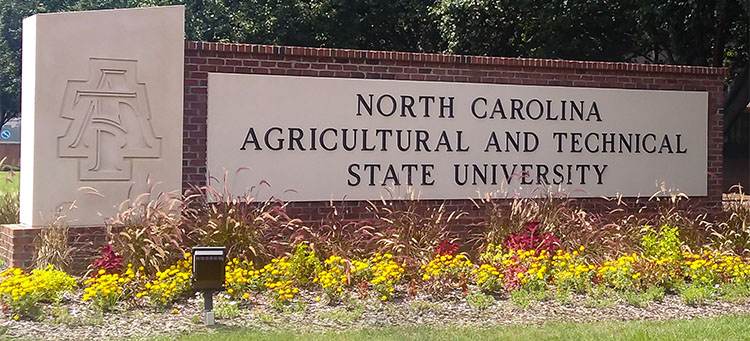 Aggie Alum, NASA Rocket Scientist Conyers Shares Research and Life Lessons in Visit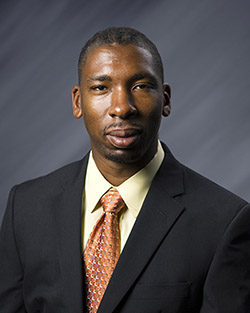 EAST GREENSBORO, N.C.  (Nov. 14, 2018) – NASA rocket scientist, barbecue pit master and North Carolina Agricultural and Technical State University alumnus Howard Conyers, Ph.D., made his first visit back to campus to share his knowledge and experiences with STEM students.
Returning to McNair Hall, named for fellow Aggie and NASA engineer Ronald McNair, Conyers presented his research on high dynamic range (HDR) recording and imaging to undergraduate and graduate engineering students as part of the College of Engineering Dean's Distinguished Speaker Series.
Conyers wanted to find a more comprehensive way to look at images and videos of rocket engine testing. His team wanted to combat data photos and video that showed blown and washed out combustion plumes.
"In rocket engine testing, there is important information in an image that gets washed out with regular camera resolution," Conyers said in his presentation. "HDR tries to replicate the human eye and in using that to record and photograph rocket engine testing, we get more of that data that can be useful in research."
His research went viral via Tech Insider with more than one million views in one week, changing how NASA documents their engine tests. He's also adapted his research to be useful to other industries, including film and television.
Conyers also advised students to look outside of the engineering industry and use their interests and abilities to expand their business and career possibilities, "The economy can be unpredictable," he said to students. "You have to be prepared to change with it. You never know where your paths will intersect."
Conyers grew up in a small town in South Carolina where he grew up farming with his family and learning the ins and outs of whole-hog barbecue.
"Engineering and being a pit master seem like they wouldn't relate but whole-hog barbecue and farming is really where I learned the math and science used to be an engineer," Conyers said. "It's the practical application of things like building a pit and knowing about farming that really helped me when I got to A&T. We talk a lot about the T (technical) but the A (agricultural) is equally as important."Conyers, who earned his master's and doctorate from Duke University, lives in New Orleans with his wife and fellow Aggie, Kathryn.
Points of Pride
Largest HBCU

N.C. A&T is the largest public HBCU in the nation

Engineering

N.C. A&T is the No. 1 producer of engineering degrees on the undergraduate level awarded to African Americans.

Admired CEO

Chancellor Harold Martin Sr. is named among the Triad's Most Admired CEOs by the Triad Business Journal.

Academic Excellence

The university's Center for Academic Studies in Identify Science is the first and only National Intelligence Science and Technology CASIS in the United States.

Higher Research Activity

N.C. A&T is classified as an R2: Doctoral University of Higher Research Activity by the prestigious Carnegie Classification of Institutions of Higher Education.

Teaching / Research

N.C. A&T is the highest-ranked public school for combining research and teaching by the Wall Street Journal.

Engineering Professor and Student

N.C. A&T is an inaugural and pioneering tenant of the innovative Union Square Partnership for healthcare training.
2016 MEAC Champs

N.C. A&T Women's Basketball team are the 2016 MEAC Champions

Bowl Champs

Aggies win 2015 Inaugural Air Force Reserve Celebration Bowl and Black National Championship.

Tarik Cohen

Running back Tarik Cohen broke the university and MEAC record becoming the MEAC all-time leading rusher.

Hall of Fame

The 1968 Aggies football team was inducted into the N.C. A&T Sports Hall of Fame as the first A&T team to win a black college national championship.

Aggie Track & Field

Three track & field athletes are named to the NCAA All-Academic team for excellence in their events and in the classroom; maintaining a minimum 3.25 GPA.

Kim Terrell-Kearney

Former professional bowler Kim Terrell-Kearney named N.C. A&T bowling coach

Track & Field Ranking

The United States Track & Field and Cross Country Coaches Association ranked A&T men's track and field team among the top-25 in program history.
Gail Wiggins

JOMC Professor Gail Wiggins selected as the NABJ Educator of the Year

PALO! Lyceum Series

The Band PALO! performed at N.C. A&T for the Lyceum Series

CD - Jazz Preeminence

A&T Theatre arts performs first production of "Radio Golf" by African American playwright August Wilson.

Theatre

The Theatre Program at A&T was the first accredited Bachelor of Fine Arts (BFA) at an HBCU in North Carolina; second in the nation.

Black Nativity performances

The Theatre Arts Program is nationally ranked by Black Broadway as one of the top five Theatre Arts programs for African American students

Travis Alexander

Travis W. Alexander has been named National Conductor for the 105 Voices Of History National Concert Choir