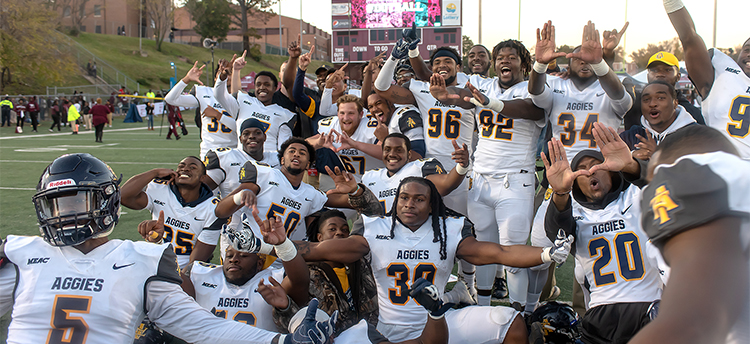 Outright Champs Were Outright Dominating
DURHAM (November 17, 2018) – North Carolina A&T got everything it wanted out of its 45-0 win over archrival North Carolina Central in football action Saturday afternoon at O'Kelly-Riddick Stadium. We can start with the fact that N.C. A&T shutout their archrival in the most lopsided contest between the two schools since the Eagles rejoined the Mid-Eastern Athletic Conference in 2011.
Also, in the everything went their way category was junior all-conference wide receiver Elijah Bell who looked completely healthy, at least healthy enough to make 10 grabs for 122 yards and two touchdowns putting one career TD reception shy of tying the school record.
Speaking of someone who looked injury-free.  After missing last week's game against Savannah State, Aggies quarterback Lamar Raynard had his best game of the season. He threw for 257 yards and two touchdowns on 16-for-23 passing and he did not throw an interception.
Raynard's longtime teammate from high school into college, Marquell Cartwright, rushed for 110 yards and two touchdowns on 20 carries. His performance carried him over the 1,000-yard rushing mark for the second straight season.
Running Back U continues to be a serious issue for N.C. A&T opponents. The 2018 season marks the eighth time in nine seasons the Aggies have had a 1,000-yard rusher. The only exception in that span was 2012 when Mike Mayhew ran for 848 yards. Cartwright will also lead the MEAC in rushing for the second consecutive season.
And yes, everything went right for the Aggies defensively as well. In what was a complete annihilation of the Eagles offense, the Aggies held NCCU (4-6, 2-4) offense to 41 yards. That includes minus-21 yards rushing from NCCU. Saturday marked the 19th time the Aggies have shutout the Eagles in the 90-year history of the storied rivalry.
"That's what we do. That's what we're about. Stop the run," said N.C. A&T coach Sam Washington. "They play into what we do, so we knew we could give them a considerable amount of problems. The thing you worry about is are the kids going to deviate from what we do because their eyes start to deceive them. But they didn't. They did a good job of executing the game plan."
Oh, but things got even better for the Aggie faithful as the nighttime sky began to cover the Bull City. The Aggies 51st all-time win over the Eagles was completed at 5 p.m. At 5:13 p.m., the Aggies piled into the Walker Physical Education and Recreation Complex to celebrate their fourth MEAC title in five years after closing out the regular season 9-2 overall and 6-1 in conference play.
What they did not know as they jumped up and down with exuberance, was if they were going to be outright champions and earn a third Air Force Reserve Celebration Bowl bid in four years, or if they were going to share the title with Florida A&M and wait to be handed an FCS NCAA playoff berth Sunday afternoon.
FAMU held the Aggies fate in their hands. A win by the Rattlers and the Aggies would have to share the title, miss the Celebration Bowl and settle for a possible playoff berth. As players and coaches watched on their hand-held devices FAMU face rival Bethune-Cookman in the annual Florida Classic on an app, the Rattlers were at the B-CU 10-yard line trailing 26-19 with 37 seconds remaining.
B-CU's Tydarius Peter's 90-yard pick-6 to seal the game for the Wildcats sends the Walker Gym lobby into another frenzy as a new celebration breaks out. At 5:27 p.m., the Aggies realized they were headed back to Atlanta. They also realized they had their second straight outright MEAC championship and their 10th MEAC title in school history.
Yes, everything went right for the Aggies.
"We have a championship coaching staff. That has been proven year after year after year," said Washington. "And we have a bunch of great players to be proud of. Four championships in five years say a lot. The one year we didn't win the conference, we went to the playoffs. Forty wins for this senior class? That's a tremendous feat on any level."
It also means four straight postseason appearances for the senior class. That has never happened before in the history of Aggies football. N.C. A&T has won 11 straight true road games and 13 straight away from BB&T Stadium.
N.C. A&T's path to Atlanta in 2018 was an interesting one. They opened the season with two impressive wins. They first defeated FCS No. 6 Jacksonville State before downing FBS foe East Carolina on the road. Three weeks later the Aggies had their 15-game winning streak snapped in a 16-13 upset loss to Morgan State on a last-second field goal at BB&T Stadium. On Oct. 13, the Aggies held a 21-6 lead over FAMU before losing 22-21 on a last-second field goal at BB&T Stadium.
The loss put FAMU in the driver's seat for the outright title that they had a chance to clinch three weeks ago. But a loss to Howard put the Aggies back in contention for the Celebration Bowl bid. N.C. A&T's 28-12 win over Savannah State last week put the Aggies in a position to steal the outright crown.
They did their part as they jumped out to a 14-0 first-quarter lead on a 4-yard miraculous grab from Bell and a 35-yard TD run from Cartwright. Sophomore Noel Ruiz then booted a 32-yard field goal before sophomore Jah-Maine Martin ran in from 10-yards out to give the Aggies a 24-0 halftime lead. After Cartwright scored on a 1-yard run 2 ½ minutes into the second half, it became apparent there was nothing for an Aggie fan to do but pull out their cell phones and scoreboard watch.
"We appreciate you guys," Raynard told @BCUGridIron on Twitter, Saturday.
That's because the Wildcats helped to make everything go right for the Aggies on Saturday.
Points of Pride
Largest HBCU

N.C. A&T is the largest public HBCU in the nation

Engineering

N.C. A&T is the No. 1 producer of engineering degrees on the undergraduate level awarded to African Americans.

Admired CEO

Chancellor Harold Martin Sr. is named among the Triad's Most Admired CEOs by the Triad Business Journal.

Academic Excellence

The university's Center for Academic Studies in Identify Science is the first and only National Intelligence Science and Technology CASIS in the United States.

Higher Research Activity

N.C. A&T is classified as an R2: Doctoral University of Higher Research Activity by the prestigious Carnegie Classification of Institutions of Higher Education.

Teaching / Research

N.C. A&T is the highest-ranked public school for combining research and teaching by the Wall Street Journal.

Engineering Professor and Student

N.C. A&T is an inaugural and pioneering tenant of the innovative Union Square Partnership for healthcare training.
2016 MEAC Champs

N.C. A&T Women's Basketball team are the 2016 MEAC Champions

Bowl Champs

Aggies win 2015 Inaugural Air Force Reserve Celebration Bowl and Black National Championship.

Tarik Cohen

Running back Tarik Cohen broke the university and MEAC record becoming the MEAC all-time leading rusher.

Hall of Fame

The 1968 Aggies football team was inducted into the N.C. A&T Sports Hall of Fame as the first A&T team to win a black college national championship.

Aggie Track & Field

Three track & field athletes are named to the NCAA All-Academic team for excellence in their events and in the classroom; maintaining a minimum 3.25 GPA.

Kim Terrell-Kearney

Former professional bowler Kim Terrell-Kearney named N.C. A&T bowling coach

Track & Field Ranking

The United States Track & Field and Cross Country Coaches Association ranked A&T men's track and field team among the top-25 in program history.
Gail Wiggins

JOMC Professor Gail Wiggins selected as the NABJ Educator of the Year

PALO! Lyceum Series

The Band PALO! performed at N.C. A&T for the Lyceum Series

CD - Jazz Preeminence

A&T Theatre arts performs first production of "Radio Golf" by African American playwright August Wilson.

Theatre

The Theatre Program at A&T was the first accredited Bachelor of Fine Arts (BFA) at an HBCU in North Carolina; second in the nation.

Black Nativity performances

The Theatre Arts Program is nationally ranked by Black Broadway as one of the top five Theatre Arts programs for African American students

Travis Alexander

Travis W. Alexander has been named National Conductor for the 105 Voices Of History National Concert Choir