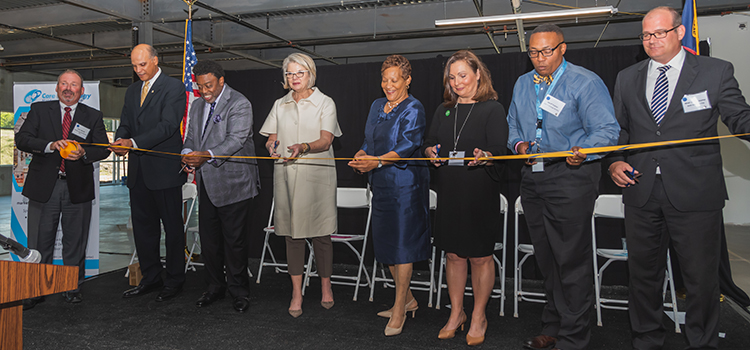 Gateway Opens Doors to New Research Facility, Already Home to a Major Business
EAST GREENSBORO (Oct. 5, 2018) -- The joint venture of North Carolina Agricultural and Technical State University and the University of North Carolina Greensboro, Gateway University Research Park (Gateway), expanded Friday with the opening of a new 70,000-square-foot research facility.
Research Facility Three is anchored by Core Technology Molding Corporation, an innovative company owned by an North Carolina A&T alumnus Geoff Foster. Core Tech provides injection molding for major manufacturers including BMW and Rubbermaid.
"Moving to East Greensboro was intentional," said Foster at the ribbon-cutting ceremony for the newest building. "As we embark on this, we will continue to invest in our employees and mold students into the best engineers and create opportunities for STEM jobs in East Greensboro."
Gateway was created to facilitate collaborations between researchers and businesses. It is home to two other facilities: Research Facility One, which is anchored by U.S. Department of Agriculture, and Research Facility Two, anchored by the Joint School of Nanoscience and Nanoengineering (JSNN, a cooperative academic venture of North Carolina A&T and UNCG.
 "We created this partnership to help foster a new economy for East Greensboro," said Chancellor Harold L. Martin Sr. "One of our key missions was to create jobs in East Greensboro, and Core Technology speaks to the enormous potential of Gateway."
Nancy Vaughan, mayor of Greensboro, said she is proud that companies like Core Tech are investing in East Greensboro.
"An A&T graduate came back to Greensboro to put his talent to work here," she said. "We're developing our own supply chain by working together to see our community thrive. This is a model for what could happen across the nation."
Construction began on the $12-million facility in 2017. Core Tech currently has 30 employees with plans to hire 25 additional employees. The company annually hires A&T students for internships and permanent employment.
"This is a demonstration of what is available to students in our system," said Margaret Spellings, president of the UNC System. "We understand as a university system … that we are a part of this ecosystem and infrastructure that makes for a thriving environment for our citizens, for the city and for our students."
Points of Pride
Largest HBCU

N.C. A&T is the largest public HBCU in the nation

Engineering

N.C. A&T is the No. 1 producer of engineering degrees on the undergraduate level awarded to African Americans.

Admired CEO

Chancellor Harold Martin Sr. is named among the Triad's Most Admired CEOs by the Triad Business Journal.

Academic Excellence

The university's Center for Academic Studies in Identify Science is the first and only National Intelligence Science and Technology CASIS in the United States.

Higher Research Activity

N.C. A&T is classified as an R2: Doctoral University of Higher Research Activity by the prestigious Carnegie Classification of Institutions of Higher Education.

Teaching / Research

N.C. A&T is the highest-ranked public school for combining research and teaching by the Wall Street Journal.

Engineering Professor and Student

N.C. A&T is an inaugural and pioneering tenant of the innovative Union Square Partnership for healthcare training.
2016 MEAC Champs

N.C. A&T Women's Basketball team are the 2016 MEAC Champions

Bowl Champs

Aggies win 2015 Inaugural Air Force Reserve Celebration Bowl and Black National Championship.

Tarik Cohen

Running back Tarik Cohen broke the university and MEAC record becoming the MEAC all-time leading rusher.

Hall of Fame

The 1968 Aggies football team was inducted into the N.C. A&T Sports Hall of Fame as the first A&T team to win a black college national championship.

Aggie Track & Field

Three track & field athletes are named to the NCAA All-Academic team for excellence in their events and in the classroom; maintaining a minimum 3.25 GPA.

Kim Terrell-Kearney

Former professional bowler Kim Terrell-Kearney named N.C. A&T bowling coach

Track & Field Ranking

The United States Track & Field and Cross Country Coaches Association ranked A&T men's track and field team among the top-25 in program history.
Gail Wiggins

JOMC Professor Gail Wiggins selected as the NABJ Educator of the Year

PALO! Lyceum Series

The Band PALO! performed at N.C. A&T for the Lyceum Series

CD - Jazz Preeminence

A&T Theatre arts performs first production of "Radio Golf" by African American playwright August Wilson.

Theatre

The Theatre Program at A&T was the first accredited Bachelor of Fine Arts (BFA) at an HBCU in North Carolina; second in the nation.

Black Nativity performances

The Theatre Arts Program is nationally ranked by Black Broadway as one of the top five Theatre Arts programs for African American students

Travis Alexander

Travis W. Alexander has been named National Conductor for the 105 Voices Of History National Concert Choir