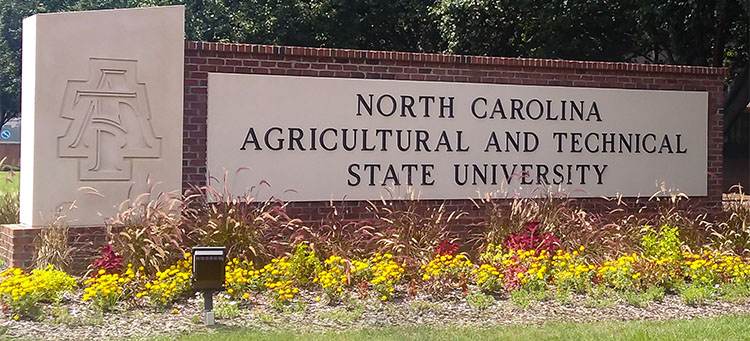 Philanthropy Hits New Heights for N.C. A&T for Fiscal Year 2018
EAST GREENSBORO, N.C. (Oct. 4, 2018) – In the recently completed 2018 fiscal year, supporters of North Carolina Agricultural and Technical State University set a new record for private giving with a total of $15.6 million in donations and pledges to A&T.
The total represented an increase of 6 percent over the previous fiscal year sum of $14.7 million, also a record for North Carolina A&T. The combined total of $30.3 million is by far the largest amount raised by A&T in any two-year span in the university's 127-year history.
"We experienced stronger alumni engagement than N.C. A&T has ever had by way of pledges, scholarship support, outright gifts and more," said Ken Sigmon, vice chancellor for University Advancement. "It is tremendously gratifying to see the Aggie Nation stepping up so enthusiastically to support the continued growth and evolution of this university.
"It speaks to a level of excitement among our most important constituents that is truly inspiring as we reach higher than ever before to bring in private support for A&T."
The record year comes as A&T prepares to publicly kick off a capital campaign on Nov. 1 that has been in the quiet phase for several years. As has been publicly reported, the university has already raised $68 million toward an overall goal of $85 million.
Other philanthropic highlights for FY18 include:
The university received more than 10,200 individual gifts, a 7 percent increase over the previous year. That included gifts from more than 4,500 alumni, an 8 percent jump over the previous year.


A&T supporters gave more than $4 million to support endowed scholarships for the second year in a row, while gifts to support current-use scholarships exceeded $3 million. Scholarships are of major importance to the university: Two-thirds of A&T's enrollment comprises students who are the first in their families to go to college, which means family resources to fund their education can be in short supply.


More than 100 donors made major gifts -- $25,000 or more – in the last fiscal year.
"When we see the level of activity that we did in FY18, it's clear that our donors enthusiastically support the university's mission," said Sigmon. "At a time when many institutions struggle to identify private support, this says great things about North Carolina A&T and the many individuals and organizations who show their affection for the university through their thoughtful generosity."
Points of Pride
Largest HBCU

N.C. A&T is the largest public HBCU in the nation

Engineering

N.C. A&T is the No. 1 producer of engineering degrees on the undergraduate level awarded to African Americans.

Admired CEO

Chancellor Harold Martin Sr. is named among the Triad's Most Admired CEOs by the Triad Business Journal.

Academic Excellence

The university's Center for Academic Studies in Identify Science is the first and only National Intelligence Science and Technology CASIS in the United States.

Higher Research Activity

N.C. A&T is classified as an R2: Doctoral University of Higher Research Activity by the prestigious Carnegie Classification of Institutions of Higher Education.

Teaching / Research

N.C. A&T is the highest-ranked public school for combining research and teaching by the Wall Street Journal.

Engineering Professor and Student

N.C. A&T is an inaugural and pioneering tenant of the innovative Union Square Partnership for healthcare training.
2016 MEAC Champs

N.C. A&T Women's Basketball team are the 2016 MEAC Champions

Bowl Champs

Aggies win 2015 Inaugural Air Force Reserve Celebration Bowl and Black National Championship.

Tarik Cohen

Running back Tarik Cohen broke the university and MEAC record becoming the MEAC all-time leading rusher.

Hall of Fame

The 1968 Aggies football team was inducted into the N.C. A&T Sports Hall of Fame as the first A&T team to win a black college national championship.

Aggie Track & Field

Three track & field athletes are named to the NCAA All-Academic team for excellence in their events and in the classroom; maintaining a minimum 3.25 GPA.

Kim Terrell-Kearney

Former professional bowler Kim Terrell-Kearney named N.C. A&T bowling coach

Track & Field Ranking

The United States Track & Field and Cross Country Coaches Association ranked A&T men's track and field team among the top-25 in program history.
Gail Wiggins

JOMC Professor Gail Wiggins selected as the NABJ Educator of the Year

PALO! Lyceum Series

The Band PALO! performed at N.C. A&T for the Lyceum Series

CD - Jazz Preeminence

A&T Theatre arts performs first production of "Radio Golf" by African American playwright August Wilson.

Theatre

The Theatre Program at A&T was the first accredited Bachelor of Fine Arts (BFA) at an HBCU in North Carolina; second in the nation.

Black Nativity performances

The Theatre Arts Program is nationally ranked by Black Broadway as one of the top five Theatre Arts programs for African American students

Travis Alexander

Travis W. Alexander has been named National Conductor for the 105 Voices Of History National Concert Choir