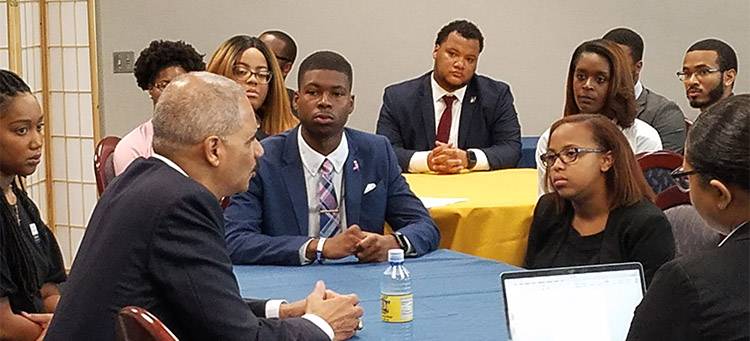 Holder Visits N.C. A&T for Conversation on Voting
EAST GREENSBORO – (Oct. 10, 2018) – While some North Carolina Agricultural and Technical State University students were away from campus for fall break, a group of students from N.C. A&T and other area universities talked politics with former U.S. Attorney General Eric Holder.
Holder served as the nation's chief lawyer from 2009-15 under President Barack Obama. He was the first African American to hold the position.
At N.C. A&T, he spoke with a select group of students about the importance of voting in the November midterm election.
"This is the most important midterm election of my lifetime," Holder said. "The decisions we make now will have an impact on you and your kids."
Holder, who currently chairs the National Democratic Redistricting Committee, discussed topics including immigration, the Electoral College and historically black colleges and universities (HBCUs).
"(HBCUs) infuse you with a progressive spirit and a sense of mission," he said. "To have you interacting with other talented, focused African Americans counters the stereotypes that we're still getting."
Holder mentioned that many leaders of the Civil Rights Movement came from HBCUs and fought and sacrificed for the right for African Americans to vote.
"This is not a time for despair, this is the time for action," Holder said. "There is a debt we owe to those who died for our right to vote and (voting) is the way we say thank you."
N.C. A&T Chancellor Harold L. Martin Sr. has dedicated this month's On Point podcast episodes to the November midterm elections and speaks with guests Charlie Collicutt, director of Guilford County Board of Elections about the importance of voting in local elections; Delaney Vandergrift, SGA president about how she is mobilizing her peers to the polls; and Ray Trapp, A&T's director of external affairs about the university's legislative priorities.
Points of Pride
Largest HBCU

N.C. A&T is the largest public HBCU in the nation

Engineering

N.C. A&T is the No. 1 producer of engineering degrees on the undergraduate level awarded to African Americans.

Admired CEO

Chancellor Harold Martin Sr. is named among the Triad's Most Admired CEOs by the Triad Business Journal.

Academic Excellence

The university's Center for Academic Studies in Identify Science is the first and only National Intelligence Science and Technology CASIS in the United States.

Higher Research Activity

N.C. A&T is classified as an R2: Doctoral University of Higher Research Activity by the prestigious Carnegie Classification of Institutions of Higher Education.

Teaching / Research

N.C. A&T is the highest-ranked public school for combining research and teaching by the Wall Street Journal.

Engineering Professor and Student

N.C. A&T is an inaugural and pioneering tenant of the innovative Union Square Partnership for healthcare training.
2016 MEAC Champs

N.C. A&T Women's Basketball team are the 2016 MEAC Champions

Bowl Champs

Aggies win 2015 Inaugural Air Force Reserve Celebration Bowl and Black National Championship.

Tarik Cohen

Running back Tarik Cohen broke the university and MEAC record becoming the MEAC all-time leading rusher.

Hall of Fame

The 1968 Aggies football team was inducted into the N.C. A&T Sports Hall of Fame as the first A&T team to win a black college national championship.

Aggie Track & Field

Three track & field athletes are named to the NCAA All-Academic team for excellence in their events and in the classroom; maintaining a minimum 3.25 GPA.

Kim Terrell-Kearney

Former professional bowler Kim Terrell-Kearney named N.C. A&T bowling coach

Track & Field Ranking

The United States Track & Field and Cross Country Coaches Association ranked A&T men's track and field team among the top-25 in program history.
Gail Wiggins

JOMC Professor Gail Wiggins selected as the NABJ Educator of the Year

PALO! Lyceum Series

The Band PALO! performed at N.C. A&T for the Lyceum Series

CD - Jazz Preeminence

A&T Theatre arts performs first production of "Radio Golf" by African American playwright August Wilson.

Theatre

The Theatre Program at A&T was the first accredited Bachelor of Fine Arts (BFA) at an HBCU in North Carolina; second in the nation.

Black Nativity performances

The Theatre Arts Program is nationally ranked by Black Broadway as one of the top five Theatre Arts programs for African American students

Travis Alexander

Travis W. Alexander has been named National Conductor for the 105 Voices Of History National Concert Choir