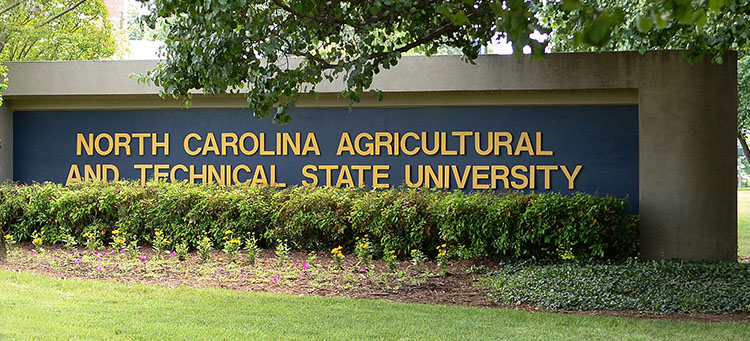 N.C. A&T Atmospheric Chemistry Researchers Receive $1 Million Grant
EAST GREENSBORO – (Oct. 4, 2018) It is estimated that Africa produces more than half of the world's biomass burning smoke from biomass fuels and animal dung, where it's used for cooking and heating homes. Despite Africa and other tropic regions' high contribution to biomass burning emissions, relatively few studies have  been done on the effects of specific emissions on global health and climate.
North Carolina Agricultural and Technical State University researchers will receive $1 million grant from the National Science Foundation (NSF) to study the climate and health impacts of biomass smoke, combustion emissions and sub-Saharan Africa and Saharan dust mixed with biomass smoke.
Research will be led by N.C. A&T professor Solomon Bililign, Ph.D., and co-principal investigator Marc Fiddler, Ph.D. The team will look at the optical properties of biomass smoke, as a function of relative humidity and the health implications of the smoke.
"Household pollution from biomass burning contributes to nearly three million premature deaths per year," Bililign said. "Having a better understanding of what the health impacts of pollution due to biomass burning should help mitigate and improve household burning conditions in the developing world."
Bililign and his team of undergraduate and graduate researchers will collaborate with Colorado State University in field research and modeling of health impacts and Howard University to collect filter samples on aboard maritime research platforms on NOAA ships on the Atlantic Ocean.
The grant is for three years through 2021.
 The overall goals of the project, "HBCU-Excellence in Research: Radiative Effects of Biomass Burning Aerosols Laboratory and Field Measurements and Modeling of Climate and Health Impacts," are to understand the chemical composition and optical properties of biomass burning aerosols, quantifying and understanding various biomass emissions and emission factors to understand their impact on global climate, air quality and human health.
"Because of this grant's emphasis on research excellence at HBCUs, this project will directly increase the number of minority students trained in atmospheric science both in field and laboratory research," Bililign said. 
Bililign and Fiddler previously received NSF funds to build an indoor smog chamber study optical properties of biomass burning emissions as they photochemically change and collaborated with UNC-Chapel Hill Department of Environmental Science and Engineering scientists to conduct chemical analysis of the aerosols obtained from the smog chamber.
This project will also allow A&T faculty and students to be part of a major field campaign to study wildfire emissions in collaboration with NSF's National Center for Atmospheric Research, National Oceanic and Atmospheric Administration and NASA Aerodyne company and other universities in 2019.
Points of Pride
Largest HBCU

N.C. A&T is the largest public HBCU in the nation

Engineering

N.C. A&T is the No. 1 producer of engineering degrees on the undergraduate level awarded to African Americans.

Admired CEO

Chancellor Harold Martin Sr. is named among the Triad's Most Admired CEOs by the Triad Business Journal.

Academic Excellence

The university's Center for Academic Studies in Identify Science is the first and only National Intelligence Science and Technology CASIS in the United States.

Higher Research Activity

N.C. A&T is classified as an R2: Doctoral University of Higher Research Activity by the prestigious Carnegie Classification of Institutions of Higher Education.

Teaching / Research

N.C. A&T is the highest-ranked public school for combining research and teaching by the Wall Street Journal.

Engineering Professor and Student

N.C. A&T is an inaugural and pioneering tenant of the innovative Union Square Partnership for healthcare training.
2016 MEAC Champs

N.C. A&T Women's Basketball team are the 2016 MEAC Champions

Bowl Champs

Aggies win 2015 Inaugural Air Force Reserve Celebration Bowl and Black National Championship.

Tarik Cohen

Running back Tarik Cohen broke the university and MEAC record becoming the MEAC all-time leading rusher.

Hall of Fame

The 1968 Aggies football team was inducted into the N.C. A&T Sports Hall of Fame as the first A&T team to win a black college national championship.

Aggie Track & Field

Three track & field athletes are named to the NCAA All-Academic team for excellence in their events and in the classroom; maintaining a minimum 3.25 GPA.

Kim Terrell-Kearney

Former professional bowler Kim Terrell-Kearney named N.C. A&T bowling coach

Track & Field Ranking

The United States Track & Field and Cross Country Coaches Association ranked A&T men's track and field team among the top-25 in program history.
Gail Wiggins

JOMC Professor Gail Wiggins selected as the NABJ Educator of the Year

PALO! Lyceum Series

The Band PALO! performed at N.C. A&T for the Lyceum Series

CD - Jazz Preeminence

A&T Theatre arts performs first production of "Radio Golf" by African American playwright August Wilson.

Theatre

The Theatre Program at A&T was the first accredited Bachelor of Fine Arts (BFA) at an HBCU in North Carolina; second in the nation.

Black Nativity performances

The Theatre Arts Program is nationally ranked by Black Broadway as one of the top five Theatre Arts programs for African American students

Travis Alexander

Travis W. Alexander has been named National Conductor for the 105 Voices Of History National Concert Choir