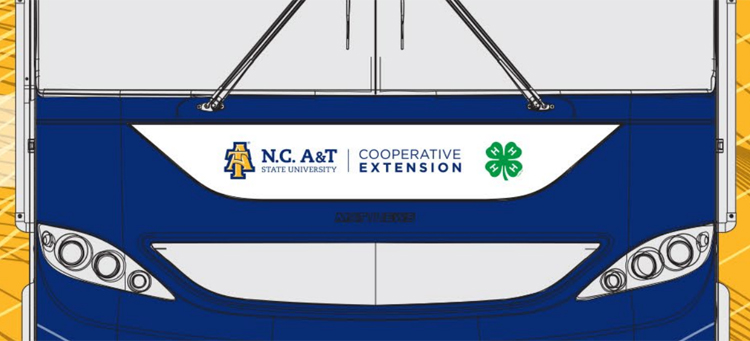 Cooperative Extension at N.C. A&T to Unveil Innovation Station
East Greensboro, N.C. (Sept. 18, 2018) – Cooperative Extension at North Carolina Agricultural and Technical State University will unveil the newly constructed Innovation Station, at 9:30 a.m., Thursday, Oct. 4, on the Webb Hall front lawn.
The 41-feet long, 8.5 feet wide mobile science, technology, engineering and mathematics (STEM) lab and makerspace was designed by Cooperative Extension with the mission to encourage STEM education to young students through the use of active making, tinkering, and engineering. Along with its collaborative workspaces, the Innovation Station is equipped with a variety of technology such as laptops, iPads, 3D printers, laser cutters, and a 20-foot awning interactive monitor.
The mobile lab will serve schools and community-based organizations by offering technological resources and STEM education programs to students K-12. Outfitted with 15 interior workstations and one wheelchair accessible desk, the bus will allow participants to develop skills in robotics, 3D modeling and printing, video game design, computer software programming, hardware engineering, renewable energy, micro:bit block-coding, structural engineering and magnetic levitation.
Upon its official release, educators and non-profit organizations based in North Carolina will have the opportunity to register and participate in different educational programs featuring the Innovation Station, free of charge. All reservations for the Innovation Station will be accommodated on a first come, first served basis and need to be arranged two weeks prior to the session date. 
Chancellor Harold L. Martin Sr. will deliver opening remarks to a crowd of event attendees, which will include community leaders, Cooperative Extension partners and 4-H representatives. 
Cooperative Extension at N.C A&T delivers educational programs and technology to enrich the lives, the land and the economy of North Carolina's limited-resource individuals, families, and communities. Reservations for the Innovation Station will be available online following the Oct. 4 unveiling. For more information, contact Misty Blue-Terry, Ph.D., chief innovation officer, at 336-285-4694 or mablue@ncat.edu.
Points of Pride
Largest HBCU

N.C. A&T is the largest public HBCU in the nation

Engineering

N.C. A&T is the No. 1 producer of engineering degrees on the undergraduate level awarded to African Americans.

Admired CEO

Chancellor Harold Martin Sr. is named among the Triad's Most Admired CEOs by the Triad Business Journal.

Academic Excellence

The university's Center for Academic Studies in Identify Science is the first and only National Intelligence Science and Technology CASIS in the United States.

Higher Research Activity

N.C. A&T is classified as an R2: Doctoral University of Higher Research Activity by the prestigious Carnegie Classification of Institutions of Higher Education.

Teaching / Research

N.C. A&T is the highest-ranked public school for combining research and teaching by the Wall Street Journal.

Engineering Professor and Student

N.C. A&T is an inaugural and pioneering tenant of the innovative Union Square Partnership for healthcare training.
2016 MEAC Champs

N.C. A&T Women's Basketball team are the 2016 MEAC Champions

Bowl Champs

Aggies win 2015 Inaugural Air Force Reserve Celebration Bowl and Black National Championship.

Tarik Cohen

Running back Tarik Cohen broke the university and MEAC record becoming the MEAC all-time leading rusher.

Hall of Fame

The 1968 Aggies football team was inducted into the N.C. A&T Sports Hall of Fame as the first A&T team to win a black college national championship.

Aggie Track & Field

Three track & field athletes are named to the NCAA All-Academic team for excellence in their events and in the classroom; maintaining a minimum 3.25 GPA.

Kim Terrell-Kearney

Former professional bowler Kim Terrell-Kearney named N.C. A&T bowling coach

Track & Field Ranking

The United States Track & Field and Cross Country Coaches Association ranked A&T men's track and field team among the top-25 in program history.
Gail Wiggins

JOMC Professor Gail Wiggins selected as the NABJ Educator of the Year

PALO! Lyceum Series

The Band PALO! performed at N.C. A&T for the Lyceum Series

CD - Jazz Preeminence

A&T Theatre arts performs first production of "Radio Golf" by African American playwright August Wilson.

Theatre

The Theatre Program at A&T was the first accredited Bachelor of Fine Arts (BFA) at an HBCU in North Carolina; second in the nation.

Black Nativity performances

The Theatre Arts Program is nationally ranked by Black Broadway as one of the top five Theatre Arts programs for African American students

Travis Alexander

Travis W. Alexander has been named National Conductor for the 105 Voices Of History National Concert Choir