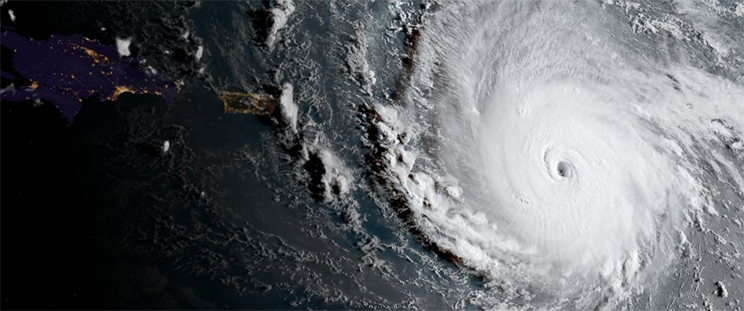 Preparations Underway At North Carolina A&T State University for Hurricane Florence
EAST GREENSBORO, N.C. (Sept. 10, 2018) -- Campus leaders and public safety officials are preparing North Carolina Agricultural and Technical State University for the potential arrival later this week of Hurricane Florence, currently a Category 4 storm expected to make landfall on the Carolina coast Thursday, with winds beginning to arrive Wednesday. The storm is expected in Greensboro on Friday.
Campus preparations include ensuring all students in university residence halls and apartments stay safe and are adequately provided for throughout the storm. That includes students who rely on university food service and campus shuttles.
N.C. A&T facilities officials are making all necessary precautions on campus buildings and infrastructure to prevent flooding, mitigate possibilities of flying debris and address other safety concerns.
"As we prepare for the possibility of high winds and heavy rains later this week, we ask all students, as well as university employees, to monitor campus e-mail, the university website and our campus emergency alert system to ensure they have the latest information from the university," said University Police Chief Charles Wilson.
Students, faculty and staff are encouraged to monitor weather reports for more information as this weather event unfolds. Please also monitor your university e-mail account and the university home page for further guidance. Updates will be provided as new information becomes available.
School officials also strongly encourage students and employees to create an emergency preparedness kit with items they may need in the event of a significant storm impact. See the guidance below on what emergency management experts suggest should be included in your kit.
What is the current weather status for Greensboro and Guilford County?
Gov. Roy Cooper has declared a state of emergency for all of North Carolina, including Greensboro and Guilford County. While it is too early to feel the effects of the storm in this area, heavy rain is expected later this week.
What to do during a natural disaster situation?
Some of the key things to remember during a natural disaster such has a hurricane or other storms are to be prepared and know what to do before the disaster strikes. For more information, visit ReadyNC.
Make a Plan

It is important to plan ahead and talk about what you will do before, during and after an emergency. You need to talk about how will you get to a safe place, get in touch with family once you are there, and how you are going to get back.

Your plan should contain:

Phone numbers of a pre-assigned contact person for family members or close friends to call
How to be safe if you stay in your home during an emergency
Where to go in case of flooding or other emergency in your building
Mold your plans for your needs. Think about creating a group of friends, family or neighbors to help each other in emergencies. Talk how that group can help each other connect, care for each other's needs

Build a Kit

An emergency supplies kit is simply a collection of items you may need in an emergency. You likely have most of the items already, so it's a matter of gathering them together.
Water – 1 gallon per person per day for 3 to 7 days
Food – non-perishable and canned food supply for 3 to 7 days
Battery-powered or hand crank radio and NOAA Weather Radio with extra batteries
Cell phone with charger
First aid kit
Flashlight and extra batteries
Prescription medications and glasses
Change of clothing, including sturdy shoes
Toiletries – toothbrush, toothpaste, soap, feminine supplies
Extra house and car keys
Important documents – Aggie OneCard, and other documents
Cash and change
Books, games or cards

Stay Informed

Make sure you are paying attention to the weather situation as it progresses. Also, make sure to pay attention to e-mail from University Communications and the university website, as information is updated
Points of Pride
Largest HBCU

N.C. A&T is the largest public HBCU in the nation

Engineering

N.C. A&T is the No. 1 producer of engineering degrees on the undergraduate level awarded to African Americans.

Admired CEO

Chancellor Harold Martin Sr. is named among the Triad's Most Admired CEOs by the Triad Business Journal.

Academic Excellence

The university's Center for Academic Studies in Identify Science is the first and only National Intelligence Science and Technology CASIS in the United States.

Higher Research Activity

N.C. A&T is classified as an R2: Doctoral University of Higher Research Activity by the prestigious Carnegie Classification of Institutions of Higher Education.

Teaching / Research

N.C. A&T is the highest-ranked public school for combining research and teaching by the Wall Street Journal.

Engineering Professor and Student

N.C. A&T is an inaugural and pioneering tenant of the innovative Union Square Partnership for healthcare training.
2016 MEAC Champs

N.C. A&T Women's Basketball team are the 2016 MEAC Champions

Bowl Champs

Aggies win 2015 Inaugural Air Force Reserve Celebration Bowl and Black National Championship.

Tarik Cohen

Running back Tarik Cohen broke the university and MEAC record becoming the MEAC all-time leading rusher.

Hall of Fame

The 1968 Aggies football team was inducted into the N.C. A&T Sports Hall of Fame as the first A&T team to win a black college national championship.

Aggie Track & Field

Three track & field athletes are named to the NCAA All-Academic team for excellence in their events and in the classroom; maintaining a minimum 3.25 GPA.

Kim Terrell-Kearney

Former professional bowler Kim Terrell-Kearney named N.C. A&T bowling coach

Track & Field Ranking

The United States Track & Field and Cross Country Coaches Association ranked A&T men's track and field team among the top-25 in program history.
Gail Wiggins

JOMC Professor Gail Wiggins selected as the NABJ Educator of the Year

PALO! Lyceum Series

The Band PALO! performed at N.C. A&T for the Lyceum Series

CD - Jazz Preeminence

A&T Theatre arts performs first production of "Radio Golf" by African American playwright August Wilson.

Theatre

The Theatre Program at A&T was the first accredited Bachelor of Fine Arts (BFA) at an HBCU in North Carolina; second in the nation.

Black Nativity performances

The Theatre Arts Program is nationally ranked by Black Broadway as one of the top five Theatre Arts programs for African American students

Travis Alexander

Travis W. Alexander has been named National Conductor for the 105 Voices Of History National Concert Choir