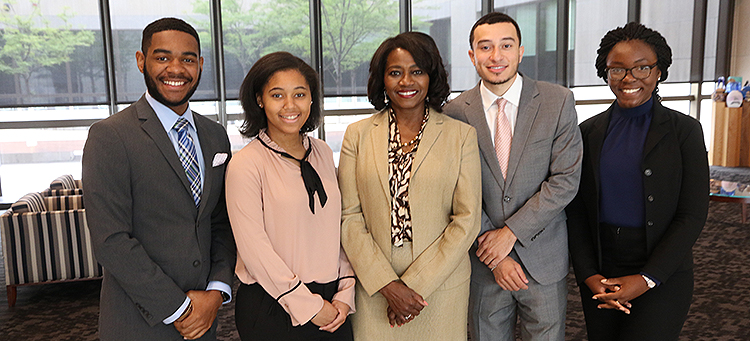 Aggie scholars learn crucial career development in healthcare cohort
EAST GREENSBORO, N.C. (Sept. 11, 2018) -- Seven North Carolina Agricultural and Technical State University scholars experienced unique development opportunities this past summer through the university's partnership with the Bluford Healthcare Leadership Institute (BHLI).
As members of the 2018 BHLI Cohort, Elijah Evans, a junior finance student; Nassir Holden, a sophomore economics student with a law concentration; Alexandria Stanton a junior biology student; and Sakilae White, a junior chemistry student with minor in psychology, all spent two weeks in Kansas City, Missouri, for a comprehensive overview of healthcare leadership from leading executives in the field.
"My experiences at the BHLI inspired me to contribute to the work of eliminating health disparities in underserved communities," Stanton said. "With programs such as the BHLI, the goal of achieving diversity in healthcare leadership can be achieved. I believe the program is crucial to the development of young minorities and the restructuring of the diversity of leadership positions in healthcare."
N.C. A&T alumna Cynthia Washington, who serves as interim president and CEO of the Institute for Diversity and Health Equity, was one of many national leaders from the fields of healthcare, law and business to share leadership principles with the scholars.
Three additional Aggies from previous cohorts continued their professional development while serving in internships coordinated by the BHLI.
Kailyn Price, a junior bioengineering student interned at Duke University Hospital in ambulatory and emergency services; Teeghan Wiggins, also a junior bioengineering student, interned in Cone Health's Innovation and Transformation Department; and, James Washburn, a senior business management major, interned at John Hopkins All Children's Hospitals in St. Petersburg, Florida under the direct supervision of the vice president of human resources.
"After engaging with so many influential individuals within the healthcare field during the BHLI, I am inspired to be a piece of the future in healthcare," Evans said. "My fellow cohort members and I understand that the field's current leaders are expecting minority leaders such as ourselves to bring innovation and solutions to the healthcare field, and I believe we are up for that challenge."
BHLI was program developed by current Board of Trustees member John W. Bluford III to cultivate the next generation of healthcare leaders. Bluford is a national, innovative leader in the healthcare field whose career has spanned four decades in executive leadership. 
Twenty N.C. A&T scholars have participated in the BHLI since its initial 2013 cohort with additional internship sites for the Aggies including Allscripts Solutions, Inc. in Raleigh, North Carolina; Delta Dental of Minnesota and Hennepin Health in Minneapolis, Minnesota; Maryland Hospital Association in Elkridge, Maryland; and Saint Luke's Hospital, Truman Medical Centers (TMC), and Walgreens Pharmacy at TMC in Kansas City, Missouri.
For more information and to apply for the 2019 Institute, visit www.blufordinstitute.org. Applications are due Sunday, Sept. 16, 2018.
Points of Pride
Largest HBCU

N.C. A&T is the largest public HBCU in the nation

Engineering

N.C. A&T is the No. 1 producer of engineering degrees on the undergraduate level awarded to African Americans.

Admired CEO

Chancellor Harold Martin Sr. is named among the Triad's Most Admired CEOs by the Triad Business Journal.

Academic Excellence

The university's Center for Academic Studies in Identify Science is the first and only National Intelligence Science and Technology CASIS in the United States.

Higher Research Activity

N.C. A&T is classified as an R2: Doctoral University of Higher Research Activity by the prestigious Carnegie Classification of Institutions of Higher Education.

Teaching / Research

N.C. A&T is the highest-ranked public school for combining research and teaching by the Wall Street Journal.

Engineering Professor and Student

N.C. A&T is an inaugural and pioneering tenant of the innovative Union Square Partnership for healthcare training.
2016 MEAC Champs

N.C. A&T Women's Basketball team are the 2016 MEAC Champions

Bowl Champs

Aggies win 2015 Inaugural Air Force Reserve Celebration Bowl and Black National Championship.

Tarik Cohen

Running back Tarik Cohen broke the university and MEAC record becoming the MEAC all-time leading rusher.

Hall of Fame

The 1968 Aggies football team was inducted into the N.C. A&T Sports Hall of Fame as the first A&T team to win a black college national championship.

Aggie Track & Field

Three track & field athletes are named to the NCAA All-Academic team for excellence in their events and in the classroom; maintaining a minimum 3.25 GPA.

Kim Terrell-Kearney

Former professional bowler Kim Terrell-Kearney named N.C. A&T bowling coach

Track & Field Ranking

The United States Track & Field and Cross Country Coaches Association ranked A&T men's track and field team among the top-25 in program history.
Gail Wiggins

JOMC Professor Gail Wiggins selected as the NABJ Educator of the Year

PALO! Lyceum Series

The Band PALO! performed at N.C. A&T for the Lyceum Series

CD - Jazz Preeminence

A&T Theatre arts performs first production of "Radio Golf" by African American playwright August Wilson.

Theatre

The Theatre Program at A&T was the first accredited Bachelor of Fine Arts (BFA) at an HBCU in North Carolina; second in the nation.

Black Nativity performances

The Theatre Arts Program is nationally ranked by Black Broadway as one of the top five Theatre Arts programs for African American students

Travis Alexander

Travis W. Alexander has been named National Conductor for the 105 Voices Of History National Concert Choir