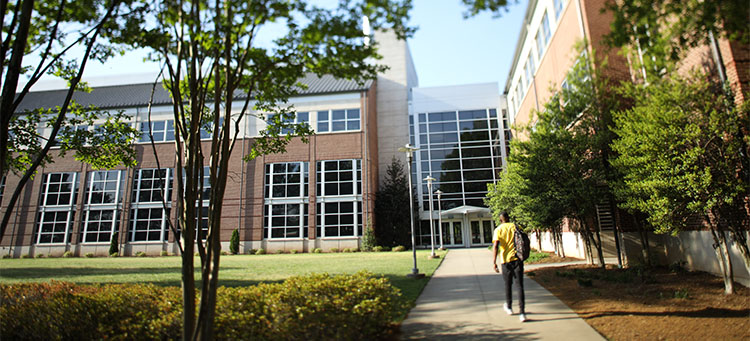 Strategic Plan 'Refresh' Envisions N.C. A&T in 2023
With the launch of the 2018-19 academic year, North Carolina Agricultural and Technical State University is beginning implementation of "A&T Preeminence: Taking the Momentum to 2023," the ambitious successor to the visionary strategic plan that has propelled the university's development and national rise over the past seven years. 
The strategic plan "refresh" seeks to build on the extensive progress charted under "A&T Preeminence 2020: Embracing Our Past, Creating Our Future," establishing new objectives and goals to guide the university over the next five years. The new plan is the product of a broad range of input and discussion by university leadership, faculty, staff, students, community and local government leaders and the University of North Carolina System. 
"Our disciplined implementation of A&T Preeminence 2020 led to early fulfillment of a range of goals in mission-critical areas," said Chancellor Harold L. Martin Sr. "We took advantage of the opportunities created by that success to revisit our planning and establish new expectations for our future that will serve our students and our university well for generations to come." 
Among the successes of the initial plan: 
Undergraduate enrollment that surged past the 2020 goal of 10,000 three years ahead of schedule;
New freshman average GPA that grew from 3.04 to 3.51 last fall, eclipsing the goal of 3.4;
Graduation rates for student athletes and conference championships, which exceeded goals in 2017 and 2014, respectively;
Significant progress toward goals in such areas as research contracts and grants, endowment growth, student body diversity and doctoral and transfer student enrollment. 
Preeminence 2023's new key performance indicators call for the university to stretch further in these areas and more, including: 
N.C. A&T's overall enrollment goal has been expanded from 13,500 to 14,000. Commensurately with that, the university is expanding on-campus and off-campus housing options to accommodate an overall student body with about 3,300 more students than when the initial strategic plan was put into place.  
Four-, five- and six-year graduation rates, as well as graduation of students in STEM disciplines and overall diversity of the student body;
Boosting the number of full-time faculty, as well as patent activity emanating from faculty research, and growth in national rankings and recognition of the university's academic strengths.
Expansion of public service and community engagement, including economic development, partnerships with business and industry and creation of programs that meet the evolving needs of the global workforce. 
Key components of the plan were approved earlier this year by the North Carolina A&T Board of Trustees and the University of North Carolina Board of Governors. The complete plan was introduced to N.C. A&T employees during the Faculty and Staff Institute on Aug. 10. 
As with Preeminence 2020, the university will publish annual reports on its implementation progress, in a spirit of transparency and accountability. The reasoning behind such an aggressive strategic planning process is expressed in a brochure being distributed to every N.C. A&T employee in concert with the plan rollout: 
"Our aspirations are too valuable to our many constituents in the Piedmont Triad region, the state of North Carolina and the nation to allow our pursuit of them to be guided by chance," the brochure reads in part. "A&T Preeminence is a roadmap of our collective intentions that will alight our efforts with our vision for the future."
Points of Pride
Largest HBCU

N.C. A&T is the largest public HBCU in the nation

Engineering

N.C. A&T is the No. 1 producer of engineering degrees on the undergraduate level awarded to African Americans.

Admired CEO

Chancellor Harold Martin Sr. is named among the Triad's Most Admired CEOs by the Triad Business Journal.

Academic Excellence

The university's Center for Academic Studies in Identify Science is the first and only National Intelligence Science and Technology CASIS in the United States.

Higher Research Activity

N.C. A&T is classified as an R2: Doctoral University of Higher Research Activity by the prestigious Carnegie Classification of Institutions of Higher Education.

Teaching / Research

N.C. A&T is the highest-ranked public school for combining research and teaching by the Wall Street Journal.

Engineering Professor and Student

N.C. A&T is an inaugural and pioneering tenant of the innovative Union Square Partnership for healthcare training.
2016 MEAC Champs

N.C. A&T Women's Basketball team are the 2016 MEAC Champions

Bowl Champs

Aggies win 2015 Inaugural Air Force Reserve Celebration Bowl and Black National Championship.

Tarik Cohen

Running back Tarik Cohen broke the university and MEAC record becoming the MEAC all-time leading rusher.

Hall of Fame

The 1968 Aggies football team was inducted into the N.C. A&T Sports Hall of Fame as the first A&T team to win a black college national championship.

Aggie Track & Field

Three track & field athletes are named to the NCAA All-Academic team for excellence in their events and in the classroom; maintaining a minimum 3.25 GPA.

Kim Terrell-Kearney

Former professional bowler Kim Terrell-Kearney named N.C. A&T bowling coach

Track & Field Ranking

The United States Track & Field and Cross Country Coaches Association ranked A&T men's track and field team among the top-25 in program history.
Gail Wiggins

JOMC Professor Gail Wiggins selected as the NABJ Educator of the Year

PALO! Lyceum Series

The Band PALO! performed at N.C. A&T for the Lyceum Series

CD - Jazz Preeminence

A&T Theatre arts performs first production of "Radio Golf" by African American playwright August Wilson.

Theatre

The Theatre Program at A&T was the first accredited Bachelor of Fine Arts (BFA) at an HBCU in North Carolina; second in the nation.

Black Nativity performances

The Theatre Arts Program is nationally ranked by Black Broadway as one of the top five Theatre Arts programs for African American students

Travis Alexander

Travis W. Alexander has been named National Conductor for the 105 Voices Of History National Concert Choir