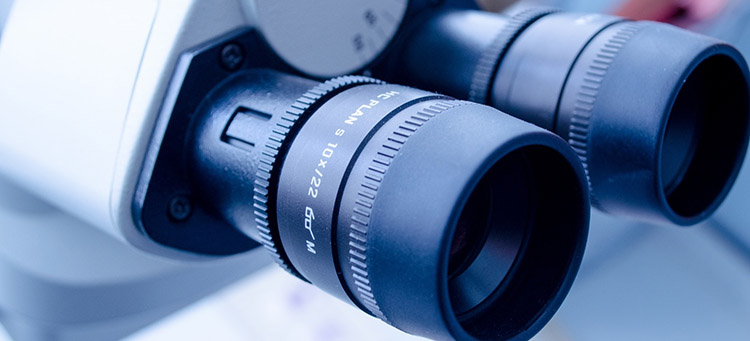 Research Funding Surges to $64.26 Million at N.C. A&T, Second Consecutive Record Year
EAST GREENSBORO, N.C. (August 1, 2018) – Faculty researchers at North Carolina Agricultural and Technical State University earned $64.26 million in contracts and grants in 2017-18, an increase of nearly $2 million over the previous year, school leaders revealed today.
The university has been on a steady trajectory of growth over the past two decades, adding nearly $46 million in annual research funding since 2001. Those contract and grant monies – which come largely from the highly competitive federal funding sector – support a wide range of projects in areas ranging from food security to bioenergy to computer science and many points in between.  
"Our faculty continued to demonstrate a high level of curiosity and innovation during the past year as they explored solutions to a variety of complex problems impacting society, creating new technologies, building new financial models, or developing new techniques to improve food production and safety or human health" said North Carolina A&T Chancellor Harold L. Martin Sr.  "Our continued growth as a research university is a testament to their outstanding work."
As a land-grant, doctoral university, N.C. A&T is one of 107 U.S. universities ranked as having "higher research activity" in the Carnegie Classification of Institutions of Higher Education. That second-highest designation among research universities is determined by measuring the aggregate level of research activity and the amount of activity divided by the number of full-time faculty.  
A&T is one of the state's three most productive public research campuses, along with North Carolina State and UNC-Chapel Hill.
Researchers across the university's eight colleges and its Joint School of Nanoscience and Nanoengineering made significant contributions to the university's record year, among them:
Lauren Davis, Ph.D., College of Engineering. Davis's "Improving Strategies for Hunger Relief and Food Security through Computational Data Science" project was awarded $3 million from the National Science Foundation. The study will develop a better understanding of food supply, distribution and need issues and an innovative, interdisciplinary training model in data science to help grow the workforce to meet those needs. 
Shengmin Sang, Ph.D., College of Agriculture & Environmental Sciences, Center for Post-Harvest Technologies. Sang's "Nutrimetabolomics Approach to Identify the Biomarkers of Whole Grain Intake" project was awarded $2.8 million from the U.S. Department of Agriculture. The research will identify novel bioactive natural products that can be used in functional foods and dietary supplements to prevent chronic diseases such as cancer and diabetes.
Abolghasem Shahbazi, Ph.D., College of Agriculture & Environmental Sciences. Shabazi's CREST Center for BioEnergy received $2.1 million from NSF. The center aims to make biomass a more viable source of renewable energy, conducting fundamental research toward the development of advanced thermochemical biomass conversion technology for the efficient, economic production of liquid transportation fuels and hydrogen.
Sameer Hamoush, Ph.D., College of Engineering. Hamoush's "Pipeline Development of Skilled Workforce through Research in Advanced Manufacturing" project was awarded $2 million from the U.S. Department of Energy. The funds will be used to fabricate metal test parts and determine material properties using a metal 3D printing machine, train students in the use of 3D printing, collaborate with other research hubs on fabrication and metal properties and develop a workforce pipeline by offering outreach and education workshops targeting secondary education students.
Maranda McBride, Ph.D., College of Business and Economics. McBride is director of the Transportation Institute and was awarded $1.4 million from the U.S. Department of Transportation. The institute educates students and professionals from diverse populations to provide qualified transportation professionals in the workforce. Institute activities are designed to provide ongoing initiatives in the areas of education, research, and workforce development. It serves as a national, regional and local clearinghouse for transportation education, research and outreach.
Points of Pride
Largest HBCU

N.C. A&T is the largest public HBCU in the nation

Engineering

N.C. A&T is the No. 1 producer of engineering degrees on the undergraduate level awarded to African Americans.

Admired CEO

Chancellor Harold Martin Sr. is named among the Triad's Most Admired CEOs by the Triad Business Journal.

Academic Excellence

The university's Center for Academic Studies in Identify Science is the first and only National Intelligence Science and Technology CASIS in the United States.

Higher Research Activity

N.C. A&T is classified as an R2: Doctoral University of Higher Research Activity by the prestigious Carnegie Classification of Institutions of Higher Education.

Teaching / Research

N.C. A&T is the highest-ranked public school for combining research and teaching by the Wall Street Journal.

Engineering Professor and Student

N.C. A&T is an inaugural and pioneering tenant of the innovative Union Square Partnership for healthcare training.
2016 MEAC Champs

N.C. A&T Women's Basketball team are the 2016 MEAC Champions

Bowl Champs

Aggies win 2015 Inaugural Air Force Reserve Celebration Bowl and Black National Championship.

Tarik Cohen

Running back Tarik Cohen broke the university and MEAC record becoming the MEAC all-time leading rusher.

Hall of Fame

The 1968 Aggies football team was inducted into the N.C. A&T Sports Hall of Fame as the first A&T team to win a black college national championship.

Aggie Track & Field

Three track & field athletes are named to the NCAA All-Academic team for excellence in their events and in the classroom; maintaining a minimum 3.25 GPA.

Kim Terrell-Kearney

Former professional bowler Kim Terrell-Kearney named N.C. A&T bowling coach

Track & Field Ranking

The United States Track & Field and Cross Country Coaches Association ranked A&T men's track and field team among the top-25 in program history.
Gail Wiggins

JOMC Professor Gail Wiggins selected as the NABJ Educator of the Year

PALO! Lyceum Series

The Band PALO! performed at N.C. A&T for the Lyceum Series

CD - Jazz Preeminence

A&T Theatre arts performs first production of "Radio Golf" by African American playwright August Wilson.

Theatre

The Theatre Program at A&T was the first accredited Bachelor of Fine Arts (BFA) at an HBCU in North Carolina; second in the nation.

Black Nativity performances

The Theatre Arts Program is nationally ranked by Black Broadway as one of the top five Theatre Arts programs for African American students

Travis Alexander

Travis W. Alexander has been named National Conductor for the 105 Voices Of History National Concert Choir