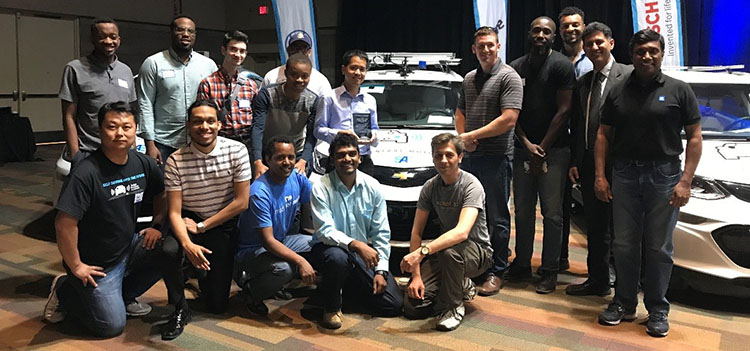 N.C. A&T Team Places Third in First Leg of SAE/GM Autonomous Car Challenge
EAST GREENSBORO, N.C. (Aug. 24, 2018) – Members of North Carolina Agricultural and Technical State University's Autonomous Auto (A3) team recently completed the first year of the three-year SAE International and General Motors (GM) AutoDrive Challenge, walking away with an overall score landing them in top 10 standing. 
"The N.C. A&T team demonstrated capable and mature technologies during this high-tech competition, which is the reflection of the capabilities of talented students and researchers at the university," said Ali Karimoddini, Ph.D. assistant professor in the Department of Electrical and Computer Engineering, deputy director of the TECHLAV Center of Excellence in Autonomy and team leader in the AutoDrive competition. "The team looks forward for the second year of the competition to demonstrate further developments on autonomous cars." 
The team placed third in the straight-line challenge, autonomously following a two-mile track in the shortest timeframe while appropriately following stop signs and general traffic obstacles. Held in Yuma, Arizona, the competition required teams to operate and successfully navigate their transformed autonomous cars through three main dynamic challenges: straight line, lateral and object detection and avoidance.
More than 30 undergraduate and graduate students are involved in the project with different backgrounds and disciplines in nine groups, including "Image Processing and Learning," "Software Architecture and Functional Safety Analysis," "Sensor Integration," "CPU/FPGA," "Control and Dynamics," "Mechanical Design," "Social Responsibility" and "Social Media and Outreach." 
In addition to A&T, eight other institutions are participating in the challenge, including the University of Toronto, Virginia Polytechnic Institute, Kettering University, University of Waterloo, Michigan State University and Michigan Technological University. 
"Being a part of this inspiring effort toward the development of self-driving cars and achieving such a great performance among top U.S. universities in this national competition is an exciting moment for N.C. A&T," said Robin Coger, Ph.D., dean of the College of Engineering. "The College of Engineering will continue progressive efforts to be at the forefront of developing advance technologies for future transportations systems."
The AutoDrive Challenge is a three-year initiative to develop and demonstrate a fully autonomous passenger vehicle. The technical goal of the challenge is to leverage the autonomy level of the car to navigate an urban driving course in an automated driving mode. Through this competition, GM provided the team with a Chevrolet Bolt EV as the vehicle platform. Strategic partners and suppliers such as Intel provided the team the vehicle parts and software.
The second leg of the competition is scheduled for May 2019. Mid-challenge targets will focus on enhanced autonomy levels of the self-driving cars by avoiding dynamic obstacles and safely passing through intersections, challenging road conditions and multiple lane changing.
Points of Pride
Largest HBCU

N.C. A&T is the largest public HBCU in the nation

Engineering

N.C. A&T is the No. 1 producer of engineering degrees on the undergraduate level awarded to African Americans.

Admired CEO

Chancellor Harold Martin Sr. is named among the Triad's Most Admired CEOs by the Triad Business Journal.

Academic Excellence

The university's Center for Academic Studies in Identify Science is the first and only National Intelligence Science and Technology CASIS in the United States.

Higher Research Activity

N.C. A&T is classified as an R2: Doctoral University of Higher Research Activity by the prestigious Carnegie Classification of Institutions of Higher Education.

Teaching / Research

N.C. A&T is the highest-ranked public school for combining research and teaching by the Wall Street Journal.

Engineering Professor and Student

N.C. A&T is an inaugural and pioneering tenant of the innovative Union Square Partnership for healthcare training.
2016 MEAC Champs

N.C. A&T Women's Basketball team are the 2016 MEAC Champions

Bowl Champs

Aggies win 2015 Inaugural Air Force Reserve Celebration Bowl and Black National Championship.

Tarik Cohen

Running back Tarik Cohen broke the university and MEAC record becoming the MEAC all-time leading rusher.

Hall of Fame

The 1968 Aggies football team was inducted into the N.C. A&T Sports Hall of Fame as the first A&T team to win a black college national championship.

Aggie Track & Field

Three track & field athletes are named to the NCAA All-Academic team for excellence in their events and in the classroom; maintaining a minimum 3.25 GPA.

Kim Terrell-Kearney

Former professional bowler Kim Terrell-Kearney named N.C. A&T bowling coach

Track & Field Ranking

The United States Track & Field and Cross Country Coaches Association ranked A&T men's track and field team among the top-25 in program history.
Gail Wiggins

JOMC Professor Gail Wiggins selected as the NABJ Educator of the Year

PALO! Lyceum Series

The Band PALO! performed at N.C. A&T for the Lyceum Series

CD - Jazz Preeminence

A&T Theatre arts performs first production of "Radio Golf" by African American playwright August Wilson.

Theatre

The Theatre Program at A&T was the first accredited Bachelor of Fine Arts (BFA) at an HBCU in North Carolina; second in the nation.

Black Nativity performances

The Theatre Arts Program is nationally ranked by Black Broadway as one of the top five Theatre Arts programs for African American students

Travis Alexander

Travis W. Alexander has been named National Conductor for the 105 Voices Of History National Concert Choir