North Carolina A&T Launches 2018-19 School Year with Momentum
EAST GREENSBORO, N.C. (Aug. 15, 2018) – The 2018 fall semester got underway today for North Carolina Agricultural and Technical State University, starting a school year that holds great promise for what is already the nation's largest historically black university and one of this state's top three public research institutions.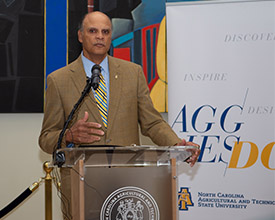 Chancellor Harold L. Martin Sr. kicked off the academic year with a media event that focused on the university's growth and development, which in recent weeks has been shown to include records in research funding and private fund raising, as well as a refreshed strategic plan – A&T Preeminence: Taking the Momentum to 2023 – that sets higher goals for N.C. A&T. One such goal includes growing enrollment to 14,000, approximately 2,000 more students than the 12,000 projected to enroll this fall. 
University leaders refreshed that plan over the past year after across-the-board momentum and early achievement of numerous goals for 2020 set in its previous strategic plan, A&T Preeminence 2020: Embracing Our Past, Creating Our Future. The plan, which establishes new mission and vision statements, core values and a range of new goals and strategies for the university, was unveiled publicly on Aug. 10 at the annual A&T Faculty and Staff Institute. 
"The focus of that new strategic plan enhances our presence in two critical areas – as a doctoral research, land-grant institution, driving our competitiveness in that space that leads to economic impact," Martin said. 
More than $300 million in construction projects connected to the university are either in progress or set to begin this fall, including the Student Center, the Engineering Research Innovation Complex, a new residence hall, Building 3 at the Gateway University Research Park, the University Farm Complex and acquisition of key portions of the Campus Evolution apartment complex and facilities for the A&T band program.
"What you will see from our university going forward is a commitment to continue to position our university to grow strategically to about 14,000 (students) … to continue to expand our inventory of incredible, new degree programs that are critical to the needs of the future of this region and our state – especially in STEM areas," Martin said.
"You're going to continue to see investments in our university over the next few years that are geared to building new facilities to accommodate our growth, our research, our new programs and that stimulate continuing growth and significant successes in economic growth and prosperity in East Greensboro, Greensboro in general and the Piedmont Triad region."
The 2017-18 academic year brought about significant success for A&T including research contracts and grants for fiscal year 2018 totaled nearly $64.3 million, an increase of nearly $2 million over last year, as well as growth in private fundraising totaling $15.6 million in FY2018, up from $14.7 million last year, largely on the strength of increased alumni giving.
Points of Pride
Largest HBCU

N.C. A&T is the largest public HBCU in the nation

Engineering

N.C. A&T is the No. 1 producer of engineering degrees on the undergraduate level awarded to African Americans.

Admired CEO

Chancellor Harold Martin Sr. is named among the Triad's Most Admired CEOs by the Triad Business Journal.

Academic Excellence

The university's Center for Academic Studies in Identify Science is the first and only National Intelligence Science and Technology CASIS in the United States.

Higher Research Activity

N.C. A&T is classified as an R2: Doctoral University of Higher Research Activity by the prestigious Carnegie Classification of Institutions of Higher Education.

Teaching / Research

N.C. A&T is the highest-ranked public school for combining research and teaching by the Wall Street Journal.

Engineering Professor and Student

N.C. A&T is an inaugural and pioneering tenant of the innovative Union Square Partnership for healthcare training.
2016 MEAC Champs

N.C. A&T Women's Basketball team are the 2016 MEAC Champions

Bowl Champs

Aggies win 2015 Inaugural Air Force Reserve Celebration Bowl and Black National Championship.

Tarik Cohen

Running back Tarik Cohen broke the university and MEAC record becoming the MEAC all-time leading rusher.

Hall of Fame

The 1968 Aggies football team was inducted into the N.C. A&T Sports Hall of Fame as the first A&T team to win a black college national championship.

Aggie Track & Field

Three track & field athletes are named to the NCAA All-Academic team for excellence in their events and in the classroom; maintaining a minimum 3.25 GPA.

Kim Terrell-Kearney

Former professional bowler Kim Terrell-Kearney named N.C. A&T bowling coach

Track & Field Ranking

The United States Track & Field and Cross Country Coaches Association ranked A&T men's track and field team among the top-25 in program history.
Gail Wiggins

JOMC Professor Gail Wiggins selected as the NABJ Educator of the Year

PALO! Lyceum Series

The Band PALO! performed at N.C. A&T for the Lyceum Series

CD - Jazz Preeminence

A&T Theatre arts performs first production of "Radio Golf" by African American playwright August Wilson.

Theatre

The Theatre Program at A&T was the first accredited Bachelor of Fine Arts (BFA) at an HBCU in North Carolina; second in the nation.

Black Nativity performances

The Theatre Arts Program is nationally ranked by Black Broadway as one of the top five Theatre Arts programs for African American students

Travis Alexander

Travis W. Alexander has been named National Conductor for the 105 Voices Of History National Concert Choir