Graves Named Interim Dean of the Joint School of Nanoscience and Nanoengineering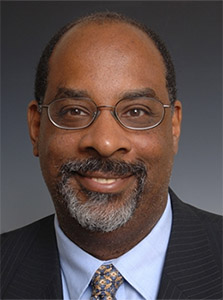 EAST GREENSBORO, N.C. (August 1, 2018) – Officials from North Carolina Agricultural and Technical State University and the University of North Carolina at Greensboro have named long-time faculty member and former dean of university studies at N.C. A&T, Joseph L. Graves Jr., Ph.D., interim dean of the Joint School of Nanoscience and Nanoengineering (JSNN).
Graves began serving as the chief academic and administrative officer for the collaborative academic unit between N.C. A&T and the University of North Carolina at Greensboro last month.
"Dr. Graves' experience and his commitment to advancing research at JSNN give him the preparation and insight to lead JSNN as we relaunch our national search for a permanent dean," said Provost and Executive Vice Chancellor Beryl McEwen.
Graves has co-authored more than 90 articles that have appeared in peer-reviewed publications and secured research funding of nearly $17 million during his tenure at A&T. Last year, he was named one of the "Outstanding Graduates" from the first 182 years of the biology department of Oberlin College; his 1992 paper in "Physiological Zoology and Biochemistry" was listed as one of the top 90 cited papers in that journal's 90 years of publication; and he was named by US Black Engineer Magazine and the Historically Black Colleges and Universities Council of Deans as one of the 2017 "Innovators of the Year."
Prior to this appointment, Graves served as a professor of nanoengineering and the associate dean for research at JSNN for eight years. Before JSNN, he was a professor of biological sciences and the dean of University Studies.
Graves has also served as an adjunct professor of biology at Duke University; a professor of biological sciences and the director of university core at Fairleigh Dickinson University; a visiting professor at Embry-Riddle Aeronautical University; and served in various positions at Midwestern Osteopathic Medical College, Arizona State University and the University of California, Irvine.
He earned his bachelor's in biology from Oberlin College, a master's in biological sciences from the University of Lowell, and his doctorate from Wayne State University in environmental, evolutionary and systematic biology.
JSNN builds upon the strengths of both universities to offer innovative, cross-disciplinary graduate programs in the emerging areas of nanoscience and nanoengineering.
Points of Pride
Largest HBCU

N.C. A&T is the largest public HBCU in the nation

Engineering

N.C. A&T is the No. 1 producer of engineering degrees on the undergraduate level awarded to African Americans.

Admired CEO

Chancellor Harold Martin Sr. is named among the Triad's Most Admired CEOs by the Triad Business Journal.

Academic Excellence

The university's Center for Academic Studies in Identify Science is the first and only National Intelligence Science and Technology CASIS in the United States.

Higher Research Activity

N.C. A&T is classified as an R2: Doctoral University of Higher Research Activity by the prestigious Carnegie Classification of Institutions of Higher Education.

Teaching / Research

N.C. A&T is the highest-ranked public school for combining research and teaching by the Wall Street Journal.

Engineering Professor and Student

N.C. A&T is an inaugural and pioneering tenant of the innovative Union Square Partnership for healthcare training.
2016 MEAC Champs

N.C. A&T Women's Basketball team are the 2016 MEAC Champions

Bowl Champs

Aggies win 2015 Inaugural Air Force Reserve Celebration Bowl and Black National Championship.

Tarik Cohen

Running back Tarik Cohen broke the university and MEAC record becoming the MEAC all-time leading rusher.

Hall of Fame

The 1968 Aggies football team was inducted into the N.C. A&T Sports Hall of Fame as the first A&T team to win a black college national championship.

Aggie Track & Field

Three track & field athletes are named to the NCAA All-Academic team for excellence in their events and in the classroom; maintaining a minimum 3.25 GPA.

Kim Terrell-Kearney

Former professional bowler Kim Terrell-Kearney named N.C. A&T bowling coach

Track & Field Ranking

The United States Track & Field and Cross Country Coaches Association ranked A&T men's track and field team among the top-25 in program history.
Gail Wiggins

JOMC Professor Gail Wiggins selected as the NABJ Educator of the Year

PALO! Lyceum Series

The Band PALO! performed at N.C. A&T for the Lyceum Series

CD - Jazz Preeminence

A&T Theatre arts performs first production of "Radio Golf" by African American playwright August Wilson.

Theatre

The Theatre Program at A&T was the first accredited Bachelor of Fine Arts (BFA) at an HBCU in North Carolina; second in the nation.

Black Nativity performances

The Theatre Arts Program is nationally ranked by Black Broadway as one of the top five Theatre Arts programs for African American students

Travis Alexander

Travis W. Alexander has been named National Conductor for the 105 Voices Of History National Concert Choir