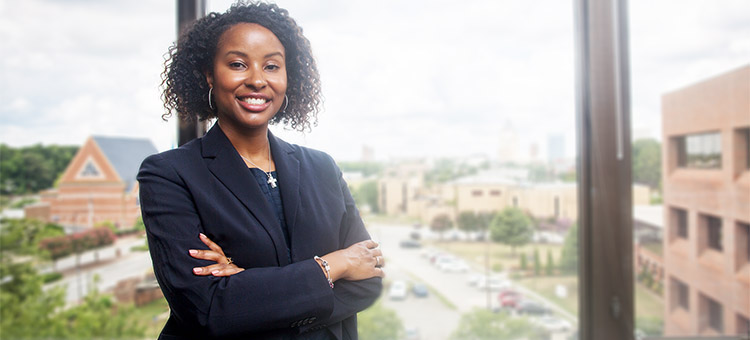 Day First Woman to Earn Computer Science Ph.D. at N.C. A&T
GREENSBORO, N.C. (July 6, 2018) - Siobahn Day has worked for three years to make history, not only for herself but for North Carolina Agricultural and Technical State University.
Day successfully defended her dissertation on Thursday to become the
first  woman
to graduate N.C. A&T's computer science doctoral program.
"It's surreal," said Day, a Chancellor's Distinguished Fellow. "Sometimes you think you aren't good enough and it's a lot of pressure but it's an honor."
The importance of this move to a more diverse doctoral pool of computer scientists is not lost on Day or anyone who has worked with Day during her three years at A&T.
"The number of women in computer sciences is very low and it is tough to be a woman in a male-dominated field," Day said. "You have to have a certain level of dedication and determination because it can feel unwelcoming. But it is so important because it gives me an opportunity to be a change agent and help change how people see women and African Americans in this field."
Mohd Anwar, Ph.D., associate professor of computer science, advised Day through her doctoral program.
"I am so excited to be a part of this history," he said. "Siobahn has done a good job and you can see her transformation. Very quickly she became a good researcher and she will continue to do a good job."
A&T began its doctoral program in computer science in 2014. The computer science department, part of the College of Engineering, performs research funded by agencies including the National Aeronautics and Space Administration, the U.S. Air Force, the National Security Agency, the Naval Oceanographic Office, National Science Foundation and others.
Day, received her bachelor's degree in computer science from Winston-Salem State University, where Elva Jones, one of the first black women to earn a doctorate in computer science, mentored her.
She worked with Anwar, for her doctoral research that looks at the authorship of tweets.
"With the prevalence of fake news, alternative facts, and cyber-crimes it has become increasingly difficult to determine originating sources on online social networks," Day said. "Basically, by looking at the natural language of tweets, we could tell who the author was."
Both Day and Anwar hoped that their research will lead to authorship attribution will be a solution to determining the veracity of the sources of fake news as well as a preventative measure
in stalling
these types of occurrences.
She will continue her research with Anwar and begin work as a professor at the University of North Carolina at Greensboro in the fall.
Points of Pride
Largest HBCU

N.C. A&T is the largest public HBCU in the nation

Engineering

N.C. A&T is the No. 1 producer of engineering degrees on the undergraduate level awarded to African Americans.

Admired CEO

Chancellor Harold Martin Sr. is named among the Triad's Most Admired CEOs by the Triad Business Journal.

Academic Excellence

The university's Center for Academic Studies in Identify Science is the first and only National Intelligence Science and Technology CASIS in the United States.

Higher Research Activity

N.C. A&T is classified as an R2: Doctoral University of Higher Research Activity by the prestigious Carnegie Classification of Institutions of Higher Education.

Teaching / Research

N.C. A&T is the highest-ranked public school for combining research and teaching by the Wall Street Journal.

Engineering Professor and Student

N.C. A&T is an inaugural and pioneering tenant of the innovative Union Square Partnership for healthcare training.
2016 MEAC Champs

N.C. A&T Women's Basketball team are the 2016 MEAC Champions

Bowl Champs

Aggies win 2015 Inaugural Air Force Reserve Celebration Bowl and Black National Championship.

Tarik Cohen

Running back Tarik Cohen broke the university and MEAC record becoming the MEAC all-time leading rusher.

Hall of Fame

The 1968 Aggies football team was inducted into the N.C. A&T Sports Hall of Fame as the first A&T team to win a black college national championship.

Aggie Track & Field

Three track & field athletes are named to the NCAA All-Academic team for excellence in their events and in the classroom; maintaining a minimum 3.25 GPA.

Kim Terrell-Kearney

Former professional bowler Kim Terrell-Kearney named N.C. A&T bowling coach

Track & Field Ranking

The United States Track & Field and Cross Country Coaches Association ranked A&T men's track and field team among the top-25 in program history.
Gail Wiggins

JOMC Professor Gail Wiggins selected as the NABJ Educator of the Year

PALO! Lyceum Series

The Band PALO! performed at N.C. A&T for the Lyceum Series

CD - Jazz Preeminence

A&T Theatre arts performs first production of "Radio Golf" by African American playwright August Wilson.

Theatre

The Theatre Program at A&T was the first accredited Bachelor of Fine Arts (BFA) at an HBCU in North Carolina; second in the nation.

Black Nativity performances

The Theatre Arts Program is nationally ranked by Black Broadway as one of the top five Theatre Arts programs for African American students

Travis Alexander

Travis W. Alexander has been named National Conductor for the 105 Voices Of History National Concert Choir