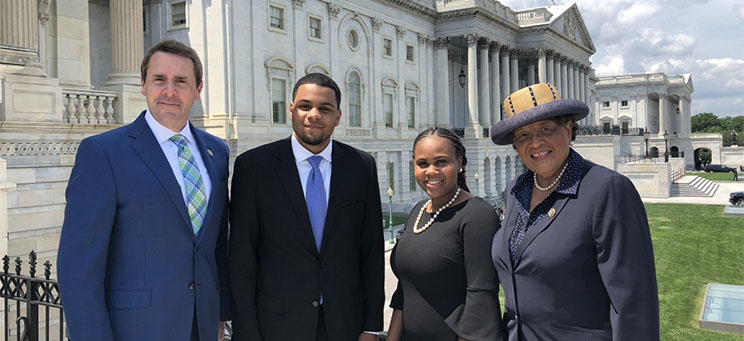 N.C. A&T Senior Selected for Congressional Bipartisan HBCU Caucus
Greensboro, N.C. (June 18, 2018) – Tony Watlington, Jr., rising senior economics student and SGA senator at North Carolina A&T State University, is helping to close the diversity gap on Capitol Hill.
Watlington has been tapped as a summer intern for the third class of the Congressional Bipartisan HBCU Caucus. The group was launched in 2016 by co-chairs, U.S. Rep. Alma Adams and U.S. Rep. Mark Walker. 
The first of its kind program gives two interns the opportunity to spend a four-week period in the office of both a Republican and a Democrat. Each student is required to meet performance standards that ensure a quality, educational experience, including attending hearings and briefings, writing letters, completing projects, and writing an essay about their time and what they learned. They will also have the opportunity to meet with key players on Capitol Hill, including members of Congress and senior staff. The internship opportunity effectually exposes HBCU students to federal advocacy careers and builds a pipeline of qualified young professionals to increase diversity on Capitol Hill. 
"This third class of HBCU interns is a testament to our commitment to fighting for equal opportunity and fixing the diversity problem on Capitol Hill," said Adams, an N.C. A&T alumna. "HBCUs contribute more than $14 billion dollars annually to our economy and have provided pathways of opportunity for millions of Americans from varied backgrounds. These institutions are essential to workforce diversity, especially here in Washington." 
"We will not produce policies that address the issues impacting all Americans if we don't have diverse policy makers. This internship is a necessary step to ensuring Congress looks like the people it serves." 
Jameia Booker, a rising senior at Johnson C. Smith University will also intern with the program. 
A&T Alumna Vashti Hinton participated in the inaugural class of interns and was the first to be hired as a full-time staff member on Capitol Hill. Hinton works for U.S. Representative Gregory Meeks. 
 "Working together for the betterment of our students, this internship program has yielded success, with one of the programs first participants, Vashti (Hinton), gaining employment in a congressional office after graduating. I am thrilled to have Tony and Jameia spending time in our office and Adams' office this summer, and look forward to continuing advocating on behalf of the HBCU community," said Congressman Walker. 
U.S. House of Representatives Minority Leader Nancy Pelosi and Speaker of the U.S. House of Representatives Paul Ryan both echoed the sentiments of Adams and Walker praising the program, its leadership and the talented students selected for the internship. 
"Programs like this give me great hope for the future," Speaker Ryan said. Pelosi added, "The voices of young people are vital to the work of the Congress and the success of our democracy," 
The internship will run through July 27, 2018.
Points of Pride
Largest HBCU

N.C. A&T is the largest public HBCU in the nation

Engineering

N.C. A&T is the No. 1 producer of engineering degrees on the undergraduate level awarded to African Americans.

Admired CEO

Chancellor Harold Martin Sr. is named among the Triad's Most Admired CEOs by the Triad Business Journal.

Academic Excellence

The university's Center for Academic Studies in Identify Science is the first and only National Intelligence Science and Technology CASIS in the United States.

Higher Research Activity

N.C. A&T is classified as an R2: Doctoral University of Higher Research Activity by the prestigious Carnegie Classification of Institutions of Higher Education.

Teaching / Research

N.C. A&T is the highest-ranked public school for combining research and teaching by the Wall Street Journal.

Engineering Professor and Student

N.C. A&T is an inaugural and pioneering tenant of the innovative Union Square Partnership for healthcare training.
2016 MEAC Champs

N.C. A&T Women's Basketball team are the 2016 MEAC Champions

Bowl Champs

Aggies win 2015 Inaugural Air Force Reserve Celebration Bowl and Black National Championship.

Tarik Cohen

Running back Tarik Cohen broke the university and MEAC record becoming the MEAC all-time leading rusher.

Hall of Fame

The 1968 Aggies football team was inducted into the N.C. A&T Sports Hall of Fame as the first A&T team to win a black college national championship.

Aggie Track & Field

Three track & field athletes are named to the NCAA All-Academic team for excellence in their events and in the classroom; maintaining a minimum 3.25 GPA.

Kim Terrell-Kearney

Former professional bowler Kim Terrell-Kearney named N.C. A&T bowling coach

Track & Field Ranking

The United States Track & Field and Cross Country Coaches Association ranked A&T men's track and field team among the top-25 in program history.
Gail Wiggins

JOMC Professor Gail Wiggins selected as the NABJ Educator of the Year

PALO! Lyceum Series

The Band PALO! performed at N.C. A&T for the Lyceum Series

CD - Jazz Preeminence

A&T Theatre arts performs first production of "Radio Golf" by African American playwright August Wilson.

Theatre

The Theatre Program at A&T was the first accredited Bachelor of Fine Arts (BFA) at an HBCU in North Carolina; second in the nation.

Black Nativity performances

The Theatre Arts Program is nationally ranked by Black Broadway as one of the top five Theatre Arts programs for African American students

Travis Alexander

Travis W. Alexander has been named National Conductor for the 105 Voices Of History National Concert Choir