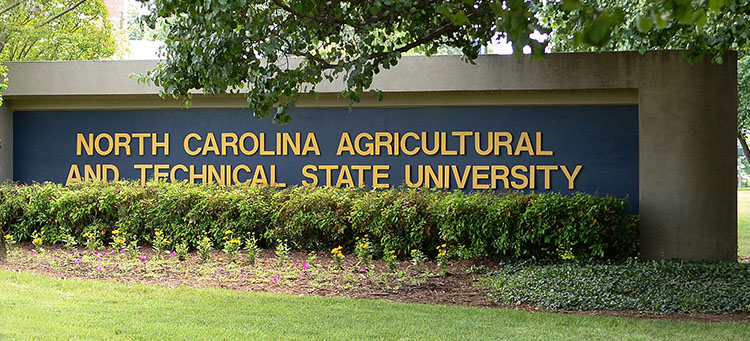 North Carolina A&T Scientist to Demonstrate Cutting-Edge Agricultural Research at Capitol Hill Exhibition
GREENSBORO, N.C. (June 6, 2018) - As Congress considers the Farm Bill and agricultural appropriations, agricultural researchers from a variety of disciplines are updating Congressional members and staff on research covering current challenges and emerging threats in agriculture, food, and natural resources.
North Carolina Agricultural and Technical State University's own Leonard Williams, Ph.D., is among the group of researchers taking part today in the exhibition in Washington, D.C., to help demonstrate how multiple types of U.S. Department of Agriculture funding (intramural, extramural, competitive, and capacity) work together to bolster American innovation.
Williams, a professor and researcher in the College of Agriculture and Environmental Sciences, presented, "Developing Agricultural Products with Health Benefits while Supporting Small and Limited Resource Farmers."
The event, hosted by the Association of Public and Land-grant Universities (APLU), AFRI Coalition, National Coalition for Food and Agricultural Research (NC-FAR), and Supporters of Agricultural Research (SoAR), is hosting 36 exhibits from more than 20 universities, scientific professional societies; USDA agencies; and others to show members of Congress and their staffs the importance of funding agricultural research.
"Research and education in food, agriculture and natural resource issues has become more critical in solving many societal challenges. If we want to decrease obesity and malnutrition, control invasive species, improve the vitality of our rural communities, and provide clean water, healthy forests, abundant fish and wildlife and sustainable energy, then the U.S. needs to invest far more in the agricultural research, education and Extension system," said Ian Maw, APLU vice president of food, agriculture and natural resources.
"The research shared at this event represents only tiny fraction of the incredible work being carried out in the U.S. and an even smaller fraction of what could be accomplished with increased funding."
With a membership of 237 public research universities, land-grant institutions, state university systems, and affiliated organizations, the Association of Public and Land-grant Universities' agenda is built on the three pillars of increasing degree completion and academic success, advancing scientific research, and expanding engagement.  The association's work is furthered by an active and effective advocacy arm that works with Congress and the administration as well as the media to advance federal policies that strengthen public universities benefit the students they serve.
Points of Pride
Largest HBCU

N.C. A&T is the largest public HBCU in the nation

Engineering

N.C. A&T is the No. 1 producer of engineering degrees on the undergraduate level awarded to African Americans.

Admired CEO

Chancellor Harold Martin Sr. is named among the Triad's Most Admired CEOs by the Triad Business Journal.

Academic Excellence

The university's Center for Academic Studies in Identify Science is the first and only National Intelligence Science and Technology CASIS in the United States.

Higher Research Activity

N.C. A&T is classified as an R2: Doctoral University of Higher Research Activity by the prestigious Carnegie Classification of Institutions of Higher Education.

Teaching / Research

N.C. A&T is the highest-ranked public school for combining research and teaching by the Wall Street Journal.

Engineering Professor and Student

N.C. A&T is an inaugural and pioneering tenant of the innovative Union Square Partnership for healthcare training.
2016 MEAC Champs

N.C. A&T Women's Basketball team are the 2016 MEAC Champions

Bowl Champs

Aggies win 2015 Inaugural Air Force Reserve Celebration Bowl and Black National Championship.

Tarik Cohen

Running back Tarik Cohen broke the university and MEAC record becoming the MEAC all-time leading rusher.

Hall of Fame

The 1968 Aggies football team was inducted into the N.C. A&T Sports Hall of Fame as the first A&T team to win a black college national championship.

Aggie Track & Field

Three track & field athletes are named to the NCAA All-Academic team for excellence in their events and in the classroom; maintaining a minimum 3.25 GPA.

Kim Terrell-Kearney

Former professional bowler Kim Terrell-Kearney named N.C. A&T bowling coach

Track & Field Ranking

The United States Track & Field and Cross Country Coaches Association ranked A&T men's track and field team among the top-25 in program history.
Gail Wiggins

JOMC Professor Gail Wiggins selected as the NABJ Educator of the Year

PALO! Lyceum Series

The Band PALO! performed at N.C. A&T for the Lyceum Series

CD - Jazz Preeminence

A&T Theatre arts performs first production of "Radio Golf" by African American playwright August Wilson.

Theatre

The Theatre Program at A&T was the first accredited Bachelor of Fine Arts (BFA) at an HBCU in North Carolina; second in the nation.

Black Nativity performances

The Theatre Arts Program is nationally ranked by Black Broadway as one of the top five Theatre Arts programs for African American students

Travis Alexander

Travis W. Alexander has been named National Conductor for the 105 Voices Of History National Concert Choir