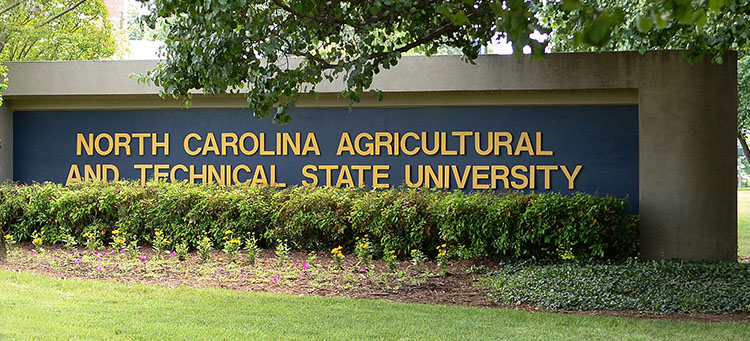 N.C. A&T Shines at Regional NODA Conference
GREENSBORO, N.C. (April 5, 2018) – Aggie Student Success Leaders (ASLs) from the Office of New Student Programs (NSP) at North Carolina Agricultural and Technical State University competed at a regional conference in Orlando, Florida and brought back several awards – including the chance to present at the national conference.
At the Region VI – Southern Regional Orientation Workshop of the National Orientation Directors Association (NODA) for Orientation, Transition and Retention in Higher Education, NSP Director Jacque Powers and 16 ASLs delivered a series of presentations and won these awards:
First place, Service Project Award category for a medium delegation – For the project, "A Gift for Teaching," NSP collected a number of school supplies that were donated to teachers at [Insert name of school]
First place and an invitation to present at the national conference in the Professional Session category – "Oh Behave! Balancing Group Behaviors and Communication Styles"
First place, Song, Skit, Step and Dance (Step) category
Second place, Outstanding Combined Educational Session presentation category – "Finesse the Summer: How to Build Community with an Orientation Marketing Campaign"
"The university and our students benefit from having staff and student leaders who subscribe to best practices in student engagement," said Erin Hill Hart, associate vice provost for Enrollment Management. "The team is continually sharpening their insights into what practices engage students in a manner that promotes their success. Additionally the awards and recognitions show that N.C. A&T is considered among institutions who can be looked upon for these insights."
A&T's participation in the conference and accompanying recognition "serves as an example of what the university stands for – commitment to excellence in teaching, research, public service and engagement," Powers said. "In addition, our student leaders represented North Carolina A&T State University on a platform where [historically black colleges and universities] were underrepresented."
Of the 86 institutions represented from nine states, only seven were HBCUs.
NODA regional conferences and workshops provide educational opportunities and professional development for participants in the fields of orientation, transition and retention. NSP and all attendees share and learn innovative programming ideas to continue excellence in academic and operational effectiveness and efficiency. Region VI includes colleges and universities from Alabama, Georgia, Florida, Kentucky, Louisiana, Mississippi, North Carolina, South Carolina and Tennessee.
NSP exists to help new students transition to the university by familiarizing them with the campus and its resources and provides opportunities to increase students' self-confidence for future success. Additionally, NSP supports parents and families to foster community support for students.news/2017/01/ncat-signage.jpg
Points of Pride
Largest HBCU

N.C. A&T is the largest public HBCU in the nation

Engineering

N.C. A&T is the No. 1 producer of engineering degrees on the undergraduate level awarded to African Americans.

Admired CEO

Chancellor Harold Martin Sr. is named among the Triad's Most Admired CEOs by the Triad Business Journal.

Academic Excellence

The university's Center for Academic Studies in Identify Science is the first and only National Intelligence Science and Technology CASIS in the United States.

Higher Research Activity

N.C. A&T is classified as an R2: Doctoral University of Higher Research Activity by the prestigious Carnegie Classification of Institutions of Higher Education.

Teaching / Research

N.C. A&T is the highest-ranked public school for combining research and teaching by the Wall Street Journal.

Engineering Professor and Student

N.C. A&T is an inaugural and pioneering tenant of the innovative Union Square Partnership for healthcare training.
2016 MEAC Champs

N.C. A&T Women's Basketball team are the 2016 MEAC Champions

Bowl Champs

Aggies win 2015 Inaugural Air Force Reserve Celebration Bowl and Black National Championship.

Tarik Cohen

Running back Tarik Cohen broke the university and MEAC record becoming the MEAC all-time leading rusher.

Hall of Fame

The 1968 Aggies football team was inducted into the N.C. A&T Sports Hall of Fame as the first A&T team to win a black college national championship.

Aggie Track & Field

Three track & field athletes are named to the NCAA All-Academic team for excellence in their events and in the classroom; maintaining a minimum 3.25 GPA.

Kim Terrell-Kearney

Former professional bowler Kim Terrell-Kearney named N.C. A&T bowling coach

Track & Field Ranking

The United States Track & Field and Cross Country Coaches Association ranked A&T men's track and field team among the top-25 in program history.
Gail Wiggins

JOMC Professor Gail Wiggins selected as the NABJ Educator of the Year

PALO! Lyceum Series

The Band PALO! performed at N.C. A&T for the Lyceum Series

CD - Jazz Preeminence

A&T Theatre arts performs first production of "Radio Golf" by African American playwright August Wilson.

Theatre

The Theatre Program at A&T was the first accredited Bachelor of Fine Arts (BFA) at an HBCU in North Carolina; second in the nation.

Black Nativity performances

The Theatre Arts Program is nationally ranked by Black Broadway as one of the top five Theatre Arts programs for African American students

Travis Alexander

Travis W. Alexander has been named National Conductor for the 105 Voices Of History National Concert Choir