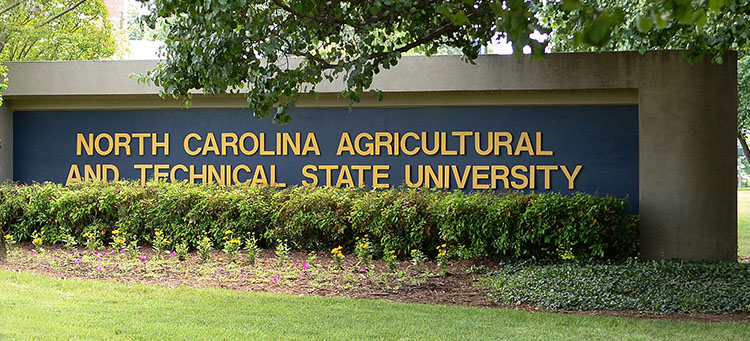 UNC System Board of Governors Taps N.C. A&T Professor for Excellence in Teaching Honor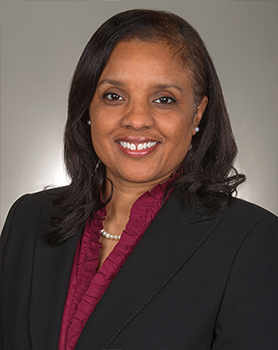 GREENSBORO, N.C. (April 5, 2018) -- An immunologist who teaches animal science and studies immune regulation in mammals is the University of North Carolina Board of Governors' choice for the 2018 Excellence in Teaching Award for North Carolina Agricultural and Technical State University.                                                              
Radiah C. Minor, an associate professor in the College of Agricultural and Environmental Sciences, was chosen for the prestigious annual award along with faculty representing each of the other 16 campuses in the UNC System. The winners were recognized for bringing "innovative and creative teaching methods and approaches, which make a real difference in how students learn," said UNC Board of Governors Chair Lou Bissette. 
A Ph.D. graduate of Meharry Medical College in Nashville, Minor joined the faculty of North Carolina A&T in 2008. She has made her mark as a hands-on instructor, who "makes sure students get practical experience, as well as professional development and training," said interim College of Agriculture and Environmental Sciences Dean Shirley Hymon-Parker. 
Minor's focus this week demonstrates that commitment: As the faculty advisor for the A&T chapter of the Minorities in Agriculture, Natural Resources and Related Sciences organization, Minor and her students are hosting a national conference in Greensboro being attended by more than 1,200 students from 100-plus campuses across the country. 
"Dr. Minor's commitment to excellence in the classroom serves our students exceptionally well and prepares them for the rigor and demands of today's agriculture and environmental sciences [CGH1] careers," said N.C. A&T Provost and Executive Vice Chancellor for Academic Affairs, Beryl McEwen. "Just as importantly, she continually advances her own professional development, and her students benefit tremendously from her attention to staying current and fresh in her work. She is an outstanding representative of the A&T faculty." 
In an essay on her teaching philosophy submitted as part of her nomination for the Excellence in Teaching Award, Minor discussed her lifelong passion for learning and the many ways she seeks to inspire and engage students, to instill the same excitement in them. 
"Through all the teaching tools I use, I encourage students to step further out of their comfort zones, challenging them to push themselves to grow personally and intellectually," said Minor, "But I also drive home the point that there are few excuses for not trying or not doing your absolute best to achieve a goal. If you want it, you must do what it takes to get it." 
Each of the Excellence in Teaching awardees will receive a commemorative bronze medallion and a $12,500 cash prize. Board of Governors members will present awards during each campus's spring commencement ceremony. 
A history of the Excellence in Teaching Award and short biographies and photos of all 17 award recipients are available via the
UNC system website
.
Points of Pride
Largest HBCU

N.C. A&T is the largest public HBCU in the nation

Engineering

N.C. A&T is the No. 1 producer of engineering degrees on the undergraduate level awarded to African Americans.

Admired CEO

Chancellor Harold Martin Sr. is named among the Triad's Most Admired CEOs by the Triad Business Journal.

Academic Excellence

The university's Center for Academic Studies in Identify Science is the first and only National Intelligence Science and Technology CASIS in the United States.

Higher Research Activity

N.C. A&T is classified as an R2: Doctoral University of Higher Research Activity by the prestigious Carnegie Classification of Institutions of Higher Education.

Teaching / Research

N.C. A&T is the highest-ranked public school for combining research and teaching by the Wall Street Journal.

Engineering Professor and Student

N.C. A&T is an inaugural and pioneering tenant of the innovative Union Square Partnership for healthcare training.
2016 MEAC Champs

N.C. A&T Women's Basketball team are the 2016 MEAC Champions

Bowl Champs

Aggies win 2015 Inaugural Air Force Reserve Celebration Bowl and Black National Championship.

Tarik Cohen

Running back Tarik Cohen broke the university and MEAC record becoming the MEAC all-time leading rusher.

Hall of Fame

The 1968 Aggies football team was inducted into the N.C. A&T Sports Hall of Fame as the first A&T team to win a black college national championship.

Aggie Track & Field

Three track & field athletes are named to the NCAA All-Academic team for excellence in their events and in the classroom; maintaining a minimum 3.25 GPA.

Kim Terrell-Kearney

Former professional bowler Kim Terrell-Kearney named N.C. A&T bowling coach

Track & Field Ranking

The United States Track & Field and Cross Country Coaches Association ranked A&T men's track and field team among the top-25 in program history.
Gail Wiggins

JOMC Professor Gail Wiggins selected as the NABJ Educator of the Year

PALO! Lyceum Series

The Band PALO! performed at N.C. A&T for the Lyceum Series

CD - Jazz Preeminence

A&T Theatre arts performs first production of "Radio Golf" by African American playwright August Wilson.

Theatre

The Theatre Program at A&T was the first accredited Bachelor of Fine Arts (BFA) at an HBCU in North Carolina; second in the nation.

Black Nativity performances

The Theatre Arts Program is nationally ranked by Black Broadway as one of the top five Theatre Arts programs for African American students

Travis Alexander

Travis W. Alexander has been named National Conductor for the 105 Voices Of History National Concert Choir