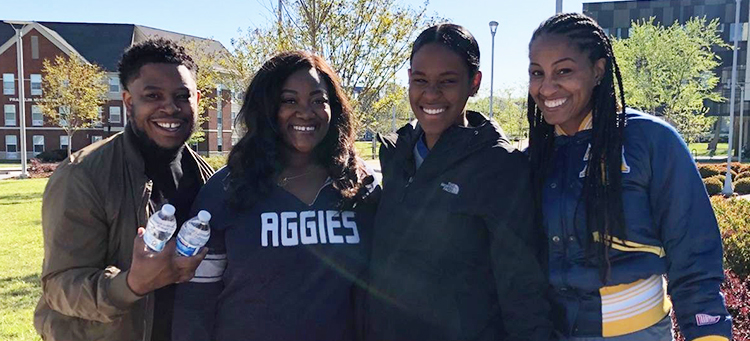 N.C. A&T Faculty, Staff and Students Answer the Call with 'Aggie Action Day'
EAST GREENSBORO, N.C. (April 26, 2018) – As East Greensboro continues to recover from tornadoes that swept through the area on April 15, the North Carolina Agricultural and Technical State University family is continuing its support with "Aggie Action Day," Saturday, April 28. At 9 a.m., faculty, staff and students will meet at the Willow Oaks Community Center to volunteer with community clean-up and other relief work.
"As a land grant institution, it is a part of our mission to be engaged with our community. And, caring about our community is just something Aggies Do," said Ray Trapp, N.C. A&T director of external relations. "We will continue to work strategically with the City of Greensboro to provide assistance for the tornado relief efforts for East Greensboro and we are in this for the long haul."
This is an extension of support to the community from the Aggie family. Last week, more than 100 A&T faculty, staff and students volunteered to clear debris and help with property clean up. On Friday,  nearly 50 A&T faculty, staff and students packed three campus shuttles and a box truck with necessities that include food, water, blankets, clothing and toiletries donated by scores of Aggies across campus. Items were donated to Willow Oaks Community Center, the Interactive Resource Center and New Light Missionary Baptist Church.
The generosity of Greensboro residents and businesses has nearly filled warehouse space for supplies. Now the focus has turned to monetary donations to assist with relocating some residents or repairing their homes.
"Please consider contributing to the tornado relief funds set up by the United Way or Community Foundation of Greater Greensboro, or signing up for a one of the many volunteer efforts," said Chris Wilson, assistant city manager.
Monetary donations can be made through the Community Foundation of Greensboro's East Greensboro Tornado Relief Funds webpage.
There was significant damage to three Guilford County Schools elementary schools: Peeler, Erwin Montessori and A&T's partner school, Hampton. Students from the three schools have been temporarily relocated to Bluford Elementary, Alamance Elementary and Reedy Fork Elementary, respectively.
Because these schools suffered a great loss, school supplies are needed to help students and teachers better and more quickly acclimate to their new environments. To address those needs, supplies may be donated through the Guilford Education Alliance using guidance available on its website.
Points of Pride
Largest HBCU

N.C. A&T is the largest public HBCU in the nation

Engineering

N.C. A&T is the No. 1 producer of engineering degrees on the undergraduate level awarded to African Americans.

Admired CEO

Chancellor Harold Martin Sr. is named among the Triad's Most Admired CEOs by the Triad Business Journal.

Academic Excellence

The university's Center for Academic Studies in Identify Science is the first and only National Intelligence Science and Technology CASIS in the United States.

Higher Research Activity

N.C. A&T is classified as an R2: Doctoral University of Higher Research Activity by the prestigious Carnegie Classification of Institutions of Higher Education.

Teaching / Research

N.C. A&T is the highest-ranked public school for combining research and teaching by the Wall Street Journal.

Engineering Professor and Student

N.C. A&T is an inaugural and pioneering tenant of the innovative Union Square Partnership for healthcare training.
2016 MEAC Champs

N.C. A&T Women's Basketball team are the 2016 MEAC Champions

Bowl Champs

Aggies win 2015 Inaugural Air Force Reserve Celebration Bowl and Black National Championship.

Tarik Cohen

Running back Tarik Cohen broke the university and MEAC record becoming the MEAC all-time leading rusher.

Hall of Fame

The 1968 Aggies football team was inducted into the N.C. A&T Sports Hall of Fame as the first A&T team to win a black college national championship.

Aggie Track & Field

Three track & field athletes are named to the NCAA All-Academic team for excellence in their events and in the classroom; maintaining a minimum 3.25 GPA.

Kim Terrell-Kearney

Former professional bowler Kim Terrell-Kearney named N.C. A&T bowling coach

Track & Field Ranking

The United States Track & Field and Cross Country Coaches Association ranked A&T men's track and field team among the top-25 in program history.
Gail Wiggins

JOMC Professor Gail Wiggins selected as the NABJ Educator of the Year

PALO! Lyceum Series

The Band PALO! performed at N.C. A&T for the Lyceum Series

CD - Jazz Preeminence

A&T Theatre arts performs first production of "Radio Golf" by African American playwright August Wilson.

Theatre

The Theatre Program at A&T was the first accredited Bachelor of Fine Arts (BFA) at an HBCU in North Carolina; second in the nation.

Black Nativity performances

The Theatre Arts Program is nationally ranked by Black Broadway as one of the top five Theatre Arts programs for African American students

Travis Alexander

Travis W. Alexander has been named National Conductor for the 105 Voices Of History National Concert Choir