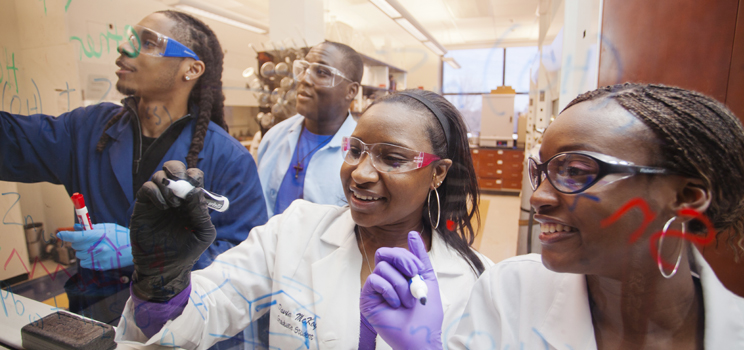 N.C. A&T to host Extreme IT Day and Science and Technology Week
GREENSBORO, N.C. (March 9, 2018) -
The College of Science and Technology (CoST)
at North Carolina Agricultural and Technical State University will observe Science and Technology (SciTech) Week, March 12-16. This year marks the college's largest registered participation among North Carolina high schools, community colleges and organizations.
Throughout the week, CoST faculty and students will provide opportunities to educate, inform and highlight science, technology, engineering and mathematics (STEM) career options. More than 400 high school students will tour and take part in STEM demonstrations. Interest in the tours and presentations has increased dramatically over previous years, with registration for this year's event generating a nearly 200 percent increase over last years' participation.
This years' SciTech week, themed, "STEM: Prepare, Learn, Succeed," will kick off on Monday, March 12, at 5 p.m. with an opening ceremony keynoted by alumnus Keenan Smith '16. Smith is CEO and co-founder of Little Brown Box Works, a mobile application and web development startup company.
The cornerstone of the week is Extreme IT Day. In its 10th year, Extreme IT Day will be Wednesday, March 14, in the Alumni-Foundation Event Center. Events of the day will introduce approximately 300 high school students to enterprise computing technologies, including the mainframe and cloud. 
"Extreme IT Day started as a mainframe focused event with the help of IBM.  It has expanded to include all of cloud technology for the benefit of partners like Cisco and Dell who don't necessarily hire for mainframe," said Cameron Seay, assistant professor in the Department of Computer Systems Technology. Seay also spearheads Extreme IT Day activities.
Other corporate sponsors and partners will be on site for student engagement and interaction, including John Deere, Wells Fargo, Met Life and Fidelity.
Extreme IT day will begin with hands-on breakout sessions that will include robotics, app development, a blockchain exercise, a design-and-build activity called the Marshmallow Challenge and much more.  Afternoon activities will shift to focus on college students who will present capstone research projects and posters to industry partners and a robotics competition.
Additionally, SciTech Week includes the increasingly popular "Women in Science and Technology" luncheon. Last year, more than 250 women from schools and organizations across the state attended. This year's registration has exceeded that margin by 10 percent. Construction Management alumna Bri'Shae Anderson '15 will deliver the keynote address.
CoST offers programs with accreditation from the Association of Technology, Management, and Applied Engineering, the American Council of Construction Education, the Accreditation Board for Engineering and Technology and the American Chemical Society. 
The Scitech Week community schedule is as follows: 
Monday, March 12, 5 – 7 p.m., SciTech Opening Reception- Academic Classroom Building, room 108
Tuesday, March 13, 9 a.m. - 1 p.m., Construction Management, Environmental Health and Safety, Geomatics, Physics Day. Demonstrations and tours – Smith Hall, room 2014
Wednesday, March 14, 9 a.m. – 1 p.m. Electronics Technology, Information Technology, Math and Statistics Day. Demonstrations and tours – Smith Hall, room 2014
Thursday, March 15, 9 a.m. – 1 p.m. Biology and Graphic Communication Systems Day. Demonstrations and tours – Smith Hall, room 2014
Friday, March 16, 9 a.m. – 1 p.m. Applied Engineering Technology, Chemistry, and Motorsports Technology Day. Demonstrations and tours – Smith Hall, room 2014
Friday, March 16, 11 a.m. - 1 p.m. Women in Science and Technology luncheon, Alumni Foundation Events Center (invitation only)
For additional information visit
SciTech Week online
.
Points of Pride
Largest HBCU

N.C. A&T is the largest public HBCU in the nation

Engineering

N.C. A&T is the No. 1 producer of engineering degrees on the undergraduate level awarded to African Americans.

Admired CEO

Chancellor Harold Martin Sr. is named among the Triad's Most Admired CEOs by the Triad Business Journal.

Academic Excellence

The university's Center for Academic Studies in Identify Science is the first and only National Intelligence Science and Technology CASIS in the United States.

Higher Research Activity

N.C. A&T is classified as an R2: Doctoral University of Higher Research Activity by the prestigious Carnegie Classification of Institutions of Higher Education.

Teaching / Research

N.C. A&T is the highest-ranked public school for combining research and teaching by the Wall Street Journal.

Engineering Professor and Student

N.C. A&T is an inaugural and pioneering tenant of the innovative Union Square Partnership for healthcare training.
2016 MEAC Champs

N.C. A&T Women's Basketball team are the 2016 MEAC Champions

Bowl Champs

Aggies win 2015 Inaugural Air Force Reserve Celebration Bowl and Black National Championship.

Tarik Cohen

Running back Tarik Cohen broke the university and MEAC record becoming the MEAC all-time leading rusher.

Hall of Fame

The 1968 Aggies football team was inducted into the N.C. A&T Sports Hall of Fame as the first A&T team to win a black college national championship.

Aggie Track & Field

Three track & field athletes are named to the NCAA All-Academic team for excellence in their events and in the classroom; maintaining a minimum 3.25 GPA.

Kim Terrell-Kearney

Former professional bowler Kim Terrell-Kearney named N.C. A&T bowling coach

Track & Field Ranking

The United States Track & Field and Cross Country Coaches Association ranked A&T men's track and field team among the top-25 in program history.
Gail Wiggins

JOMC Professor Gail Wiggins selected as the NABJ Educator of the Year

PALO! Lyceum Series

The Band PALO! performed at N.C. A&T for the Lyceum Series

CD - Jazz Preeminence

A&T Theatre arts performs first production of "Radio Golf" by African American playwright August Wilson.

Theatre

The Theatre Program at A&T was the first accredited Bachelor of Fine Arts (BFA) at an HBCU in North Carolina; second in the nation.

Black Nativity performances

The Theatre Arts Program is nationally ranked by Black Broadway as one of the top five Theatre Arts programs for African American students

Travis Alexander

Travis W. Alexander has been named National Conductor for the 105 Voices Of History National Concert Choir