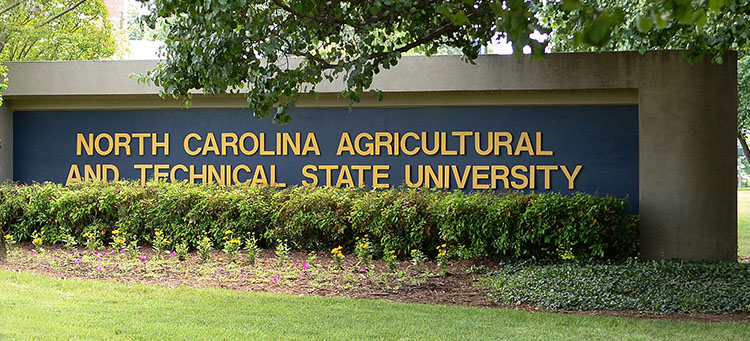 Washington Post Social Media Editor to Deliver Richard E. Moore Lecture at N.C. A&T
GREENSBORO, N.C. (March 26, 2018) – An award-winning editor whose online leadership has boosted The Washington Post's performance in social media will deliver the Richard E. Moore Lecture in the Department of Journalism and Mass Communication at North Carolina Agricultural and Technical State University on Thursday, April 12.
Social media/embedded audience editor Gene Park has charted new ground over the past three years for the Post, working with newsroom colleagues to enhance online content presentation and leading new engagement on social platforms. He is embedded in the Post's Opinions, Outlook and PostEverthing sections, and often contributes as a writer, as well.
But it is his work on Reddit, where he serves as "the voice of The Washington Post," that has drawn particular praise in journalism circles. That quirky, sometimes controversial platform has grown into the sixth-most heavily trafficked website in the world, with 542 million monthly viewers, and Park's engagement there was a major reason why Harvard's prestigious Nieman Journalism Lab predicted 2018 would be "the year of The Washington Post."
Born in Guam, Park earned a journalism degree from California State University-Fullerton before launching his career at the Honolulu Star-Bulletin. He later moved to Huffington Post-Hawaii as its debut social media editor and then to Honolulu's Civil Beat to serve as community manager. He left Hawaii in 2015 to join the Post, where he has carved out a special role in helping to frame the news organization's content for maximum impact in the digital space, adding momentum to the Post's ascent as an increasingly influential and profitable medium. 
His work won second place last fall in the North America Digital Media Awards for Best in Social Media Engagement, and he is currently nominated for a Shorty Award, a national competition that honors the best content creators and producers on social media. Park is also president of the Washington, D.C., chapter of the Asian American Journalists Association.
His talk, which is free and open to the public, is scheduled for 4 p.m. in Merrick Hall in the Fred and Janie Deese Auditorium, Room 125. In addition to the lecture, the department will award $1,000 scholarships to two journalism and mass communication students.
The Richard E. Moore Lecture and Scholarship are named for the late journalist, educator and head of the Office of Public Relations at North Carolina A&T for 28 years. Guest speakers have included White House Director of African American Media Addie Whisenant, Boston Globe columnist Derrick Jackson and CBS national news correspondent Byron Pitts.
Points of Pride
Largest HBCU

N.C. A&T is the largest public HBCU in the nation

Engineering

N.C. A&T is the No. 1 producer of engineering degrees on the undergraduate level awarded to African Americans.

Admired CEO

Chancellor Harold Martin Sr. is named among the Triad's Most Admired CEOs by the Triad Business Journal.

Academic Excellence

The university's Center for Academic Studies in Identify Science is the first and only National Intelligence Science and Technology CASIS in the United States.

Higher Research Activity

N.C. A&T is classified as an R2: Doctoral University of Higher Research Activity by the prestigious Carnegie Classification of Institutions of Higher Education.

Teaching / Research

N.C. A&T is the highest-ranked public school for combining research and teaching by the Wall Street Journal.

Engineering Professor and Student

N.C. A&T is an inaugural and pioneering tenant of the innovative Union Square Partnership for healthcare training.
2016 MEAC Champs

N.C. A&T Women's Basketball team are the 2016 MEAC Champions

Bowl Champs

Aggies win 2015 Inaugural Air Force Reserve Celebration Bowl and Black National Championship.

Tarik Cohen

Running back Tarik Cohen broke the university and MEAC record becoming the MEAC all-time leading rusher.

Hall of Fame

The 1968 Aggies football team was inducted into the N.C. A&T Sports Hall of Fame as the first A&T team to win a black college national championship.

Aggie Track & Field

Three track & field athletes are named to the NCAA All-Academic team for excellence in their events and in the classroom; maintaining a minimum 3.25 GPA.

Kim Terrell-Kearney

Former professional bowler Kim Terrell-Kearney named N.C. A&T bowling coach

Track & Field Ranking

The United States Track & Field and Cross Country Coaches Association ranked A&T men's track and field team among the top-25 in program history.
Gail Wiggins

JOMC Professor Gail Wiggins selected as the NABJ Educator of the Year

PALO! Lyceum Series

The Band PALO! performed at N.C. A&T for the Lyceum Series

CD - Jazz Preeminence

A&T Theatre arts performs first production of "Radio Golf" by African American playwright August Wilson.

Theatre

The Theatre Program at A&T was the first accredited Bachelor of Fine Arts (BFA) at an HBCU in North Carolina; second in the nation.

Black Nativity performances

The Theatre Arts Program is nationally ranked by Black Broadway as one of the top five Theatre Arts programs for African American students

Travis Alexander

Travis W. Alexander has been named National Conductor for the 105 Voices Of History National Concert Choir