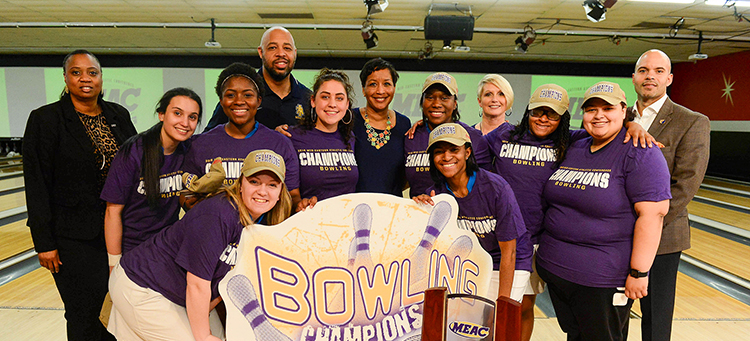 A&T Bowling Wins MEAC Title
CHESAPEAKE, Va. (March 25, 2018) -- Why will the name Brianna Boze always mean something in the history of North Carolina A&T bowling?
It will always mean something because even with some of the individual accolades that have gone to great Aggie bowlers of the past, Ms. Boze, a senior out of Summit, N.J., is the one Aggie bowler in program history who has contributed to a national championship team (2015 USBC Intercollegiate Team Championships), an NCAA tournament team (2016) and as of Sunday her latest feat is helping N.C. A&T win the 2018 MEAC Bowling Championship Tournament at AMF Chesapeake Lanes.
A year after losing the MEAC title to Maryland Eastern Shore, the Aggies downed the MDES Hawks 4-1 in a best out of seven Bakers format series to win the program's fifth MEAC title overall and the first since 2004. Bowling's win also adds to the collection of MEAC titles N.C. A&T Athletics has won during the 2017-18 school year. N.C. A&T's haul now includes MEAC regular-season titles in football, women's basketball and bowling (Southern Division Champions). Bowling also joins women's basketball, women's indoor track and field and men's indoor track as other Aggie programs who have won MEAC postseason titles in 2017-18.      
Because they won the MEAC title on Sunday, the Aggies will receive an automatic bid to the NCAA Women's Bowling Championship. The field will be announced via live stream on NCAA.com 4 p.m., Wednesday, March 28. The automatic bid guarantees Boze another opportunity to win a national title.
"I'm so excited that we won my senior year," said Boze. "Since the day I joined the team the goal was always to win a MEAC championship. Last year we made it to the finals and lost. We promised this year we would walk out of this building with a trophy, and we fought hard this weekend and accomplished that goal."
Boze was anything but an innocent bystander. She earned all-tournament honors along with teammate and MEAC Rookie of the Year Ana Olaya. Olaya was also named Most Outstanding Performer of the tournament.
Boze had key strikes in Games 3 and 5, and she was a part of a team that left only four frames open all day. Olaya left no frames open against the Hawks, hitting difficult spare after difficult spare to lead the Aggies to victory. Fellow freshman Cameron Strombeck was terrific as the Aggies anchor. In fact, she was one 9-pin away from leading the Aggies to a sweep of MDES. Strombeck needed a strike on the ninth frame of Game 1. Instead, she left the ninth-pin open which led to the Hawks only victory of the day, 189-173.
Strombeck as the anchor and the Aggies as a team were dominant from there. Strombeck opened Game 2 with a strike and closed the game with a spare and a strike to lead the Aggies to a 181-157 Game 2 win.
"It feels amazing to win the MEAC championship with my team as a freshman, and I could not be any prouder of each of these ladies," said Strombeck. "We all threw the ball so amazing and played with so much heart. I am proud to be an Aggie."
Sophomore Tyra Merritt also caught fire. She fired off four spares and six strikes including five straight. In Game 3, her hot streak helped the Aggies win Game 3, 202-188.
"Today was tough. It was a fight," said Merritt. "Not all of our shots were perfect but I think we had more fight within us. Sometimes the will has to be greater than the skill, and we impeccably displayed that this weekend. I am so proud of myself and the team."
The Aggies took advantage of multiple open frames by MDES in Game 4 to win 182-152. The Aggies, who had one of the most dominating performances in MEAC history on the first day of the tournament, closed the tournament in a similar fashion. N.C. A&T went on a strike binge in Game 5 to clinch the title 256-219. Sophomores Mia Pope and Kayli Christ made the championship sweeter by closing out the fifth game with back-to-back strikes.
"We showed that the Aggies are a team to watch out for," said Boze, a four-year senior who would know.
Points of Pride
Largest HBCU

N.C. A&T is the largest public HBCU in the nation

Engineering

N.C. A&T is the No. 1 producer of engineering degrees on the undergraduate level awarded to African Americans.

Admired CEO

Chancellor Harold Martin Sr. is named among the Triad's Most Admired CEOs by the Triad Business Journal.

Academic Excellence

The university's Center for Academic Studies in Identify Science is the first and only National Intelligence Science and Technology CASIS in the United States.

Higher Research Activity

N.C. A&T is classified as an R2: Doctoral University of Higher Research Activity by the prestigious Carnegie Classification of Institutions of Higher Education.

Teaching / Research

N.C. A&T is the highest-ranked public school for combining research and teaching by the Wall Street Journal.

Engineering Professor and Student

N.C. A&T is an inaugural and pioneering tenant of the innovative Union Square Partnership for healthcare training.
2016 MEAC Champs

N.C. A&T Women's Basketball team are the 2016 MEAC Champions

Bowl Champs

Aggies win 2015 Inaugural Air Force Reserve Celebration Bowl and Black National Championship.

Tarik Cohen

Running back Tarik Cohen broke the university and MEAC record becoming the MEAC all-time leading rusher.

Hall of Fame

The 1968 Aggies football team was inducted into the N.C. A&T Sports Hall of Fame as the first A&T team to win a black college national championship.

Aggie Track & Field

Three track & field athletes are named to the NCAA All-Academic team for excellence in their events and in the classroom; maintaining a minimum 3.25 GPA.

Kim Terrell-Kearney

Former professional bowler Kim Terrell-Kearney named N.C. A&T bowling coach

Track & Field Ranking

The United States Track & Field and Cross Country Coaches Association ranked A&T men's track and field team among the top-25 in program history.
Gail Wiggins

JOMC Professor Gail Wiggins selected as the NABJ Educator of the Year

PALO! Lyceum Series

The Band PALO! performed at N.C. A&T for the Lyceum Series

CD - Jazz Preeminence

A&T Theatre arts performs first production of "Radio Golf" by African American playwright August Wilson.

Theatre

The Theatre Program at A&T was the first accredited Bachelor of Fine Arts (BFA) at an HBCU in North Carolina; second in the nation.

Black Nativity performances

The Theatre Arts Program is nationally ranked by Black Broadway as one of the top five Theatre Arts programs for African American students

Travis Alexander

Travis W. Alexander has been named National Conductor for the 105 Voices Of History National Concert Choir