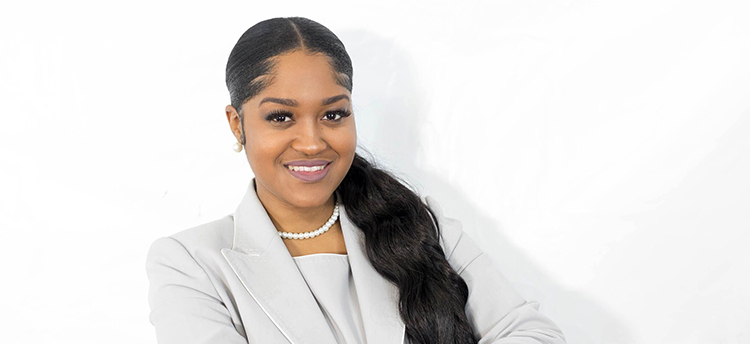 N.C. A&T Office of Student Development Partners with HBCU All-Star for The Boss Up! Initiative
GREENSBORO, N.C. (March 5, 2018) – The Office of Student Development at North Carolina Agricultural and Technical State University is partnering with Keonia Rodgers, a 2017 White House Initiative on Historically Black Colleges and Universities (HBCU) All-Star, to host The Boss Up! Initiative.
The initiative is a series of three programs set for March 14, 21 and 28 that are designed to cultivate and empower collegiate women aiming to fulfill their potential, both personally and professionally.
"It has been a phenomenal journey organizing the Boss Up! Initiative for my fellow HBCU community," said the senior, who is majoring in psychology. "I strive to become the best version of myself and would like to help others do the same."
As an HBCU All-Star, Rodgers and 61 undergraduate, graduate and professional students – including North Carolina A&T's Brandon Long – serve as ambassadors and provide outreach opportunities and information to their fellow students about the value of education and initiative as a networking resource.
The programs are Rodgers' outreach projects and will feature N.C. A&T alumnae as panelists, including Board of Trustees member Hilda Pinnix Ragland, and, via video, former Board of Trustees member Janice Bryant Howroyd. U.S. Rep. Alma Adams '68, N.C. Senator Gladys Robinson '08, and Dutchess Lattimore '07, star of VH1's "Black Ink," will all be featured as keynote speakers.
Programs
March 14: "Secure Your Health" will focus on emotional, mental and physical health awareness in an effort to promote personal development within the female student population
March 21: "Network to Net Worth" will share how to build connections and relationships to promote professional development and success in the workplace
March 28: "Today's Students, Tomorrow's Leaders" will feature conversations about women in leadership and cover topics such as the challenges of being a double minority and overcoming gender biases
All programs are at 6 p.m. on Wednesdays in the Academic Classroom Building on A&T's campus. For additional information, visit www.thebossupinitiative.com or email Rodgers at krrodge1@aggies.ncat.edu.
About North Carolina A&T State University
North Carolina Agricultural and Technical State University is the nation's largest historically black university. It is a land-grant, higher-research classified university by the Carnegie Foundation and constituent member of the University of North Carolina system. A&T is known for its leadership in producing graduates in engineering, agriculture and other STEM fields. The university was founded in 1891 and is located in Greensboro, North Carolina.
###
Points of Pride
Largest HBCU

N.C. A&T is the largest public HBCU in the nation

Engineering

N.C. A&T is the No. 1 producer of engineering degrees on the undergraduate level awarded to African Americans.

Admired CEO

Chancellor Harold Martin Sr. is named among the Triad's Most Admired CEOs by the Triad Business Journal.

Academic Excellence

The university's Center for Academic Studies in Identify Science is the first and only National Intelligence Science and Technology CASIS in the United States.

Higher Research Activity

N.C. A&T is classified as an R2: Doctoral University of Higher Research Activity by the prestigious Carnegie Classification of Institutions of Higher Education.

Teaching / Research

N.C. A&T is the highest-ranked public school for combining research and teaching by the Wall Street Journal.

Engineering Professor and Student

N.C. A&T is an inaugural and pioneering tenant of the innovative Union Square Partnership for healthcare training.
2016 MEAC Champs

N.C. A&T Women's Basketball team are the 2016 MEAC Champions

Bowl Champs

Aggies win 2015 Inaugural Air Force Reserve Celebration Bowl and Black National Championship.

Tarik Cohen

Running back Tarik Cohen broke the university and MEAC record becoming the MEAC all-time leading rusher.

Hall of Fame

The 1968 Aggies football team was inducted into the N.C. A&T Sports Hall of Fame as the first A&T team to win a black college national championship.

Aggie Track & Field

Three track & field athletes are named to the NCAA All-Academic team for excellence in their events and in the classroom; maintaining a minimum 3.25 GPA.

Kim Terrell-Kearney

Former professional bowler Kim Terrell-Kearney named N.C. A&T bowling coach

Track & Field Ranking

The United States Track & Field and Cross Country Coaches Association ranked A&T men's track and field team among the top-25 in program history.
Gail Wiggins

JOMC Professor Gail Wiggins selected as the NABJ Educator of the Year

PALO! Lyceum Series

The Band PALO! performed at N.C. A&T for the Lyceum Series

CD - Jazz Preeminence

A&T Theatre arts performs first production of "Radio Golf" by African American playwright August Wilson.

Theatre

The Theatre Program at A&T was the first accredited Bachelor of Fine Arts (BFA) at an HBCU in North Carolina; second in the nation.

Black Nativity performances

The Theatre Arts Program is nationally ranked by Black Broadway as one of the top five Theatre Arts programs for African American students

Travis Alexander

Travis W. Alexander has been named National Conductor for the 105 Voices Of History National Concert Choir