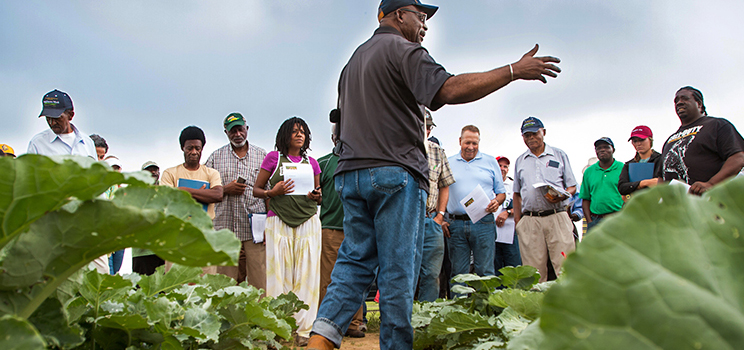 Big Ideas Conference Returns to N.C. A&T, April 9: 'From Farm to Table and Beyond'
Big Ideas Conference Returns to N.C. A&T, April 9: 'From Farm to Table and Beyond'
GREENSBORO, N.C. (March 26, 2018) – The Big Ideas Conference is back for its third consecutive year at North Carolina Agricultural and Technical State University, with this year's focus the expanding possibilities of the agricultural economy.
Set for 8:30 a.m., Monday, April 9, in the Academic Classroom Building at N.C. A&T, the conference theme is "From Farm to Table and Beyond," with presenters representing sustainable agriculture, hemp production, food deserts, genetically modified crops, farm finance, agricultural entrepreneurship and more. Included in the day will be guided tours of N.C. A&T's 492-acre University Farm.
This year's conference is a collaboration between the College of Business and Economics (COBE), the presenter of the conference for the past two years, and the College of Agriculture and Environmental Sciences (CAES).
"We're delighted to mobilize strengths and connections from both our colleges in support of this theme," said COBE Interim Dean Kevin L. James. "We expect a rich day of discussions as we bring together expertise across academic disciplines around big topics like food security, the local food movement and agribusiness."
Julius Tillery, owner and founder of Black Cotton, Inc., who completed graduate coursework in agricultural economics at A&T, will deliver a keynote address. Tillery is a fifth-generation cotton farmer whose business focuses on selling cotton products from his farm and exploring cotton's integral, historical connection to African Americans.
Tillery notes that for many generations, cotton was the south's No. 1 crop, and while African American labor built that economic juggernaut, African Americans have yet to enjoy the profits that others have made from cotton's success.
Other speakers for the Big Ideas conference include:
Patricia Miller Zollar, managing director of Neuberger Berman and a partner within Neuberger Berman Alternatives in New York. Zollar holds a bachelor's degree from A&T and an MBA from the Harvard Business School and has been the driving force behind the Big Ideas Conference.
Krista Morgan of Lowes Foods. Morgan is the local accounts representative for Lowes, with a focus on strengthening the grocer's relationship with existing and potential local vendors.
Kelley Woodley, a team leader and loan specialist with the U.S. Department of Agriculture's Rural Development Program. Woodley holds bachelor's and master's degrees from A&T in agricultural education.
Ben Cabannis, commercial agricultural loan officer for Carolina Farm Credit.
Dr. Chyi-lyi (Kathleen) Liang, the W.K. Kellogg Endowed Professor in sustainable community-based food systems at A&T.
Dr. S. Janine Parker, director of NC AgrAbility.
Dr. Lyubov A. Kurkalova, professor of economics at A&T.
Conference attendance is free of charge, but attendees must register in advance.
Points of Pride
Largest HBCU

N.C. A&T is the largest public HBCU in the nation

Engineering

N.C. A&T is the No. 1 producer of engineering degrees on the undergraduate level awarded to African Americans.

Admired CEO

Chancellor Harold Martin Sr. is named among the Triad's Most Admired CEOs by the Triad Business Journal.

Academic Excellence

The university's Center for Academic Studies in Identify Science is the first and only National Intelligence Science and Technology CASIS in the United States.

Higher Research Activity

N.C. A&T is classified as an R2: Doctoral University of Higher Research Activity by the prestigious Carnegie Classification of Institutions of Higher Education.

Teaching / Research

N.C. A&T is the highest-ranked public school for combining research and teaching by the Wall Street Journal.

Engineering Professor and Student

N.C. A&T is an inaugural and pioneering tenant of the innovative Union Square Partnership for healthcare training.
2016 MEAC Champs

N.C. A&T Women's Basketball team are the 2016 MEAC Champions

Bowl Champs

Aggies win 2015 Inaugural Air Force Reserve Celebration Bowl and Black National Championship.

Tarik Cohen

Running back Tarik Cohen broke the university and MEAC record becoming the MEAC all-time leading rusher.

Hall of Fame

The 1968 Aggies football team was inducted into the N.C. A&T Sports Hall of Fame as the first A&T team to win a black college national championship.

Aggie Track & Field

Three track & field athletes are named to the NCAA All-Academic team for excellence in their events and in the classroom; maintaining a minimum 3.25 GPA.

Kim Terrell-Kearney

Former professional bowler Kim Terrell-Kearney named N.C. A&T bowling coach

Track & Field Ranking

The United States Track & Field and Cross Country Coaches Association ranked A&T men's track and field team among the top-25 in program history.
Gail Wiggins

JOMC Professor Gail Wiggins selected as the NABJ Educator of the Year

PALO! Lyceum Series

The Band PALO! performed at N.C. A&T for the Lyceum Series

CD - Jazz Preeminence

A&T Theatre arts performs first production of "Radio Golf" by African American playwright August Wilson.

Theatre

The Theatre Program at A&T was the first accredited Bachelor of Fine Arts (BFA) at an HBCU in North Carolina; second in the nation.

Black Nativity performances

The Theatre Arts Program is nationally ranked by Black Broadway as one of the top five Theatre Arts programs for African American students

Travis Alexander

Travis W. Alexander has been named National Conductor for the 105 Voices Of History National Concert Choir