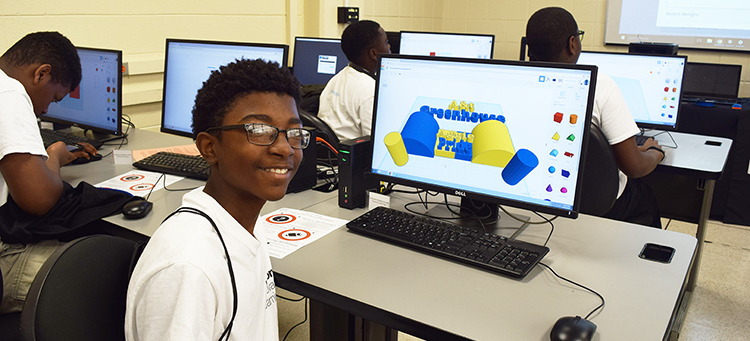 Verizon STEM Program at N.C. A&T to Offer Real-World Career Sessions for Middle School Boys
Greensboro, NC (Feb. 9, 2018) – Two Saturdays of every month, approximately 110 middle school boys gather at North Carolina Agricultural and Technical State University to participate in a program under Verizon Innovative Learning Program (VIL), the education initiative of the Verizon Foundation.  The program launched in 2015 and partners with Historically Black Colleges and Universities and Hispanic Serving Institutions to provide tech-education and skill building to minority, middle school male students across the country.  On Saturday, Feb. 10, N.C. A&T and Verizon officials will partner with science, technology, engineering and mathematics (STEM) professionals to provide real-world career experiences during the "Preparing Tomorrow's Innovators Today" conference. The event will be from 10 a.m. – 12:30 p.m., in Smith Hall on the university's campus. 
"It is important to provide students with opportunities to expose them to real world applications, challenge their thinking, and dare them to dream," said Marquita McCulley, VIL Program director. "When you place black leaders in front of young black males, it assures them of who they are and the possibilities of what they can become. Through the Verizon and A&T partnership, we inspire and create the next generation of STEM innovators and entrepreneurs." 
The conference will provide the young men of the program an opportunity to hear the journey and career paths of current leaders in STEM and entrepreneurial fields. Career presentations will be facilitated by Dr. Cameron Seay an IT professor and Statistical Analysis System programmer, A&T; Tony Lewis, vice present of state government affairs, Verizon; Alan Gardner, senior vice president of human resources, Verizon; J.J. Briceno and Ian Holmes, president and general manager, Crown Town Flag Football League; Saye Zonen, author, motivational speaker, independent engineer and entrepreneur; Sgt. Brad Bills, US Air Force; and Dr. Caesar Jackson, interim dean, physics professor and engineer, North Carolina Central University. 
"It is very important for young students, particularly African-American boys, to engage professionals who look like them in conversation in the same physical space because these professionals bring to life their careers in a way a textbook or a website or a magazine article simply cannot," said Dr. Anthony Graham, dean of the College of Education at A&T. "More importantly, young black boys must have an opportunity to establish an actual relationship, or social capital, with individuals who may become a part of their support system as they learn to navigate various complex systems they will encounter in their lifetime." 
Graham, who specializes in research focused primarily on the experiences of Black males in K-12 public schools and ways to transform their environments, is slated to give remarks during the conference. 
Each session will provide detailed information regarding networking, internship and job opportunities and pathways to career entry. Attendees will have the opportunity to learn the requirements and daily operations and ask questions.
"The reality is, there is a digital divide in this country that will leave millions of underserved students at a disadvantage as our economy becomes more technology-dependent. Unfortunately, minority men are disproportionately impacted and it is evident in their lack of representation in STEM fields today, said Alan Gardner, SVP of Human Resources for Verizon.  "We must take collective action now to give these kids the technology, access and innovative programs they need to have a brighter future, and I am honored to have the opportunity to lend my voice to this worthy cause at A&T's conference."
McCulley says the conference is vital to giving the students a well-rounded understanding and application of STEM in the professional world.
"When some of the boys enter the program they don't understand what STEM is. Most of them want to be athletes, but usually once they get an understanding of STEM and the things they can do with technology we win them over," said McCulley.
The conference also serves as recruitment day for students from Hampton Elementary School and Hairston Elementary School. Select students that attend will be chosen to become ambassadors and share their experiences and perspectives with parents at PTA meetings.
Additionally, former athletes will discuss ways they have utilized their STEM education following their athletic careers.
Points of Pride
Largest HBCU

N.C. A&T is the largest public HBCU in the nation

Engineering

N.C. A&T is the No. 1 producer of engineering degrees on the undergraduate level awarded to African Americans.

Admired CEO

Chancellor Harold Martin Sr. is named among the Triad's Most Admired CEOs by the Triad Business Journal.

Academic Excellence

The university's Center for Academic Studies in Identify Science is the first and only National Intelligence Science and Technology CASIS in the United States.

Higher Research Activity

N.C. A&T is classified as an R2: Doctoral University of Higher Research Activity by the prestigious Carnegie Classification of Institutions of Higher Education.

Teaching / Research

N.C. A&T is the highest-ranked public school for combining research and teaching by the Wall Street Journal.

Engineering Professor and Student

N.C. A&T is an inaugural and pioneering tenant of the innovative Union Square Partnership for healthcare training.
2016 MEAC Champs

N.C. A&T Women's Basketball team are the 2016 MEAC Champions

Bowl Champs

Aggies win 2015 Inaugural Air Force Reserve Celebration Bowl and Black National Championship.

Tarik Cohen

Running back Tarik Cohen broke the university and MEAC record becoming the MEAC all-time leading rusher.

Hall of Fame

The 1968 Aggies football team was inducted into the N.C. A&T Sports Hall of Fame as the first A&T team to win a black college national championship.

Aggie Track & Field

Three track & field athletes are named to the NCAA All-Academic team for excellence in their events and in the classroom; maintaining a minimum 3.25 GPA.

Kim Terrell-Kearney

Former professional bowler Kim Terrell-Kearney named N.C. A&T bowling coach

Track & Field Ranking

The United States Track & Field and Cross Country Coaches Association ranked A&T men's track and field team among the top-25 in program history.
Gail Wiggins

JOMC Professor Gail Wiggins selected as the NABJ Educator of the Year

PALO! Lyceum Series

The Band PALO! performed at N.C. A&T for the Lyceum Series

CD - Jazz Preeminence

A&T Theatre arts performs first production of "Radio Golf" by African American playwright August Wilson.

Theatre

The Theatre Program at A&T was the first accredited Bachelor of Fine Arts (BFA) at an HBCU in North Carolina; second in the nation.

Black Nativity performances

The Theatre Arts Program is nationally ranked by Black Broadway as one of the top five Theatre Arts programs for African American students

Travis Alexander

Travis W. Alexander has been named National Conductor for the 105 Voices Of History National Concert Choir