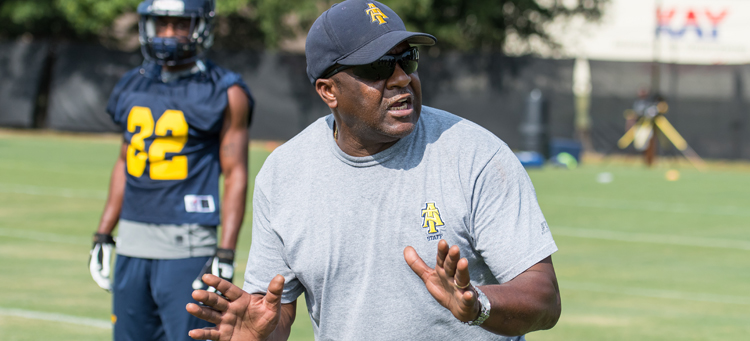 Broadway Retires, Washington Named Next Head Coach
GREENSBORO (January 8, 2018) – North Carolina A&T head football coach Rod Broadway announced his retirement from coaching on Monday. 
Assistant head coach, defensive coordinator and secondary coach Sam Washington will take over the program as the 19th head football coach in N.C. A&T history. Aggie Athletics will hold an 11 a.m., press conference at the Alumni-Foundation Event Center (200 N. Benbow Road, Greensboro) on Tuesday, January 9 that will feature Broadway, Washington and N.C. A&T Director of Collegiate Athletics, Earl M. Hilton III.
Broadway retries after seven seasons as the Aggies football coach. He will serve as a special assistant to the athletics director for the next six months. Broadway recently led N.C. A&T to its best season ever, finishing 12-0 with accolades that included winning the Mid-Eastern Athletic Conference title, the Celebration Bowl game and the HBCU national championship. In the process, the Aggies broke the school and conference records for wins and became the first MEAC and HBCU Division I-AA team ever to finish undefeated and untied.
In 15 seasons as a head coach, Broadway amassed a 127-45 (.738) record with four HBCU titles and six conference championships. Yesterday, his .737 winning percentage was the best winning percentage among active FCS coaches. In the history of FCS play, Broadway has the third-highest winning percentage. Broadway spent four seasons apiece at North Carolina Central (2003-06) and Grambling State (2007-10).
"I am grateful to this great and historic university, North Carolina A&T State, for the opportunity to be its head football coach for seven years," said Broadway. "I am grateful to two men I hold in high esteem, chancellor Martin and athletics director Earl Hilton, for believing in me and the direction I wanted to take this program. I am grateful to the players, they have made this a wonderful experience for me and my family.
I am grateful to what I consider a great coaching staff. They have conducted themselves with the upmost integrity and professionalism. And I am grateful to the very hardworking support staff we have here at North Carolina A&T."
"I love the man not only for what he has accomplished during his time as our head football coach at North Carolina A&T, but also for who he is as a person," said Hilton. "While we are losing one of the greatest coaches of all time, I love that he gets to go out on his own terms, a luxury not afforded to most coaches. He took our football program from being the laughing stock of the (Football Championship Subdivision) to being the envy of black college football and one of the premier programs on the FCS level. He did it with class and intelligence. He held everyone within his program to the highest standards of accountable. Rod's work ethic is unmatched. I will miss him as a colleague but will always consider him a friend and a confidant." 
Hilton on head coach Sam Washington: "Coach Washington holds many of the same characteristics as coach Broadway. We have believed for some time that coach Washington has the skills, temperament and leadership qualities to be a collegiate head coach. We are confident the trajectory of the football program will remain on a winning path with coach Washington at the helm. We are eager to see him do well in a position he richly deserves."
Under Washington's leadership as the Aggies defensive coordinator for seven seasons, the Aggies have consistently produced one of the best defenses in the nation. The Aggies have been the MEAC's No. 1 total defense and scoring defense four times in the past seven years. They have had the No. 1 total defense in the conference three straight seasons. N.C. A&T has also had the No. 1 rush defense in the conference six times in seven years. Nationally, the Aggies defense has never ranked lower than 20th under Washington including a No. 4 ranking in 2017. The Aggies had the nation's best run defense in 2012.
"It has been an honor and privilege to serve under coach Broadway both at Grambling State and North Carolina A&T," said Washington. "I could not ask for a better friend and mentor than Rod Broadway. What I saw him accomplish at North Carolina A&T is nothing less than remarkable. Following a legend is never easy, but coach Broadway has taught me so much over the years, I am poised to continue having success in Aggieland. I want to thank Chancellor Martin and Mr. Hilton for what is an awesome opportunity for me and my family. Our coaching staff will stay intact for the most part, so we are ready to get to work."
Points of Pride
Largest HBCU

N.C. A&T is the largest public HBCU in the nation

Engineering

N.C. A&T is the No. 1 producer of engineering degrees on the undergraduate level awarded to African Americans.

Admired CEO

Chancellor Harold Martin Sr. is named among the Triad's Most Admired CEOs by the Triad Business Journal.

Academic Excellence

The university's Center for Academic Studies in Identify Science is the first and only National Intelligence Science and Technology CASIS in the United States.

Higher Research Activity

N.C. A&T is classified as an R2: Doctoral University of Higher Research Activity by the prestigious Carnegie Classification of Institutions of Higher Education.

Teaching / Research

N.C. A&T is the highest-ranked public school for combining research and teaching by the Wall Street Journal.

Engineering Professor and Student

N.C. A&T is an inaugural and pioneering tenant of the innovative Union Square Partnership for healthcare training.
2016 MEAC Champs

N.C. A&T Women's Basketball team are the 2016 MEAC Champions

Bowl Champs

Aggies win 2015 Inaugural Air Force Reserve Celebration Bowl and Black National Championship.

Tarik Cohen

Running back Tarik Cohen broke the university and MEAC record becoming the MEAC all-time leading rusher.

Hall of Fame

The 1968 Aggies football team was inducted into the N.C. A&T Sports Hall of Fame as the first A&T team to win a black college national championship.

Aggie Track & Field

Three track & field athletes are named to the NCAA All-Academic team for excellence in their events and in the classroom; maintaining a minimum 3.25 GPA.

Kim Terrell-Kearney

Former professional bowler Kim Terrell-Kearney named N.C. A&T bowling coach

Track & Field Ranking

The United States Track & Field and Cross Country Coaches Association ranked A&T men's track and field team among the top-25 in program history.
Gail Wiggins

JOMC Professor Gail Wiggins selected as the NABJ Educator of the Year

PALO! Lyceum Series

The Band PALO! performed at N.C. A&T for the Lyceum Series

CD - Jazz Preeminence

A&T Theatre arts performs first production of "Radio Golf" by African American playwright August Wilson.

Theatre

The Theatre Program at A&T was the first accredited Bachelor of Fine Arts (BFA) at an HBCU in North Carolina; second in the nation.

Black Nativity performances

The Theatre Arts Program is nationally ranked by Black Broadway as one of the top five Theatre Arts programs for African American students

Travis Alexander

Travis W. Alexander has been named National Conductor for the 105 Voices Of History National Concert Choir