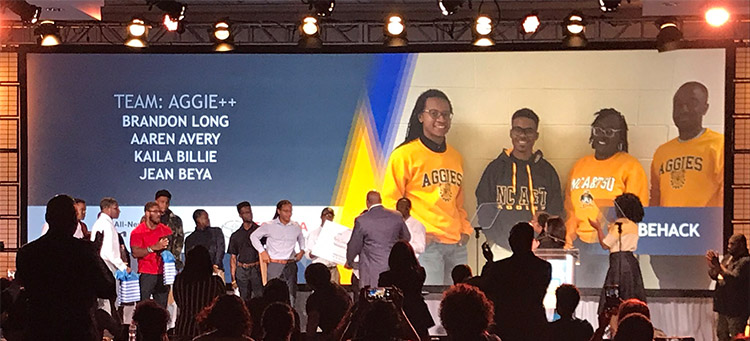 N.C. A&T Takes Top Spot at Black Enterprise Hackathon for Second Year
Greensboro, N.C. (Oct. 11, 2017) – For the second consecutive year a team of North Carolina Agricultural and Technical State University computer science students took home the top prize for Black Enterprise's TechConneXt Summit BE SMART hackathon in Silicon Valley. 
Brandon Long, Aaren Avery, Kaila Billie and Jean Olivier Beya, better known as Aggie++, claimed the $40,000 grand prize for their winning app, TASHA, following the 24-36-hour hackathon sponsored ty Toyota.
"Toyota is a Japanese company and within the company they offer you Japanese terms to represent things within the company. We wanted a Japanese phrase that also had a strong meaning to it, would represent what she does and her skill. Because she is very skillful," said Long, presenting TASHA to the audience and judges. "Aside from that we also wanted a name that is relatable."
"TASHA is a customer assistant and mobile application that allows customers to have a personalized experience at home, in the dealership and in the car", he added"
Fifteen HBCU teams were charged with creating a virtual retail environment for Toyota and implementing a better and more personalized user experience for customers. TASHA allows users to access public data for all current vehicle models, explore a vehicle through a 360-degree virtual reality experience of what it's like to sit in the car, obtain recommendations based on real-time responses and more.
The team's presentation included a simulation of the app's capabilities like providing directions to the dealership and a specific car, alerting a dealer of arrival, requesting the keys for a test drive and answering specific questions. The team made provision for nearly every scenario.
Beyond the purchase, TASHA will continue providing customer service by offering maintenance information and capturing customer feedback, which in turn will be funneled back to Toyota.
Students participating in the 2017 BE Smart Hackathon also had the opportunity to work with mentors from Toyota as well as from Twilio.
Points of Pride
Largest HBCU

N.C. A&T is the largest public HBCU in the nation

Engineering

N.C. A&T is the No. 1 producer of engineering degrees on the undergraduate level awarded to African Americans.

Admired CEO

Chancellor Harold Martin Sr. is named among the Triad's Most Admired CEOs by the Triad Business Journal.

Academic Excellence

The university's Center for Academic Studies in Identify Science is the first and only National Intelligence Science and Technology CASIS in the United States.

Higher Research Activity

N.C. A&T is classified as an R2: Doctoral University of Higher Research Activity by the prestigious Carnegie Classification of Institutions of Higher Education.

Teaching / Research

N.C. A&T is the highest-ranked public school for combining research and teaching by the Wall Street Journal.

Engineering Professor and Student

N.C. A&T is an inaugural and pioneering tenant of the innovative Union Square Partnership for healthcare training.
2016 MEAC Champs

N.C. A&T Women's Basketball team are the 2016 MEAC Champions

Bowl Champs

Aggies win 2015 Inaugural Air Force Reserve Celebration Bowl and Black National Championship.

Tarik Cohen

Running back Tarik Cohen broke the university and MEAC record becoming the MEAC all-time leading rusher.

Hall of Fame

The 1968 Aggies football team was inducted into the N.C. A&T Sports Hall of Fame as the first A&T team to win a black college national championship.

Aggie Track & Field

Three track & field athletes are named to the NCAA All-Academic team for excellence in their events and in the classroom; maintaining a minimum 3.25 GPA.

Kim Terrell-Kearney

Former professional bowler Kim Terrell-Kearney named N.C. A&T bowling coach

Track & Field Ranking

The United States Track & Field and Cross Country Coaches Association ranked A&T men's track and field team among the top-25 in program history.
Gail Wiggins

JOMC Professor Gail Wiggins selected as the NABJ Educator of the Year

PALO! Lyceum Series

The Band PALO! performed at N.C. A&T for the Lyceum Series

CD - Jazz Preeminence

A&T Theatre arts performs first production of "Radio Golf" by African American playwright August Wilson.

Theatre

The Theatre Program at A&T was the first accredited Bachelor of Fine Arts (BFA) at an HBCU in North Carolina; second in the nation.

Black Nativity performances

The Theatre Arts Program is nationally ranked by Black Broadway as one of the top five Theatre Arts programs for African American students

Travis Alexander

Travis W. Alexander has been named National Conductor for the 105 Voices Of History National Concert Choir