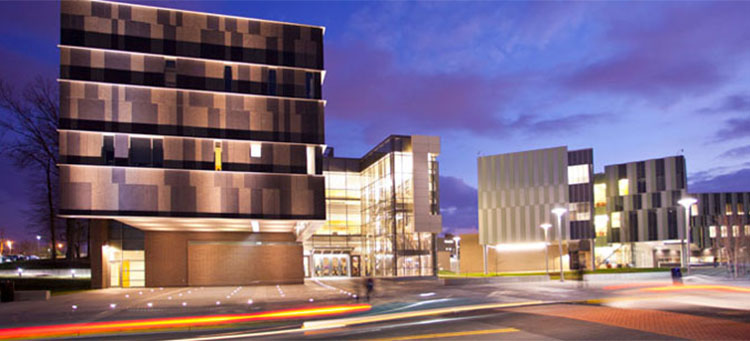 SECU Awards N.C. A&T's College of Education $50,000 Grant
Greensboro, N.C. (Oct. 20, 2017) – Thanks to a new grant, the College of Education at North Carolina Agricultural and Technical State University will provide internships for education candidates through the SECU Public Fellows Internship Program.
The North Carolina State Employees Credit Union Foundation (SECU) awarded the college $50,000 to "afford our pre-service teacher education candidates the opportunity to develop their professional knowledge as educational leaders serving communities outside a public-school classroom while concurrently developing their cultural competence," Dean Anthony Graham said.
"We are thankful to the State Employees Credit Union for allowing the College of Education to deepen our impact in rural communities throughout the state of North Carolina," he added.
The program is designed to address the diverse service needs of rural communities in North Carolina through shared learning community activities and to enhance the cultural competence of pre-service teacher education candidates. There are 80 rural counties in North Carolina with limited supportive teacher education collaborations or partnerships with universities that advance service and civic learning in their communities.
To help combat the lack of resources in these areas, high-achieving education candidates in their junior or senior years are selected to work in educational, healthcare, technology, and nonprofit organizations and agencies in rural communities.
SECU Public Fellows will receive a $5,000 stipend for their participation in these service and civic learning immersion experiences. During the internship, candidates will produce artifacts of learning specific to their site assignment, which may include youth mentorship programs, literacy and math tutorial programs, video and technology advancements, or research-based refinement projects.
The 10 SECU Public Fellow interns selected to participate in this program are:
•   Tyler Childress, Secondary History Education
•   Jasmine Cousar, Elementary Education and Special Education
•   Alexus Cox, Elementary Education
•   Destini Davis, Elementary Education
•   Jazmine Devone, Birth-to-Kindergarten
•   Kayia Fointno, Elementary Education and Special Education
•   Kenketta Gwynn, Elementary Education
•   Nathaniel Jones, Elementary Education
•   Rodnesha Minor, Elementary Education
•   Tarvis Ridges, Elementary Education
Co-principal investigators of this project are Thurman Guy, Ph.D., from the College of Agriculture and Environmental Sciences, Nicole Dobbins, Ph.D. and Kimberly Erwin, Ph.D., both from the College of Education.
Points of Pride
Largest HBCU

N.C. A&T is the largest public HBCU in the nation

Engineering

N.C. A&T is the No. 1 producer of engineering degrees on the undergraduate level awarded to African Americans.

Admired CEO

Chancellor Harold Martin Sr. is named among the Triad's Most Admired CEOs by the Triad Business Journal.

Academic Excellence

The university's Center for Academic Studies in Identify Science is the first and only National Intelligence Science and Technology CASIS in the United States.

Higher Research Activity

N.C. A&T is classified as an R2: Doctoral University of Higher Research Activity by the prestigious Carnegie Classification of Institutions of Higher Education.

Teaching / Research

N.C. A&T is the highest-ranked public school for combining research and teaching by the Wall Street Journal.

Engineering Professor and Student

N.C. A&T is an inaugural and pioneering tenant of the innovative Union Square Partnership for healthcare training.
2016 MEAC Champs

N.C. A&T Women's Basketball team are the 2016 MEAC Champions

Bowl Champs

Aggies win 2015 Inaugural Air Force Reserve Celebration Bowl and Black National Championship.

Tarik Cohen

Running back Tarik Cohen broke the university and MEAC record becoming the MEAC all-time leading rusher.

Hall of Fame

The 1968 Aggies football team was inducted into the N.C. A&T Sports Hall of Fame as the first A&T team to win a black college national championship.

Aggie Track & Field

Three track & field athletes are named to the NCAA All-Academic team for excellence in their events and in the classroom; maintaining a minimum 3.25 GPA.

Kim Terrell-Kearney

Former professional bowler Kim Terrell-Kearney named N.C. A&T bowling coach

Track & Field Ranking

The United States Track & Field and Cross Country Coaches Association ranked A&T men's track and field team among the top-25 in program history.
Gail Wiggins

JOMC Professor Gail Wiggins selected as the NABJ Educator of the Year

PALO! Lyceum Series

The Band PALO! performed at N.C. A&T for the Lyceum Series

CD - Jazz Preeminence

A&T Theatre arts performs first production of "Radio Golf" by African American playwright August Wilson.

Theatre

The Theatre Program at A&T was the first accredited Bachelor of Fine Arts (BFA) at an HBCU in North Carolina; second in the nation.

Black Nativity performances

The Theatre Arts Program is nationally ranked by Black Broadway as one of the top five Theatre Arts programs for African American students

Travis Alexander

Travis W. Alexander has been named National Conductor for the 105 Voices Of History National Concert Choir