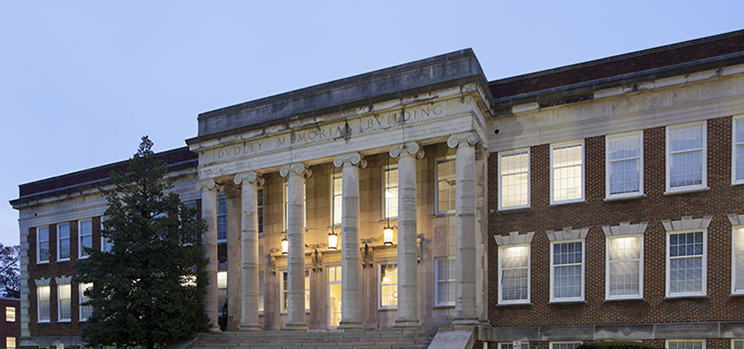 Private Support at N.C. A&T Charted Record, Expanded Endowment in FY2017
Greensboro, N.C. (Sept. 19, 2017) – Donors to North Carolina Agricultural and Technical State University stepped up at a record level in Fiscal Year 2017 with gifts of $14.7 million, a high watermark for A&T that represents a 56 percent jump over the previous year.
The increase contributed significantly to growth in the university's total endowment, which reached $55.2 million at the end of June, N.C. A&T leaders say. Over the past five years, that total has grown by more than $23 million, in large part due to the generosity of individuals who received their education at A&T.
"What was most striking about the increase in private support for North Carolina A&T this past year is the way in which our alumni invested so strongly in the future of the university," said Ken Sigmon, vice chancellor for University Advancement. "Clearly, they are being motivated by the ambitious goals we set for the university in our strategic plan, Preeminence 2020. That pertains to friends of the university, as well, who came through in big numbers to help us achieve this record year.
"We are deeply appreciative of the generosity of all our supporters, and excited for the success it portends for the new fiscal year."
The $14.7 million FY17 total includes several notable developments below the top line. Corporate and foundation giving, for instance, totaled $6.6 million, while alumni giving came in at $6.3 million.
Giving directly to endowments totaled $3.6 million, a 26 percent increase over the previous year. Growing endowments enable universities to enhance the quality of their programs, make strategic faculty hires to expand their research endeavors and academic departments and take other key actions to elevate the quality of their institutions.
A&T's endowment is among the nation's largest for historically black colleges and universities, but it trails far behind those of fellow research universities and land grant institutions. The increase in endowment support helped to make up ground in that critical measure of financial vitality.
The multiplicity of A&T's private support growth in FY17 was particularly welcome news, given the wide-ranging impact of the funding.
"That giving reached every corner of the university, from helping students meet the costs of a college education to recruiting and retaining the best and brightest students and faculty to supporting infrastructure and academic programs upgrades," said Sigmon. "With this support, A&T is a stronger university than it was just one year ago. That's tremendously exciting."
Points of Pride
Largest HBCU

N.C. A&T is the largest public HBCU in the nation

Engineering

N.C. A&T is the No. 1 producer of engineering degrees on the undergraduate level awarded to African Americans.

Admired CEO

Chancellor Harold Martin Sr. is named among the Triad's Most Admired CEOs by the Triad Business Journal.

Academic Excellence

The university's Center for Academic Studies in Identify Science is the first and only National Intelligence Science and Technology CASIS in the United States.

Higher Research Activity

N.C. A&T is classified as an R2: Doctoral University of Higher Research Activity by the prestigious Carnegie Classification of Institutions of Higher Education.

Teaching / Research

N.C. A&T is the highest-ranked public school for combining research and teaching by the Wall Street Journal.

Engineering Professor and Student

N.C. A&T is an inaugural and pioneering tenant of the innovative Union Square Partnership for healthcare training.
2016 MEAC Champs

N.C. A&T Women's Basketball team are the 2016 MEAC Champions

Bowl Champs

Aggies win 2015 Inaugural Air Force Reserve Celebration Bowl and Black National Championship.

Tarik Cohen

Running back Tarik Cohen broke the university and MEAC record becoming the MEAC all-time leading rusher.

Hall of Fame

The 1968 Aggies football team was inducted into the N.C. A&T Sports Hall of Fame as the first A&T team to win a black college national championship.

Aggie Track & Field

Three track & field athletes are named to the NCAA All-Academic team for excellence in their events and in the classroom; maintaining a minimum 3.25 GPA.

Kim Terrell-Kearney

Former professional bowler Kim Terrell-Kearney named N.C. A&T bowling coach

Track & Field Ranking

The United States Track & Field and Cross Country Coaches Association ranked A&T men's track and field team among the top-25 in program history.
Gail Wiggins

JOMC Professor Gail Wiggins selected as the NABJ Educator of the Year

PALO! Lyceum Series

The Band PALO! performed at N.C. A&T for the Lyceum Series

CD - Jazz Preeminence

A&T Theatre arts performs first production of "Radio Golf" by African American playwright August Wilson.

Theatre

The Theatre Program at A&T was the first accredited Bachelor of Fine Arts (BFA) at an HBCU in North Carolina; second in the nation.

Black Nativity performances

The Theatre Arts Program is nationally ranked by Black Broadway as one of the top five Theatre Arts programs for African American students

Travis Alexander

Travis W. Alexander has been named National Conductor for the 105 Voices Of History National Concert Choir