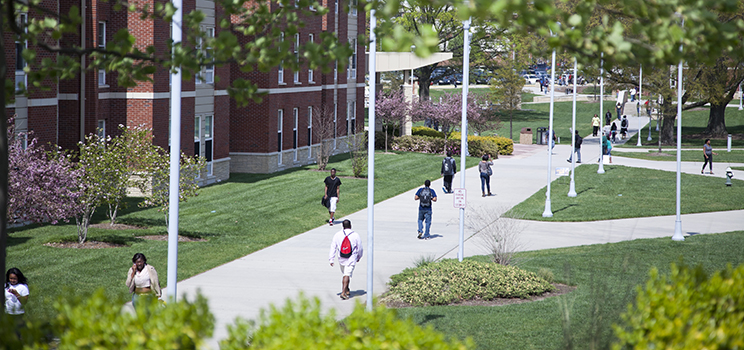 N.C. A&T Enrolls Largest Student Body Ever With Growth at All Levels
EAST GREENSBORO, N.C. (Aug. 30, 2017) -- Enrollment at North Carolina Agricultural and Technical State University surged to 11,877 in the fall term that just began, expanding the student body to its largest size ever and adding significantly to a growth trend that began in 2013, school officials announced Wednesday.
The growth rate this fall of 6.3 percent means that over the past five years, N.C. A&T has added more than 1,300 students in direct response to A&T Preeminence 2020, the institution's strategic plan, which A&T began implementing in 2011. That document calls for the Land Grant university to expand to an overall enrollment of 13,500 over the next three years.
This fall alone adds 700 students to A&T's overall headcount – one of the single biggest increases in A&T history – and almost certainly cements the university's status as America's largest historically black college or university, a status it has held since 2014.
"The growth we're experiencing this fall illustrates how much students, parents and families want to be part of the North Carolina A&T experience," said Chancellor Harold L. Martin Sr. "We deliver an education that not only prepares our students for rewarding careers in an increasingly competitive global marketplace, we deeply value each and every individual who entrusts us with that responsibility. Our students know that their success matters here."
The university's growth was driven in large part by 2,309 new freshmen, the largest first-year class in N.C. A&T history, as well as its most academically accomplished, with an average GPA of 3.51, average SAT score of 1,023 and average ACT of 20.
And that's not all. The university also enrolled 822 new transfer students, up from 730 last year, and 1,536 students at the masters and doctoral levels, up from 1,509 last year. Rated a doctoral university with higher research activity by the Carnegie Foundation, A&T offers undergraduate and graduate degree programs in a wide breadth of disciplines, with nationally recognized strengths in STEM education.
A&T's enrollment growth comes not only in the university's traditional student base, but in all other racial and ethnic demographics. While 78 percent of this fall's student body is African American, the remaining 22 percent represent other races and ethnicities. About 7 percent of this year's student body is white, a little more than 4 percent is Hispanic and over 3 percent are international students from a wide range of racial and ethnic backgrounds.
University leaders say prospective students are increasingly drawn by educational opportunities at A&T in programs such as Engineering, Nursing and Biology, as well as by the return on investment for an A&T education. Earlier this year, for instance, the compensation analysis firm PayScale released data showing that A&T graduates earn more right out of school than those of all but one other North Carolina public university.
A&T's relentless drive toward fulfillment of Preeminence 2020 is resulting in some of the plan's goals already being realized, three years ahead of schedule. For instance, the strategic plan set an undergraduate enrollment goal of 10,000 by 2020, which the university has now surpassed, with 10,341 undergrads enrolled this fall.
Another goal calls for A&T to award 500 degrees annually across science, technology, engineering and math disciplines. Last year, the university awarded more than 660.
The university is not only growing by attracting new students, but by retaining those already enrolled. The percentage of first-year students who continued this fall from the 2016 cohort, for instance, increased by 3.5 percent over the cohort for the prior year.
To accommodate the university's planned expansion, A&T is adding to its campus facilities. Under construction since 2014, the 150,000-square foot Student Center will open in the spring, providing a new home for student services, organizations, meeting rooms and amenities in a complex that will be the campus's largest building.
Later this fall, demolition will begin to make way for the $90-million Engineering Research and Innovation Complex (ERIC), a facility made possible by the Connect NC bond referendum that voters passed in 2016. ERIC will be the primary home for the A&T College of Engineering, which already produces more African American engineers than any university in the nation.
Other facilities are due to be built or renovated in coming years, including additional student housing. Likewise, the university is planning additional degree programs that will further diversify its academic programs at the undergraduate and graduate levels. 
"This is truly an exciting time to be an Aggie," Martin said. "We are witnessing the benefits of the hard work invested by our faculty, staff, students and alumni, as well as the guidance of our Board of Trustees and the investment of our private supporters. And there's much more work to be done."  
Points of Pride
Largest HBCU

N.C. A&T is the largest public HBCU in the nation

Engineering

N.C. A&T is the No. 1 producer of engineering degrees on the undergraduate level awarded to African Americans.

Admired CEO

Chancellor Harold Martin Sr. is named among the Triad's Most Admired CEOs by the Triad Business Journal.

Academic Excellence

The university's Center for Academic Studies in Identify Science is the first and only National Intelligence Science and Technology CASIS in the United States.

Higher Research Activity

N.C. A&T is classified as an R2: Doctoral University of Higher Research Activity by the prestigious Carnegie Classification of Institutions of Higher Education.

Teaching / Research

N.C. A&T is the highest-ranked public school for combining research and teaching by the Wall Street Journal.

Engineering Professor and Student

N.C. A&T is an inaugural and pioneering tenant of the innovative Union Square Partnership for healthcare training.
2016 MEAC Champs

N.C. A&T Women's Basketball team are the 2016 MEAC Champions

Bowl Champs

Aggies win 2015 Inaugural Air Force Reserve Celebration Bowl and Black National Championship.

Tarik Cohen

Running back Tarik Cohen broke the university and MEAC record becoming the MEAC all-time leading rusher.

Hall of Fame

The 1968 Aggies football team was inducted into the N.C. A&T Sports Hall of Fame as the first A&T team to win a black college national championship.

Aggie Track & Field

Three track & field athletes are named to the NCAA All-Academic team for excellence in their events and in the classroom; maintaining a minimum 3.25 GPA.

Kim Terrell-Kearney

Former professional bowler Kim Terrell-Kearney named N.C. A&T bowling coach

Track & Field Ranking

The United States Track & Field and Cross Country Coaches Association ranked A&T men's track and field team among the top-25 in program history.
Gail Wiggins

JOMC Professor Gail Wiggins selected as the NABJ Educator of the Year

PALO! Lyceum Series

The Band PALO! performed at N.C. A&T for the Lyceum Series

CD - Jazz Preeminence

A&T Theatre arts performs first production of "Radio Golf" by African American playwright August Wilson.

Theatre

The Theatre Program at A&T was the first accredited Bachelor of Fine Arts (BFA) at an HBCU in North Carolina; second in the nation.

Black Nativity performances

The Theatre Arts Program is nationally ranked by Black Broadway as one of the top five Theatre Arts programs for African American students

Travis Alexander

Travis W. Alexander has been named National Conductor for the 105 Voices Of History National Concert Choir