Rhodes Appointed Interim Dean of College of Arts, Humanities and Social Sciences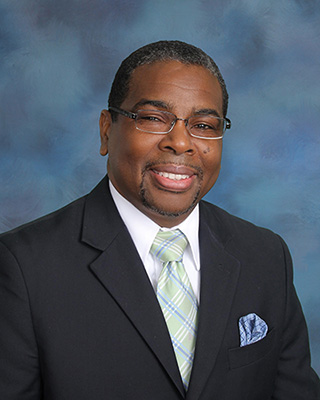 Greensboro, N.C. (July 20, 2017) - Craig Rhodes, Ph.D., has been appointed interim dean for the College of Arts, Humanities and Social Sciences at North Carolina Agricultural and Technical State University, Provost Joe B. Whitehead Jr. announced today. Rhodes' appointment was effective July 17, 2017.
Rhodes had been serving as special assistant to the provost, a position that included managing faculty affairs, developing and implementing faculty policy and regulations and managing the tenure and promotion process.   
Rhodes previously led other major campus initiatives, such as the NCAA Athletic Recertification Committee and the Carnegie Foundation for the Advancement of Teaching Elective Community Engagement Classification Task Force.           
As interim dean, Rhodes will serve as the chief academic and administrative officer of the College of Arts, Humanities and Social Sciences. He will be responsible for the overall administration of academic and research programs within the college. 
His additional responsibilities include oversight of student recruitment and retention; budgetary management and resource allocation; faculty and staff development; evaluation and assessment of academic programs; accreditation oversight as appropriate; providing vision, direction and oversight for strategic planning; development of relationships with external constituencies and internal units; and maintaining the high academic and research standards of the college. 
Rhodes was selected as an American Council on Education (ACE) Fellow during the 2012-13 year. The ACE Fellows Program is designed to strengthen institutions and leadership in American higher education, by identifying and preparing promising senior faculty and administrators for responsible positions in college and university administration. 
In 2002, Rhodes joined North Carolina A&T in the Master of Science program in Training and Development for Industry housed in the former School of Technology. He earned his doctorate in education from the University of Minnesota, specializing in Workplace Education from the Department of Work, Community and Family Education, which is now the Department of Organizational Leadership, Policy and Development. Rhodes is also a two-time graduate of North Carolina A&T with a Bachelor of Science in Industrial Technology (electronics) and a Master of Science in Technology Teacher Education. 
The College of Arts, Humanities and Social Sciences was created last year as part of the university's academic reorganization. It includes academic units previously included in the College of Arts and Sciences, including the Departments of English, History, Journalism and Mass Communication, Liberal Studies, Political Science and Criminal Justice and Visual and Performing Arts. 
During the new college's initial year, Gloria Jones-Johnson, Ph.D., served as interim dean. The university is thankful for her leadership and service throughout that time.
Points of Pride
Largest HBCU

N.C. A&T is the largest public HBCU in the nation

Engineering

N.C. A&T is the No. 1 producer of engineering degrees on the undergraduate level awarded to African Americans.

Admired CEO

Chancellor Harold Martin Sr. is named among the Triad's Most Admired CEOs by the Triad Business Journal.

Academic Excellence

The university's Center for Academic Studies in Identify Science is the first and only National Intelligence Science and Technology CASIS in the United States.

Higher Research Activity

N.C. A&T is classified as an R2: Doctoral University of Higher Research Activity by the prestigious Carnegie Classification of Institutions of Higher Education.

Teaching / Research

N.C. A&T is the highest-ranked public school for combining research and teaching by the Wall Street Journal.

Engineering Professor and Student

N.C. A&T is an inaugural and pioneering tenant of the innovative Union Square Partnership for healthcare training.
2016 MEAC Champs

N.C. A&T Women's Basketball team are the 2016 MEAC Champions

Bowl Champs

Aggies win 2015 Inaugural Air Force Reserve Celebration Bowl and Black National Championship.

Tarik Cohen

Running back Tarik Cohen broke the university and MEAC record becoming the MEAC all-time leading rusher.

Hall of Fame

The 1968 Aggies football team was inducted into the N.C. A&T Sports Hall of Fame as the first A&T team to win a black college national championship.

Aggie Track & Field

Three track & field athletes are named to the NCAA All-Academic team for excellence in their events and in the classroom; maintaining a minimum 3.25 GPA.

Kim Terrell-Kearney

Former professional bowler Kim Terrell-Kearney named N.C. A&T bowling coach

Track & Field Ranking

The United States Track & Field and Cross Country Coaches Association ranked A&T men's track and field team among the top-25 in program history.
Gail Wiggins

JOMC Professor Gail Wiggins selected as the NABJ Educator of the Year

PALO! Lyceum Series

The Band PALO! performed at N.C. A&T for the Lyceum Series

CD - Jazz Preeminence

A&T Theatre arts performs first production of "Radio Golf" by African American playwright August Wilson.

Theatre

The Theatre Program at A&T was the first accredited Bachelor of Fine Arts (BFA) at an HBCU in North Carolina; second in the nation.

Black Nativity performances

The Theatre Arts Program is nationally ranked by Black Broadway as one of the top five Theatre Arts programs for African American students

Travis Alexander

Travis W. Alexander has been named National Conductor for the 105 Voices Of History National Concert Choir