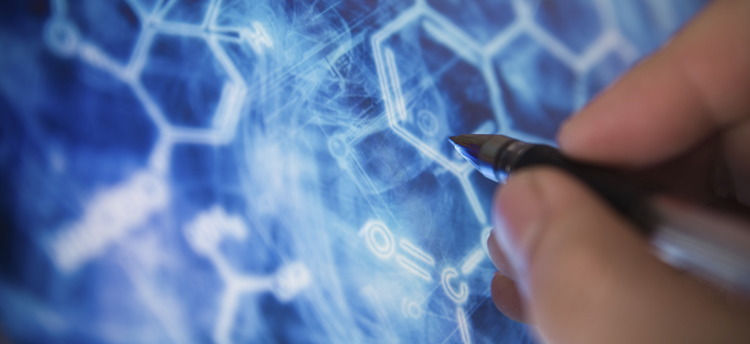 North Carolina A&T Logs Record Year in Sponsored Research Awards: $62.5 Million
GREENSBORO, N.C. (July 20, 2017) – Already the state's third most productive public research university, North Carolina Agricultural and Technical State University took in a school-record $62.5 million in research contracts and grants in 2016-17, school leaders announced today.
External research funding at North Carolina A&T now has more than tripled over the past 16 years, growing from $18.4 million in 2001 to $62.5 million in 2017. The supermajority of A&T research awards come from federal sources -- the most competitive arena for research funding. 
The growth also comes during a period in which federal spending on research decreased as a percentage of national gross domestic product and during which across-the-board budget cuts caused by sequestration produced significant decreases in available research funding.  
"The outstanding work of our faculty not only brought in more support for our research programs than in any previous year, but made significant contributions to the advancement of science, particularly in the STEM disciplines in which A&T's work is so well known," said Chancellor Harold L. Martin Sr.
"As we prepare to begin construction on a new engineering complex and continue to realize more of the research benefits from last year's academic reorganization, we hope to build on this new milestone, delivering even more scientific, educational and economic impact in the months and years ahead."  
Principal investigators received 259 awards across campus from such federal funders as the National Science Foundation, the National Institutes of Health, the U.S. Department of Agriculture, NASA, the U.S. Department of Defense, the U.S. Department of Labor and the U.S. Department of Education. Support from private sources came from Intel, Duke Energy, Honeywell, the Merck Company Foundation, Lockheed Martin, Science Applications International Corp. and a range of other partners.
Those awards not only benefit the research in question and the university, but the local and state economies, as well. A study published in 2014 in the journal Science, for instance, showed that about 30 percent of federal research funding is spent on local vendors for goods and services – about half of that in the university's home county and about half in its home state.  
Among the many A&T projects driving growth in 2016-17:
Steven Knisley, Ph.D., chair of Chemical, Biological and Bioengineering in the College of Engineering, was awarded a $2-million grant through the National Science Foundation to create a N.C. A&T-based "RED Team," which aims to revolutionize how engineering curriculum is taught at the college level. 
Goldie Byrd, Ph.D., who holds the Nathan F. Simms Endowed Professorship in Biology and directs The Center for Outreach in Alzheimer's, Aging and Community Health, received a $2-million grant from the Merck Foundation to address literacy, care management, training and research in Alzheimer's and other aging-related diseases. Byrd is also principal investigator on a collaborative project on academic leadership in STEM disciplines that received $225,183 in funding from the National Science Foundation. 
Kimberly Erwin, Ph.D., Department of Educator Preparation in the College of Education, is principal investigator on a project that aims to increase the number of highly-qualified teachers produced for high-need K-12 public schools in rural communities that are often under resourced. The U.S. Department of Education funded the project with a $3.6-million grant. 
Agriculture. More than one-third of the total sponsored research funding at N.C. A&T supports research programs in the College of Agriculture and Environmental Sciences where researchers develop new and improved techniques for growing crops, poultry and livestock, as well as functional uses of foods and biomass for energy. These projects impact not only local and state farmers, but have global agricultural economy applications.
"Our faculty are competing for research support at the highest levels with peers from across the country, and their growing success is transforming our scientific programs," said Barry Burks, vice president for Research and Economic Development at A&T. "In addition to the vital scientific questions they are answering, faculty researchers are contributing to the growth of our research centers, helping our graduate programs grow and playing a strong role in enhancing the university's standing and reputation nationwide. I'm very proud of their success."
Points of Pride
Largest HBCU

N.C. A&T is the largest public HBCU in the nation

Engineering

N.C. A&T is the No. 1 producer of engineering degrees on the undergraduate level awarded to African Americans.

Admired CEO

Chancellor Harold Martin Sr. is named among the Triad's Most Admired CEOs by the Triad Business Journal.

Academic Excellence

The university's Center for Academic Studies in Identify Science is the first and only National Intelligence Science and Technology CASIS in the United States.

Higher Research Activity

N.C. A&T is classified as an R2: Doctoral University of Higher Research Activity by the prestigious Carnegie Classification of Institutions of Higher Education.

Teaching / Research

N.C. A&T is the highest-ranked public school for combining research and teaching by the Wall Street Journal.

Engineering Professor and Student

N.C. A&T is an inaugural and pioneering tenant of the innovative Union Square Partnership for healthcare training.
2016 MEAC Champs

N.C. A&T Women's Basketball team are the 2016 MEAC Champions

Bowl Champs

Aggies win 2015 Inaugural Air Force Reserve Celebration Bowl and Black National Championship.

Tarik Cohen

Running back Tarik Cohen broke the university and MEAC record becoming the MEAC all-time leading rusher.

Hall of Fame

The 1968 Aggies football team was inducted into the N.C. A&T Sports Hall of Fame as the first A&T team to win a black college national championship.

Aggie Track & Field

Three track & field athletes are named to the NCAA All-Academic team for excellence in their events and in the classroom; maintaining a minimum 3.25 GPA.

Kim Terrell-Kearney

Former professional bowler Kim Terrell-Kearney named N.C. A&T bowling coach

Track & Field Ranking

The United States Track & Field and Cross Country Coaches Association ranked A&T men's track and field team among the top-25 in program history.
Gail Wiggins

JOMC Professor Gail Wiggins selected as the NABJ Educator of the Year

PALO! Lyceum Series

The Band PALO! performed at N.C. A&T for the Lyceum Series

CD - Jazz Preeminence

A&T Theatre arts performs first production of "Radio Golf" by African American playwright August Wilson.

Theatre

The Theatre Program at A&T was the first accredited Bachelor of Fine Arts (BFA) at an HBCU in North Carolina; second in the nation.

Black Nativity performances

The Theatre Arts Program is nationally ranked by Black Broadway as one of the top five Theatre Arts programs for African American students

Travis Alexander

Travis W. Alexander has been named National Conductor for the 105 Voices Of History National Concert Choir