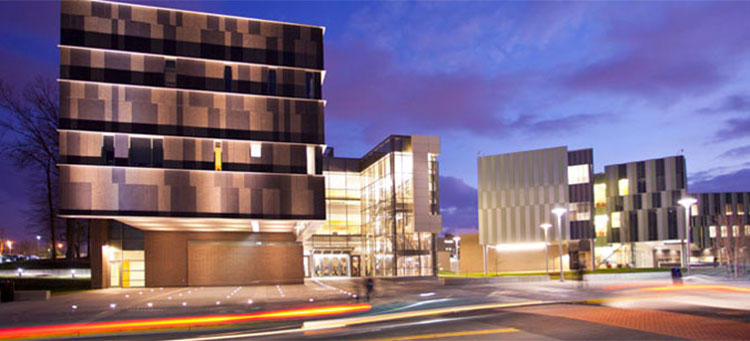 $300K in Scholarships Headed to N.C. A&T's CEd Through Tom Joyner Foundation Partnership
Greensboro, N.C. (July 21, 2017) The College of Education (CEd) at North Carolina Agricultural and Technical State University has partnered with the Tom Joyner Foundation Inc. through the Tom Joyner Teacher Quality Initiative (TQI). The partnership, valued at $300,000 will provide 50 scholarships for individuals with bachelor's degrees in science, technology, engineering and mathematics (STEM) to pursue a Master of Arts in teaching at North Carolina A&T.
This award will increase the number of highly qualified STEM high school teachers produced for public schools in Alamance-Burlington Schools, Davidson County Schools, Guilford County Schools, and Randolph County Schools.
"Faculty and staff in the College of Education are extremely excited about our partnership with the Tom Joyner Foundation as it provides funding for prospective graduate candidates who want to teach STEM content in our public schools in the Piedmont Triad area," said Dr. Anthony Graham, dean of the College of Education.
TQI is a collaborative partnership with historically black colleges and universities to help remove the barriers for individuals striving to obtain their initial teaching certification. The partnership with N.C. A&T initiates a new approach for this initiative as it focuses intentionally on producing classroom teachers with master's degrees who have strong content knowledge, enhanced cultural competence, and diverse teaching skills; whereas, in years past TQI placed a strong emphasis on helping HBCU students obtain undergraduate degrees.
"This award will provide scholarship funds to highly-qualified graduate candidates who pursue Master of Arts in Teaching STEM for high-need schools in our immediate community who truly desire to positively impact student learning. As a college, we are committed to equity, access, and advocacy as we strive to prepare teacher leaders who will produce career and college-ready high school students," adds Graham.
In 2016, CEd was awarded a $3.6 million grant to increase the number of highly qualified teachers produced for high-need K-12 public schools in rural communities.
The TQI initiative coupled with A&T's rural residency program, provides CEd the necessary funding to strengthen its capacity and quality of STEM-oriented graduate degree programs, the ability to credential highly-qualified teachers for rural areas and the number of overall graduate student enrollment.
The College of Education at North Carolina A&T State University offers the MAT degree in 13 disciplines, among them biology, chemistry, mathematics and technology education.
Recent college graduates, current lateral entry STEM teachers, paraprofessionals, and individuals who may be interested in changing their current career are encouraged to contact the College of Education to learn more about this partnership at collegeofed@ncat.edu or call 336-334-7757.
Points of Pride
Largest HBCU

N.C. A&T is the largest public HBCU in the nation

Engineering

N.C. A&T is the No. 1 producer of engineering degrees on the undergraduate level awarded to African Americans.

Admired CEO

Chancellor Harold Martin Sr. is named among the Triad's Most Admired CEOs by the Triad Business Journal.

Academic Excellence

The university's Center for Academic Studies in Identify Science is the first and only National Intelligence Science and Technology CASIS in the United States.

Higher Research Activity

N.C. A&T is classified as an R2: Doctoral University of Higher Research Activity by the prestigious Carnegie Classification of Institutions of Higher Education.

Teaching / Research

N.C. A&T is the highest-ranked public school for combining research and teaching by the Wall Street Journal.

Engineering Professor and Student

N.C. A&T is an inaugural and pioneering tenant of the innovative Union Square Partnership for healthcare training.
2016 MEAC Champs

N.C. A&T Women's Basketball team are the 2016 MEAC Champions

Bowl Champs

Aggies win 2015 Inaugural Air Force Reserve Celebration Bowl and Black National Championship.

Tarik Cohen

Running back Tarik Cohen broke the university and MEAC record becoming the MEAC all-time leading rusher.

Hall of Fame

The 1968 Aggies football team was inducted into the N.C. A&T Sports Hall of Fame as the first A&T team to win a black college national championship.

Aggie Track & Field

Three track & field athletes are named to the NCAA All-Academic team for excellence in their events and in the classroom; maintaining a minimum 3.25 GPA.

Kim Terrell-Kearney

Former professional bowler Kim Terrell-Kearney named N.C. A&T bowling coach

Track & Field Ranking

The United States Track & Field and Cross Country Coaches Association ranked A&T men's track and field team among the top-25 in program history.
Gail Wiggins

JOMC Professor Gail Wiggins selected as the NABJ Educator of the Year

PALO! Lyceum Series

The Band PALO! performed at N.C. A&T for the Lyceum Series

CD - Jazz Preeminence

A&T Theatre arts performs first production of "Radio Golf" by African American playwright August Wilson.

Theatre

The Theatre Program at A&T was the first accredited Bachelor of Fine Arts (BFA) at an HBCU in North Carolina; second in the nation.

Black Nativity performances

The Theatre Arts Program is nationally ranked by Black Broadway as one of the top five Theatre Arts programs for African American students

Travis Alexander

Travis W. Alexander has been named National Conductor for the 105 Voices Of History National Concert Choir