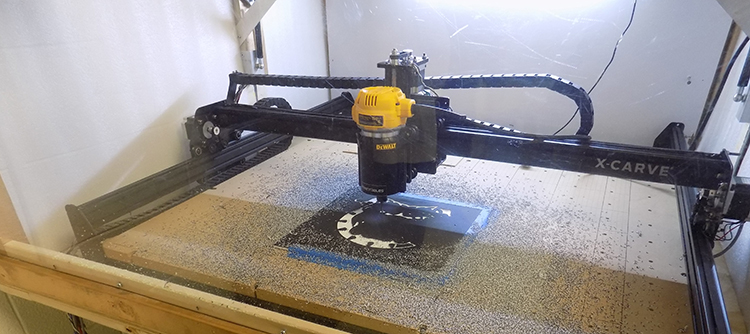 From Ideate to Create: A&T Students Bring Their Classroom Theory to Life
Students at North Carolina Agricultural and Technical State University aren't waiting until they graduate and obtain the perfect job to bring their innovative ideas to life. Through an on-campus makerspace, they are designing, manufacturing and producing the very things they learn about in the classroom.
"Makerspaces are places where people with ideas are able to develop and make prototypes and work with others to solve problems or potential problems," said Dr. John Kelly, professor and chair of the Department of Electrical and Computer Engineering. "It's a space where ideas are advanced to the point of actualization."
Currently referred to as the College of Engineering Makerspace until an official naming ceremony at the beginning of the 2017-18 academic year, the makerspace is designed and run completely by students. In fact, Kelly says the students initiated the project.
"The space that existed before was "maker-like" but was called the Robotics Club. Students said they wanted this type of environment," said Kelly. "Many students want the practical and tangible rewards of learning how to do the skills that we are teaching them. This is that place where no one tells you what to do. It's the grown-up equivalent of a sandbox. If someone has always wanted to make a wooden clock; come in and make one."
For their diligence, hard work and determination, the students have been able to outfit the makerspace with state-of-the-art 3-D printers, a 3-D mill, super computers loaded with professional design software, hand tools, raw materials, laser printers, smartboards, LCD projectors, and even cameras for documentation purposes.
"I'm so proud of the students who planned it because they knew what they wanted and needed in the space and they made sure that's what we bought," said Dr. Robin Coger, dean of the College of Engineering. "This just means that the students will be able to execute their ideas apart from the classroom. There are things they want to design and we're just trying to help develop an environment to support their dreams."
Jaclyn Siler-Dearring and Princeton Perry were the primary visionaries behind the makerspace. They combined their personal strengths, devised a plan, secured and set-up the equipment and layout and established protocol for the room.
"Princeton is the technical person. I'm the program director," said Siler-Dearring, who recently received a Master of Science in Biomedical Engineering. After researching and planning, she says they decided on "what would be best for students to ideate and create." "Princeton is the brain behind which equipment we would need. He even built the mill himself."
"The room used to be more of a storage closet. It looks nothing like that now. The students were very hands on, even putting down carpet."
Perry had previously gotten his feet wet at The Forge, a local makerspace in Greensboro. The experience he gained proved to be extremely beneficial.
"My vision was simply to implement what I wished I had when I was a freshman. I wanted to be more hands-on. Now we have that opportunity," said Perry, a junior Electrical Engineering major. "For example, students can upload a file and change a block of wood into what's on that file. Like take a block of wood and turn it into a guitar."
The duo devised a set of standards and procedures for the makerspace, but also instituted a system that employs the expertise of student "super users."
"We will always have two super users in the lab at a time. Those are students who have been trained on all of the equipment and will assist any student or faculty member interested in using the makerspace," added Siler-Dearring.
Although the makerspace is housed in the College of Engineering (McNair Hall, room 121), it is open to all N.C. A&T students and faculty, with the caveat that there must be an engineering student working with them while in the room.  
Once a schedule has been devised, Siler-Dearring, Perry and many of the super users will begin to offer pop-up classes for students or faculty who have an idea, but lack the technical skills to operate the machines.
Points of Pride
Largest HBCU

N.C. A&T is the largest public HBCU in the nation

Engineering

N.C. A&T is the No. 1 producer of engineering degrees on the undergraduate level awarded to African Americans.

Admired CEO

Chancellor Harold Martin Sr. is named among the Triad's Most Admired CEOs by the Triad Business Journal.

Academic Excellence

The university's Center for Academic Studies in Identify Science is the first and only National Intelligence Science and Technology CASIS in the United States.

Higher Research Activity

N.C. A&T is classified as an R2: Doctoral University of Higher Research Activity by the prestigious Carnegie Classification of Institutions of Higher Education.

Teaching / Research

N.C. A&T is the highest-ranked public school for combining research and teaching by the Wall Street Journal.

Engineering Professor and Student

N.C. A&T is an inaugural and pioneering tenant of the innovative Union Square Partnership for healthcare training.
2016 MEAC Champs

N.C. A&T Women's Basketball team are the 2016 MEAC Champions

Bowl Champs

Aggies win 2015 Inaugural Air Force Reserve Celebration Bowl and Black National Championship.

Tarik Cohen

Running back Tarik Cohen broke the university and MEAC record becoming the MEAC all-time leading rusher.

Hall of Fame

The 1968 Aggies football team was inducted into the N.C. A&T Sports Hall of Fame as the first A&T team to win a black college national championship.

Aggie Track & Field

Three track & field athletes are named to the NCAA All-Academic team for excellence in their events and in the classroom; maintaining a minimum 3.25 GPA.

Kim Terrell-Kearney

Former professional bowler Kim Terrell-Kearney named N.C. A&T bowling coach

Track & Field Ranking

The United States Track & Field and Cross Country Coaches Association ranked A&T men's track and field team among the top-25 in program history.
Gail Wiggins

JOMC Professor Gail Wiggins selected as the NABJ Educator of the Year

PALO! Lyceum Series

The Band PALO! performed at N.C. A&T for the Lyceum Series

CD - Jazz Preeminence

A&T Theatre arts performs first production of "Radio Golf" by African American playwright August Wilson.

Theatre

The Theatre Program at A&T was the first accredited Bachelor of Fine Arts (BFA) at an HBCU in North Carolina; second in the nation.

Black Nativity performances

The Theatre Arts Program is nationally ranked by Black Broadway as one of the top five Theatre Arts programs for African American students

Travis Alexander

Travis W. Alexander has been named National Conductor for the 105 Voices Of History National Concert Choir