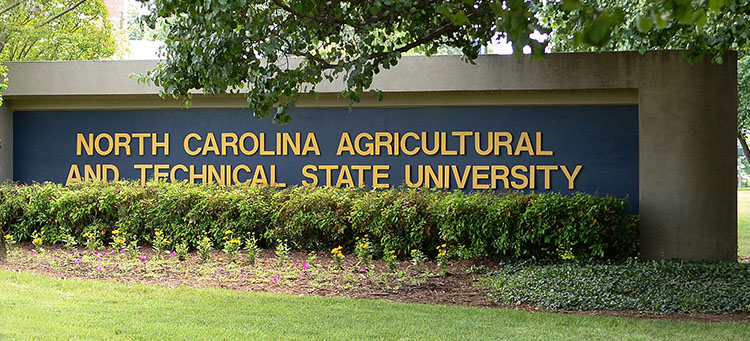 Intel Invests in N.C. A&T to Support More Students in STEM Pathways; Six HBCUs Will Share $4.5 Million in Grant Funding
GREENSBORO, N.C. – Thanks to more than $1 million in grant funding from Intel, a group of North Carolina Agricultural and Technical State University undergraduate and graduate students will receive two-year scholarships to continue their education in computer science, computer engineering and electrical engineering.
On June 27, Intel unveiled a three-year, $4.5 million HBCU grant program to encourage students at six historically black colleges and universities – Florida A&M University, Howard University, Morgan State University, North Carolina A&T, Prairie View A&M University and Tuskegee University – to remain in STEM pathways.
That scholarship support will have substantial impact at A&T, which produces more African American engineers than any university in America at the undergraduate, masters and doctoral levels. In addition to scholarships, the grant will fund student programs and labs, workshops and research experiences.
"Intel has provided an outstanding opportunity for our students," Chancellor Harold L. Martin Sr. said. "Investments like these enable N.C. A&T to continue the work of preparing our students to meet the global demand for highly qualified STEM leaders."
In addition to the funding for A&T, Intel's grant will provide $600,000 for workshops and activities to better prepare HBCU students to enter the competitive, high-tech workforce. The remaining $2.9 million will be divided among the five additional universities.
"It is an honor to collaborate with our friends at Intel to enhance the competitiveness of our computer science, electrical engineering, and computer engineering programs," said A&T College of Engineering Dean Robin Coger. "We look forward to what this support will make possible for our students."
In January 2015, Intel set a goal of achieving full representation of women and underrepresented minorities in the U.S. workforce by 2020. The Fortune 100 Company committed $300 million to support that goal and the Diversity in Technology initiative to improve diversity and inclusion across the tech industry.
This grant funding is the latest piece of the partnership between Intel and N.C. A&T that began more than 16 months ago. Intel hosted a reception for College of Engineering graduating seniors in the spring, provided representatives to serve as judges for the sixth annual senior design expo and spent time discussing career paths and prospects with the company.
The first cohort of Intel Innovation Scholars will be announced at the start of the 2017-18 academic year.
Points of Pride
Largest HBCU

N.C. A&T is the largest public HBCU in the nation

Engineering

N.C. A&T is the No. 1 producer of engineering degrees on the undergraduate level awarded to African Americans.

Admired CEO

Chancellor Harold Martin Sr. is named among the Triad's Most Admired CEOs by the Triad Business Journal.

Academic Excellence

The university's Center for Academic Studies in Identify Science is the first and only National Intelligence Science and Technology CASIS in the United States.

Higher Research Activity

N.C. A&T is classified as an R2: Doctoral University of Higher Research Activity by the prestigious Carnegie Classification of Institutions of Higher Education.

Teaching / Research

N.C. A&T is the highest-ranked public school for combining research and teaching by the Wall Street Journal.

Engineering Professor and Student

N.C. A&T is an inaugural and pioneering tenant of the innovative Union Square Partnership for healthcare training.
2016 MEAC Champs

N.C. A&T Women's Basketball team are the 2016 MEAC Champions

Bowl Champs

Aggies win 2015 Inaugural Air Force Reserve Celebration Bowl and Black National Championship.

Tarik Cohen

Running back Tarik Cohen broke the university and MEAC record becoming the MEAC all-time leading rusher.

Hall of Fame

The 1968 Aggies football team was inducted into the N.C. A&T Sports Hall of Fame as the first A&T team to win a black college national championship.

Aggie Track & Field

Three track & field athletes are named to the NCAA All-Academic team for excellence in their events and in the classroom; maintaining a minimum 3.25 GPA.

Kim Terrell-Kearney

Former professional bowler Kim Terrell-Kearney named N.C. A&T bowling coach

Track & Field Ranking

The United States Track & Field and Cross Country Coaches Association ranked A&T men's track and field team among the top-25 in program history.
Gail Wiggins

JOMC Professor Gail Wiggins selected as the NABJ Educator of the Year

PALO! Lyceum Series

The Band PALO! performed at N.C. A&T for the Lyceum Series

CD - Jazz Preeminence

A&T Theatre arts performs first production of "Radio Golf" by African American playwright August Wilson.

Theatre

The Theatre Program at A&T was the first accredited Bachelor of Fine Arts (BFA) at an HBCU in North Carolina; second in the nation.

Black Nativity performances

The Theatre Arts Program is nationally ranked by Black Broadway as one of the top five Theatre Arts programs for African American students

Travis Alexander

Travis W. Alexander has been named National Conductor for the 105 Voices Of History National Concert Choir