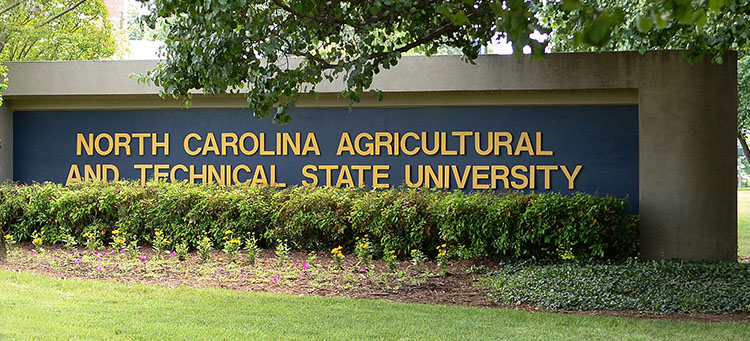 Fifteen N.C. A&T Students Selected for Governor's HBCU Internship Program
Greensboro, N.C. (June 1, 2017) – Fifteen North Carolina Agricultural and Technical State University students have been selected to participate in the North Carolina Governor's HBCU Internship Program this summer.
Fifty-two students were chosen from 10 of North Carolina's historically black colleges and universities (HBCUs). North Carolina A&T participants include Kamiliah Walker, Cameron Hughes, Justice Oliver, Christopher Martin, Jada Wade, Kourtney Smith, Derek Edwards, Cameron Scott, Kierra Jenkins, Shalay Nelson, Michael Goodson, Darius Phillips, Angelique Barnes, Jarrett Gatling and Kyra Paterson. The students represent a wide range of academic disciplines, majors and programs.
Created in 2015, the program places students from North Carolina HBCUs in many of the state's best-known companies. Students gain real-world work experience, increasing their competitiveness in the ever-changing job market, and companies have a chance to work with exceptional young individuals who may be part of their future workforce. By design, the program expands academic and professional opportunities in hopes of retaining new college graduates in North Carolina for private sector growth.
"The North Carolina Governor's HBCU Internship Program has become an important resource for the state's HBCU students to gain valuable experience while working at some of North Carolina's top companies," said UNC System President Margaret Spellings. "These internships often translate into future job opportunities for the participants, while giving North Carolina employers the opportunity to recruit from a more diverse, better-trained group of college graduates."
Internships are a vital link between students' academic preparation and their postgraduate careers and professional advancement.
The Office of Career Services at N.C. A&T annually brings in more than 700 employers to campus and provides more than 15,000 position announcements yearly to the university's students. The North Carolina Governor's HBCU Internship Program takes those interactions a step further and places students in hands-on, career-driven opportunities. 
Five universities in the University of North Carolina system were selected to participate in the internship program this summer: N.C. A&T, Elizabeth City State University, Fayetteville State University, North Carolina Central University and Winston-Salem State University. Additional participating schools are Bennett College, Saint Augustine's University, Livingstone College, Shaw University and Johnson C. Smith University.
This year's corporate partners are Aramark, Bank of America, Blue Cross Blue Shield, Century 21, Cisco, DRS Technologies, Duke Energy, Financial Capital, GP Supply Company, Growth Management Services, Loring Corporation, Harrah's Resort, Heery International, Herbalife, NC Mutual Life Insurance, Millennium Sports Group, NC Mutual, O2 Fitness, One Accord Service, Red Hat, RTI, Skanska, Subject2Change, TIAA, United Way, Wells Fargo, VistaBution, and Xerox.
The program began May 18 and runs throug Aug. 12. Participating students are rising juniors or seniors, have a minimum cumulative GPA of at least 2.8, are active in student and national organizations, have exceptional communication skills and familiarity with common software platforms.
Points of Pride
Largest HBCU

N.C. A&T is the largest public HBCU in the nation

Engineering

N.C. A&T is the No. 1 producer of engineering degrees on the undergraduate level awarded to African Americans.

Admired CEO

Chancellor Harold Martin Sr. is named among the Triad's Most Admired CEOs by the Triad Business Journal.

Academic Excellence

The university's Center for Academic Studies in Identify Science is the first and only National Intelligence Science and Technology CASIS in the United States.

Higher Research Activity

N.C. A&T is classified as an R2: Doctoral University of Higher Research Activity by the prestigious Carnegie Classification of Institutions of Higher Education.

Teaching / Research

N.C. A&T is the highest-ranked public school for combining research and teaching by the Wall Street Journal.

Engineering Professor and Student

N.C. A&T is an inaugural and pioneering tenant of the innovative Union Square Partnership for healthcare training.
2016 MEAC Champs

N.C. A&T Women's Basketball team are the 2016 MEAC Champions

Bowl Champs

Aggies win 2015 Inaugural Air Force Reserve Celebration Bowl and Black National Championship.

Tarik Cohen

Running back Tarik Cohen broke the university and MEAC record becoming the MEAC all-time leading rusher.

Hall of Fame

The 1968 Aggies football team was inducted into the N.C. A&T Sports Hall of Fame as the first A&T team to win a black college national championship.

Aggie Track & Field

Three track & field athletes are named to the NCAA All-Academic team for excellence in their events and in the classroom; maintaining a minimum 3.25 GPA.

Kim Terrell-Kearney

Former professional bowler Kim Terrell-Kearney named N.C. A&T bowling coach

Track & Field Ranking

The United States Track & Field and Cross Country Coaches Association ranked A&T men's track and field team among the top-25 in program history.
Gail Wiggins

JOMC Professor Gail Wiggins selected as the NABJ Educator of the Year

PALO! Lyceum Series

The Band PALO! performed at N.C. A&T for the Lyceum Series

CD - Jazz Preeminence

A&T Theatre arts performs first production of "Radio Golf" by African American playwright August Wilson.

Theatre

The Theatre Program at A&T was the first accredited Bachelor of Fine Arts (BFA) at an HBCU in North Carolina; second in the nation.

Black Nativity performances

The Theatre Arts Program is nationally ranked by Black Broadway as one of the top five Theatre Arts programs for African American students

Travis Alexander

Travis W. Alexander has been named National Conductor for the 105 Voices Of History National Concert Choir