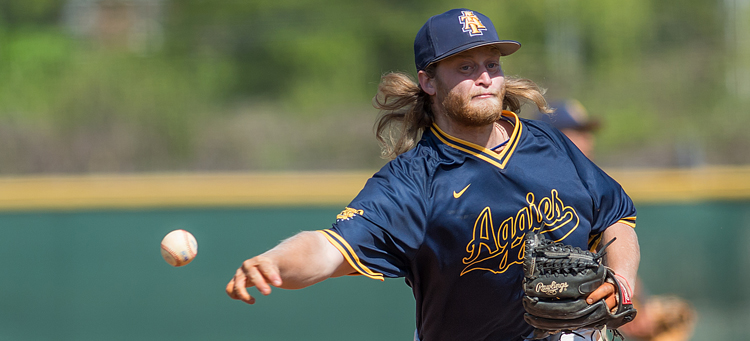 Braves select N.C. A&T pitcher Cutter Dyals In MLB Draft
GREENSBORO– North Carolina A&T pitcher Cutter Noah Dyals (5-foot-11, 200, JR, Tampa, Fla.) sat with his immediate family as he watched and listened online to the Atlanta Braves select him 500th overall in the 17th round of the 2017 Major League Baseball Draft. While he heard the most exciting news of his life with that family, he spent the moments after talking about another family.
"Nothing could have been better for me this year than to go to North Carolina A&T," an excited Dyals said. "I want to give a shot out to my coaches, the A&T staff, Ms. Katrina Allen (Center for Academic Excellence coordinator), just the whole A&T family for getting me through this year. They got me through all the good and the bad."
Two days before Dyals was scheduled to attend N.C. A&T, his father Garry Dyals died. A devastated Dyals had a hard time adjusting to a new environment while grieving. Despite the difficulties, Dyals said many people from N.C. A&T stood by him and a wave support continued to flow his way.
"That meant the world to me," said Dyals. "The support was coming from everywhere – the staff, my teachers, my coaches – it felt like family. There was nothing like it. They hung in there with me and helped me through the whole nine years."
Dyals, 21, becomes the 19th player in program history to be selected in the MLB draft. The last Aggie selected was Luke Tendler in 2014. Dyals knew his dream of being drafted was close to coming true when he received a call from Braves scout Billy Best Tuesday night. Dyals said Best's message was 'It could happen at any time.' From there, Dyals had to agonizingly wait with his fingers crossed the whole time, he described. Approximately at 1:20 p.m., Wednesday, the wait was over.
"It is a big honor to be selected in the major league baseball draft," said N.C. A&T coach Ben Hall. "It is testament to his work ethic. I've said many times; I wouldn't trade him for any reliever in the country. He is one of the most dominant pitchers I've seen pitch in the back end of a game. He has a highly competitive nature to the way he plays the game, which plays a major part in how successful he is. Kudos to him."
Dyals spent one season with the Aggies after transferring from Eastern Florida State Community College. He piqued the interest of MLB scouts with his ability to throw strikes and keep hitters off balance. Dyals finished the 2017 season with an impressive 0.50 earned run average. Out of the 20 runners he inherited, only six have scored. In 20 appearances, he is 6-0 this season with seven saves and 40 strikeouts in 36 innings pitched.
Opponents only batted .190 against Dyals this season. He only gave up seven hits in 48 at-bats (.146) with runners in scoring position, while striking out 19 of those batters in the process. Right-handers hit only .183 (15-for-82) against Dyals and struck out 28 times. Dyals ended the season by earning first-team All-MEAC honors and he was on the Midseason Watch List for the 13th annual National Collegiate Baseball Writers Association Stopper of the Year Award.
"This is another sign of where our program is," said Hall. "I'm excited that young men are coming in here and not only showing talent and ability, but they are developing. They're putting themselves in position to attract professional opportunities."
Dyals' Aggie family and his immediate family may not have to wait long to see him pitch. Dyals could be in uniform for an Atlanta Braves minor league baseball affiliate by next week.
Points of Pride
Largest HBCU

N.C. A&T is the largest public HBCU in the nation

Engineering

N.C. A&T is the No. 1 producer of engineering degrees on the undergraduate level awarded to African Americans.

Admired CEO

Chancellor Harold Martin Sr. is named among the Triad's Most Admired CEOs by the Triad Business Journal.

Academic Excellence

The university's Center for Academic Studies in Identify Science is the first and only National Intelligence Science and Technology CASIS in the United States.

Higher Research Activity

N.C. A&T is classified as an R2: Doctoral University of Higher Research Activity by the prestigious Carnegie Classification of Institutions of Higher Education.

Teaching / Research

N.C. A&T is the highest-ranked public school for combining research and teaching by the Wall Street Journal.

Engineering Professor and Student

N.C. A&T is an inaugural and pioneering tenant of the innovative Union Square Partnership for healthcare training.
2016 MEAC Champs

N.C. A&T Women's Basketball team are the 2016 MEAC Champions

Bowl Champs

Aggies win 2015 Inaugural Air Force Reserve Celebration Bowl and Black National Championship.

Tarik Cohen

Running back Tarik Cohen broke the university and MEAC record becoming the MEAC all-time leading rusher.

Hall of Fame

The 1968 Aggies football team was inducted into the N.C. A&T Sports Hall of Fame as the first A&T team to win a black college national championship.

Aggie Track & Field

Three track & field athletes are named to the NCAA All-Academic team for excellence in their events and in the classroom; maintaining a minimum 3.25 GPA.

Kim Terrell-Kearney

Former professional bowler Kim Terrell-Kearney named N.C. A&T bowling coach

Track & Field Ranking

The United States Track & Field and Cross Country Coaches Association ranked A&T men's track and field team among the top-25 in program history.
Gail Wiggins

JOMC Professor Gail Wiggins selected as the NABJ Educator of the Year

PALO! Lyceum Series

The Band PALO! performed at N.C. A&T for the Lyceum Series

CD - Jazz Preeminence

A&T Theatre arts performs first production of "Radio Golf" by African American playwright August Wilson.

Theatre

The Theatre Program at A&T was the first accredited Bachelor of Fine Arts (BFA) at an HBCU in North Carolina; second in the nation.

Black Nativity performances

The Theatre Arts Program is nationally ranked by Black Broadway as one of the top five Theatre Arts programs for African American students

Travis Alexander

Travis W. Alexander has been named National Conductor for the 105 Voices Of History National Concert Choir