A&T Students Win Major National Prizes at the Kennedy Center American College Theatre Festival
Greensboro, N.C. (May 22, 2017) – A sophomore Theatre Arts major from North Carolina Agricultural and Technical State University won the prestigious Irene Ryan National Acting Scholarship Competition recently at the Kennedy Center American College Theatre Festival in Washington, D.C.
Ashton Ross's performance earned him $5,000 in scholarship funds, as well national recognition in the college theater community. He is the second A&T student to win the competition; Melodie Garrett was the first, 30 years ago. His acting partner, J'laney Jenkins, 23, of Leland, North Carolina, who graduated from A&T earlier this month with a Bachelor of Science in Journalism and Mass Communication, earned a $1,000 scholarship in his support role.
Ross also won the coveted National Partners of the American Theatre Classical Acting Award. That award comes with a three-week residency at the internationally renowned Shaw Festival including travel, lodging and meals.
A 26-year-old native of Houston, Texas, Ross pursued a decidedly different path to his acting. He came to A&T as an Urban and Community Horticulture major. But his stage talent was so notable, faculty in the A&T Theatre Program encouraged him to consider changing majors, which he did in fall 2016.
In doing so, he also had to weigh the demands of acting work on his health. Ross battles Crohn's disease, a chronic intestinal disorder for which there is no cure that can cause severe abdominal pain. Ross is open about his struggles with the disease, and credits A&T Student Health Center staff with providing strong support for his health needs during his time at the university.
Ross's prize-winning performances included a classical monologue from Shakespeare's "Othello," as well as excerpts from two black contemporary works: "Topdog/Underdog" by Suzan-Lori Parks and "One Monkey Don't Stop No Show" by Don Evans.
Ross noted that only one other monologue from a black playwright was performed in the competition – by a University of Oklahoma student, who also won a scholarship – and that all three performances culminated in prizes. "I say this to encourage budding playwrights, screenwriters and novelists of color to continue writing and telling stories that are unique to us," he said.
"I take no credit for the work that was done on stage. I honor the guidance of my ancestors and my faith for leading me to victory," said Ross. "It still has not fully set in that I accomplished such an incredible feat, but I'm grateful and humbled, nonetheless. As an independent, out-of-state and non-traditional student, I greatly appreciate the funding provided by the Irene Ryan Foundation for this win.
"Lastly, I want to thank my partner J'Laney for his hard work and dedication throughout this process. Without him, the win would not have been possible. 
In addition to his $1,000 scholarship from the Irene Ryan competition, Jenkins took second place in the Mark Twain Scholarship for Comic Performance Awards and another $500 scholarship, as well as the Kingsley Colton Award for Outstanding Partner, a $500 cash prize sponsored by the Actors Equity Foundation.
The awards were presented during the festival, which ran April 17 – 22 at the Kennedy Center. This was the 45th year for the Irene Ryan competition, which is named for the acclaimed stage, motion picture and TV actor best known for her iconic role as Granny on "The Beverly Hillbillies," which ran on CBS from 1962-1971. The show continues to be televised daily around the world in syndication.
The Irene Ryan competition is perhaps the most prestigious for college actors. The American College Theatre Festival this year involved more than 18,000 student actors from universities and colleges around the country.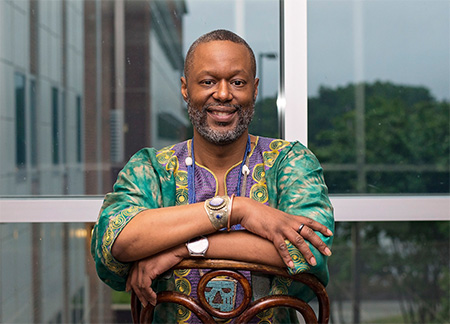 Ross and Jenkins were coached by Darius Omar Williams, Ph.D., the N.C. A&T Theatre Arts program director. Williams is also executive director of A&T's Paul Robeson Theatre. As an additional part of Ross's prize, he will attend the acclaimed Shaw Theatre Festival during the month of July in Ontario, Canada. 
"It was a joy to work with both Ashton and J'laney. We simply focused on doing the work, and never broached the idea of this being a competition," said Williams. "For Ashton, in particular, to win a national classical acting award in his first year as a theater student is so rewarding. But both of these young men have an openness, a sense of discipline and all the other tools necessary to be successful in their craft."
A&T's Theatre Arts Program is one of only two at historically black colleges and universities where students have won the Irene Ryan competition. 
About Kennedy Center American College Theatre Festival
Started in 1969 by Roger L. Stevens, the Kennedy Center's founding chairman, Kennedy Center American College Theatre Festival (KCACTF) is a national theatre program involving 18,000 students from colleges and universities nationwide. It has served as a catalyst in improving the quality of college theatre in the United States. KCACTF has grown into a network of more than 600 academic institutions throughout the country, where theatre departments and student artists showcase their work and receive outside assessment by KCACTF respondents.
Points of Pride
Largest HBCU

N.C. A&T is the largest public HBCU in the nation

Engineering

N.C. A&T is the No. 1 producer of engineering degrees on the undergraduate level awarded to African Americans.

Admired CEO

Chancellor Harold Martin Sr. is named among the Triad's Most Admired CEOs by the Triad Business Journal.

Academic Excellence

The university's Center for Academic Studies in Identify Science is the first and only National Intelligence Science and Technology CASIS in the United States.

Higher Research Activity

N.C. A&T is classified as an R2: Doctoral University of Higher Research Activity by the prestigious Carnegie Classification of Institutions of Higher Education.

Teaching / Research

N.C. A&T is the highest-ranked public school for combining research and teaching by the Wall Street Journal.

Engineering Professor and Student

N.C. A&T is an inaugural and pioneering tenant of the innovative Union Square Partnership for healthcare training.
2016 MEAC Champs

N.C. A&T Women's Basketball team are the 2016 MEAC Champions

Bowl Champs

Aggies win 2015 Inaugural Air Force Reserve Celebration Bowl and Black National Championship.

Tarik Cohen

Running back Tarik Cohen broke the university and MEAC record becoming the MEAC all-time leading rusher.

Hall of Fame

The 1968 Aggies football team was inducted into the N.C. A&T Sports Hall of Fame as the first A&T team to win a black college national championship.

Aggie Track & Field

Three track & field athletes are named to the NCAA All-Academic team for excellence in their events and in the classroom; maintaining a minimum 3.25 GPA.

Kim Terrell-Kearney

Former professional bowler Kim Terrell-Kearney named N.C. A&T bowling coach

Track & Field Ranking

The United States Track & Field and Cross Country Coaches Association ranked A&T men's track and field team among the top-25 in program history.
Gail Wiggins

JOMC Professor Gail Wiggins selected as the NABJ Educator of the Year

PALO! Lyceum Series

The Band PALO! performed at N.C. A&T for the Lyceum Series

CD - Jazz Preeminence

A&T Theatre arts performs first production of "Radio Golf" by African American playwright August Wilson.

Theatre

The Theatre Program at A&T was the first accredited Bachelor of Fine Arts (BFA) at an HBCU in North Carolina; second in the nation.

Black Nativity performances

The Theatre Arts Program is nationally ranked by Black Broadway as one of the top five Theatre Arts programs for African American students

Travis Alexander

Travis W. Alexander has been named National Conductor for the 105 Voices Of History National Concert Choir