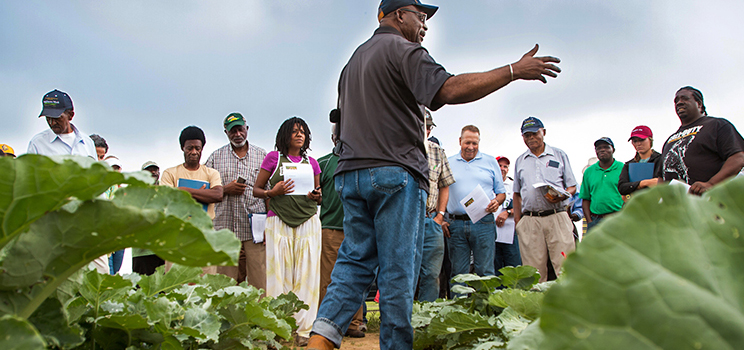 Industrial Hemp Part of the Focus at A&T Field Day June 15
Greensboro, N.C. (May 24, 2017)  - Gone for about 70 years, industrial hemp is poised to make a comeback in North Carolina.
Farmers and the public are invited to learn more about the state's industrial hemp pilot program at the 16th annual Small Farms Field Day, 8 a.m.-1 p.m., June 15, at the North Carolina Agricultural and Technical State University Farm, 3136 McConnell Road in Greensboro.
Sponsored by The Cooperative Extension Program at N.C. A&T, the event shows farmers and gardeners how to increase food productivity, maximize income and promote environmental stewardship. The general public is encouraged to attend the free, rain-or-shine event, as well.
Following recent changes to federal and state laws, industrial hemp is again becoming a profitable crop in the U.S. with uses including food, dietary supplements, paper, textiles, clothing, biodegradable plastics, biofuel and animal feed. The Hemp Industries Association estimates the 2015 U.S. retail market for hemp products was more than $570 million.
"Its potential is huge. Industrial hemp can do a lot of things," said Dr. Guochen Yang, a professor at N.C. A&T and a member of the Industrial Hemp Commission. "You can grow it for seeds, or you can grow it for fiber." Yang will be available at Small Farms Field Day to answer questions about what farmers must do to grow industrial hemp.
The N.C. General Assembly in 2015 legalized industrial-hemp production and established a pilot program to help small farmers generate income by growing the crop. The law was updated in 2016 to establish a pilot research program using the faculty expertise at N.C. A&T and N.C. State University, the state's two land-grant institutions.
In addition to providing information about growing hemp, this year's Field Day will include demonstrations of:
Insect screening and trellising for high-tunnel organics
High tunnel ginger production
Small-scale organic pecan production
Converting agricultural and food wastes into energy
Artificial insemination of beef cattle: the basics
Pasture pork production and management
Displays and posters will feature information about using multifunctional operations to improve long-term profits, nutrition, staying productive and injury-free after a disability, soil health, pollinator protection, homemade yogurt, food by-products and weight loss, the safety of grape-derived products and shelling eggs safely.
For more information or to register, contact Alexis Gaines at ajgaines@ncat.edu or 336-285-4661. 
Points of Pride
Largest HBCU

N.C. A&T is the largest public HBCU in the nation

Engineering

N.C. A&T is the No. 1 producer of engineering degrees on the undergraduate level awarded to African Americans.

Admired CEO

Chancellor Harold Martin Sr. is named among the Triad's Most Admired CEOs by the Triad Business Journal.

Academic Excellence

The university's Center for Academic Studies in Identify Science is the first and only National Intelligence Science and Technology CASIS in the United States.

Higher Research Activity

N.C. A&T is classified as an R2: Doctoral University of Higher Research Activity by the prestigious Carnegie Classification of Institutions of Higher Education.

Teaching / Research

N.C. A&T is the highest-ranked public school for combining research and teaching by the Wall Street Journal.

Engineering Professor and Student

N.C. A&T is an inaugural and pioneering tenant of the innovative Union Square Partnership for healthcare training.
2016 MEAC Champs

N.C. A&T Women's Basketball team are the 2016 MEAC Champions

Bowl Champs

Aggies win 2015 Inaugural Air Force Reserve Celebration Bowl and Black National Championship.

Tarik Cohen

Running back Tarik Cohen broke the university and MEAC record becoming the MEAC all-time leading rusher.

Hall of Fame

The 1968 Aggies football team was inducted into the N.C. A&T Sports Hall of Fame as the first A&T team to win a black college national championship.

Aggie Track & Field

Three track & field athletes are named to the NCAA All-Academic team for excellence in their events and in the classroom; maintaining a minimum 3.25 GPA.

Kim Terrell-Kearney

Former professional bowler Kim Terrell-Kearney named N.C. A&T bowling coach

Track & Field Ranking

The United States Track & Field and Cross Country Coaches Association ranked A&T men's track and field team among the top-25 in program history.
Gail Wiggins

JOMC Professor Gail Wiggins selected as the NABJ Educator of the Year

PALO! Lyceum Series

The Band PALO! performed at N.C. A&T for the Lyceum Series

CD - Jazz Preeminence

A&T Theatre arts performs first production of "Radio Golf" by African American playwright August Wilson.

Theatre

The Theatre Program at A&T was the first accredited Bachelor of Fine Arts (BFA) at an HBCU in North Carolina; second in the nation.

Black Nativity performances

The Theatre Arts Program is nationally ranked by Black Broadway as one of the top five Theatre Arts programs for African American students

Travis Alexander

Travis W. Alexander has been named National Conductor for the 105 Voices Of History National Concert Choir