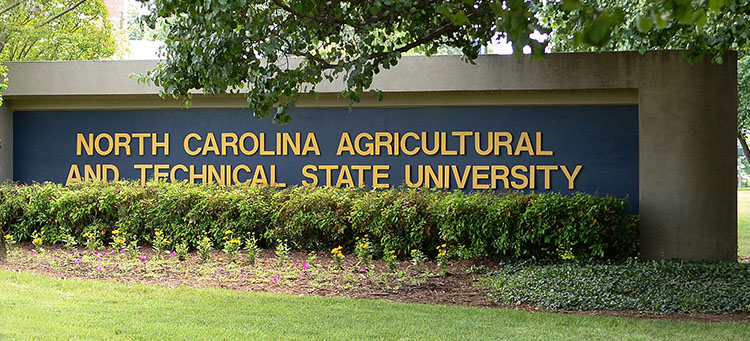 Engineering Students Now Able to Earn Masters Degrees in 1 Year at N.C. A&T
Greensboro, N.C. (May 5, 2017) - As the global technology sector expands, more highly-skilled professionals are in demand. The College of Engineering (COE) at North Carolina Agricultural and Technical State University is helping graduates and companies meet that demand by offering an intensive, one-year Master of Science degree for each of its engineering programs.
For complete information on the programs, including details on how to apply for admissions, visit http://www.ncat.edu/coe/prospective-students/1yearMS/index.html.
One-year master's degrees will be offered in bioengineering, chemical engineering, civil engineering, electrical engineering, industrial /systems engineering and mechanical engineering, as well as computer science. The programs are accepting applications now for admission in the fall semester.
"Our College of Engineering departments made the decision to ensure that our degrees were cost-effective from the student point-of-view," said engineering Dean Robin Coger. "Now that a student can earn a master's degree in any of our departments with only a one-year commitment, it quickens the time in which students are able to graduate and apply the knowledge they gain for the benefit of their careers."
From a student's perspective, the benefits of enrolling in the one-year program are multi-faceted. Completing the degree roughly twice as quickly as with traditional programs minimizes the amount of time that the student is juggling academic responsibilities with work and life priorities. Students can not only use their new knowledge and degrees in the workplace more quickly, in many cases they may experience salary benefits tied to educational attainment.
Additionally, international students interested in pursuing Optional Practical Training in the U.S. can become eligible for it in only 12 months of graduate U.S. study.
These programs are ideal for continuing students with a bachelors degrees in engineering or  computer science who wish to go deeper into their fields, as well as working professionals interested in developing additional expertise and expanding their career prospects.
The one-year track is designed to follow the requirements of a course-only option and requires no thesis. Conversely, standard M.S. programs are completed in as little as 18 months and no more than six years and typically do require a thesis.
The new program offerings require students to begin in the fall semester and complete in the summer of the following year. The 30-credit programs require the completion of a total of 10 graduate courses.
Each one-year program will prepare students to work in various specialized areas of nearly every industry from manufacturing to hospitals and medical institutions to research facilities. Graduates will also find demand in such areas as software development, graphic design, water treatment, government agencies, academia, power plants, retail and cyber security.
Points of Pride
Largest HBCU

N.C. A&T is the largest public HBCU in the nation

Engineering

N.C. A&T is the No. 1 producer of engineering degrees on the undergraduate level awarded to African Americans.

Admired CEO

Chancellor Harold Martin Sr. is named among the Triad's Most Admired CEOs by the Triad Business Journal.

Academic Excellence

The university's Center for Academic Studies in Identify Science is the first and only National Intelligence Science and Technology CASIS in the United States.

Higher Research Activity

N.C. A&T is classified as an R2: Doctoral University of Higher Research Activity by the prestigious Carnegie Classification of Institutions of Higher Education.

Teaching / Research

N.C. A&T is the highest-ranked public school for combining research and teaching by the Wall Street Journal.

Engineering Professor and Student

N.C. A&T is an inaugural and pioneering tenant of the innovative Union Square Partnership for healthcare training.
2016 MEAC Champs

N.C. A&T Women's Basketball team are the 2016 MEAC Champions

Bowl Champs

Aggies win 2015 Inaugural Air Force Reserve Celebration Bowl and Black National Championship.

Tarik Cohen

Running back Tarik Cohen broke the university and MEAC record becoming the MEAC all-time leading rusher.

Hall of Fame

The 1968 Aggies football team was inducted into the N.C. A&T Sports Hall of Fame as the first A&T team to win a black college national championship.

Aggie Track & Field

Three track & field athletes are named to the NCAA All-Academic team for excellence in their events and in the classroom; maintaining a minimum 3.25 GPA.

Kim Terrell-Kearney

Former professional bowler Kim Terrell-Kearney named N.C. A&T bowling coach

Track & Field Ranking

The United States Track & Field and Cross Country Coaches Association ranked A&T men's track and field team among the top-25 in program history.
Gail Wiggins

JOMC Professor Gail Wiggins selected as the NABJ Educator of the Year

PALO! Lyceum Series

The Band PALO! performed at N.C. A&T for the Lyceum Series

CD - Jazz Preeminence

A&T Theatre arts performs first production of "Radio Golf" by African American playwright August Wilson.

Theatre

The Theatre Program at A&T was the first accredited Bachelor of Fine Arts (BFA) at an HBCU in North Carolina; second in the nation.

Black Nativity performances

The Theatre Arts Program is nationally ranked by Black Broadway as one of the top five Theatre Arts programs for African American students

Travis Alexander

Travis W. Alexander has been named National Conductor for the 105 Voices Of History National Concert Choir