Zuckerberg, Students Shine in Debut Chancellor's Town Hall Dialogue
From exploring the role social media can play in healing America's divides to increasing diversity in the tech industry to combatting Islamophobia online, North Carolina Agricultural and Technical State University students engaged Facebook founder and CEO Mark Zuckerberg in a wide-ranging and thoughtful conversation as part of the inaugural Chancellor's Town Hall on March 13.
The new series was created to bring nationally distinguished guests to Greensboro for dialogue on matters of current and abiding importance to the campus community and the world beyond. Securing the leader of the platform that was the catalyst for the global social media revolution as the debut speaker made for an exciting start to what promises to be a consistently high-impact forum.
Casual in jeans and a t-shirt, Zuckerberg spoke from a "theater-in-the-round" space in the Alumni Foundation Events Center, a giant A&T logo prominently decorating the floor, with nearly 200 of A&T's best and brightest students seated around him. But thanks to Facebook Live and the archive of the broadcast, the event was seen by many more users around the world – 3.65 million and counting, as of this writing.
Zuckerberg started the Town Hall sharing about a personal challenge he has undertaken this year – to explore deeply the idea of community. An essay he published on the topic on Feb. 16, "Building Global Community," has received enormous international attention.
He recognized some of the prominent communities at A&T, calling out the university's nation-leading status in graduation of African American engineers and history of community around social justice and the A&T Four. He even offered a tentative, "Agg-ie Priiiide!" and a self-deprecating apology for "what must have been the worst accent that anyone said that in who has ever stepped foot on this campus." 
Though there were plenty of lighter moments after that, the conversation took on a much more serious tone, with immediate questions about Facebook's responsibilities for identifying threats to community and for policing fake news propagated by many on the social media platform. Zuckerberg said despite Facebook's enormous reach – 1.86 billion users around the world – it can't solve such problems on its own. But that doesn't mean they're off the hook. 
"I do believe we have a responsibility to do our best to help build some of that infrastructure that helps people come together, starting at the local level, building movements, doing good stuff and eventually making a difference globally," he said, calling "building tools that empower people around the world" one of the "next big things that we do."
Setting up that high-profile dialogue was one of the many big things that A&T leadership has undertaken this year. As a high-impact public research university that is also the nation's largest HBCU, A&T serves as an intellectual hub for exploration of issues of major importance to higher education, as well as concerns of ongoing importance to the African American community. 
President Obama famously took up many of those issues in his nationally televised forum with A&T students last fall on ESPN's "The Undefeated" platform, which the sports and entertainment network touts as the premier media space "for exploring the intersections of race, sports and culture."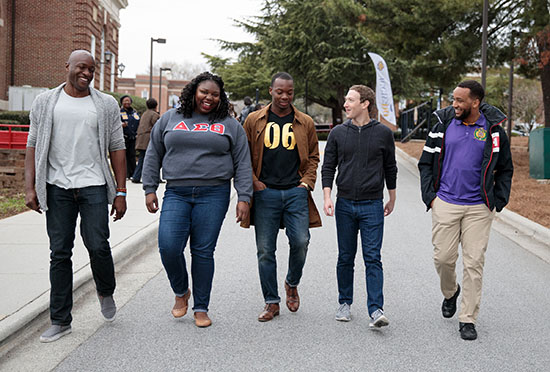 Democratic presidential nominee Hillary Clinton followed President Obama with a surprise appearance at A&T in the final days of her historic 2016 campaign. Taking the stage at a homecoming pep rally, the former first lady, U.S. senator and secretary of state talked about the importance of participating in elections.
Such high-profile campus visits make events like Zuckerberg's participation in the Chancellor's Town Hall more viable, as they underscore the singular setting that A&T provides for such discussions.
A&T's growing ties to Silicon Valley through a steady stream of interns, fellows and new alumni going to major tech concerns there, for instance, provided a substantial context for third-year doctoral student Zithobile Nxumalo's question on what students of color can do to better navigate the entrepreneurial world and be included in leadership in the tech community. 
Zuckerberg appreciated the idea, but said tech businesses need to take primary ownership for that challenge. 
"That responsibility rests on us," Zuckberg said. "There's so much research that shows that you need diverse teams to do the best work. It's important that we do better on diversity not only because it's the right thing to do for the country and for people, but because it's the only way we're going to serve our community the best." 
The conversation felt as though it could have continued for several more hours, but organizers drew it to an end after 60 minutes. After the live stream concluded, students swarmed around Zuckerberg for a group selfie, with the Facebook chief and Chancellor Harold L. Martin Sr. smiling side by side in the middle of the crowd.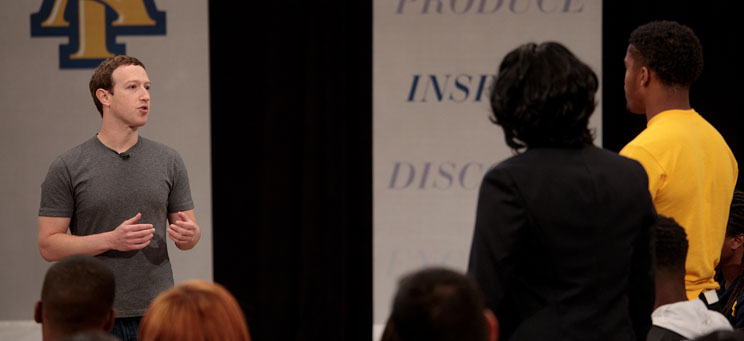 Media coverage of the event shined a global spotlight on the university. Zuckerberg's appearance not only drew coverage from every print and broadcast outlet in the Piedmont Triad, but from such well-known international media organizations as Fortune, CNBC, the International Business Times, Yahoo! Finance, The Hill, Business Insider Huffington Post, Entrepreneur and many more.  
After the Town Hall, Zuckerberg met privately with student leaders of campus Greek organizations to learn more about their traditions of community service and lifelong relationships. And three days after the event, he posted a group of photos from his time at A&T on his Mark's Year of Travel page on Facebook, so that his nearly 80,000 followers as well as the 87 million followers of his main page could learn more about his Aggieland experience. 
With the first installation of the Chancellor's Town Hall a rousing success, university leaders say to expect more high-profile participants in that series to be announced later this year. 
Points of Pride
Largest HBCU

N.C. A&T is the largest public HBCU in the nation

Engineering

N.C. A&T is the No. 1 producer of engineering degrees on the undergraduate level awarded to African Americans.

Admired CEO

Chancellor Harold Martin Sr. is named among the Triad's Most Admired CEOs by the Triad Business Journal.

Academic Excellence

The university's Center for Academic Studies in Identify Science is the first and only National Intelligence Science and Technology CASIS in the United States.

Higher Research Activity

N.C. A&T is classified as an R2: Doctoral University of Higher Research Activity by the prestigious Carnegie Classification of Institutions of Higher Education.

Teaching / Research

N.C. A&T is the highest-ranked public school for combining research and teaching by the Wall Street Journal.

Engineering Professor and Student

N.C. A&T is an inaugural and pioneering tenant of the innovative Union Square Partnership for healthcare training.
2016 MEAC Champs

N.C. A&T Women's Basketball team are the 2016 MEAC Champions

Bowl Champs

Aggies win 2015 Inaugural Air Force Reserve Celebration Bowl and Black National Championship.

Tarik Cohen

Running back Tarik Cohen broke the university and MEAC record becoming the MEAC all-time leading rusher.

Hall of Fame

The 1968 Aggies football team was inducted into the N.C. A&T Sports Hall of Fame as the first A&T team to win a black college national championship.

Aggie Track & Field

Three track & field athletes are named to the NCAA All-Academic team for excellence in their events and in the classroom; maintaining a minimum 3.25 GPA.

Kim Terrell-Kearney

Former professional bowler Kim Terrell-Kearney named N.C. A&T bowling coach

Track & Field Ranking

The United States Track & Field and Cross Country Coaches Association ranked A&T men's track and field team among the top-25 in program history.
Gail Wiggins

JOMC Professor Gail Wiggins selected as the NABJ Educator of the Year

PALO! Lyceum Series

The Band PALO! performed at N.C. A&T for the Lyceum Series

CD - Jazz Preeminence

A&T Theatre arts performs first production of "Radio Golf" by African American playwright August Wilson.

Theatre

The Theatre Program at A&T was the first accredited Bachelor of Fine Arts (BFA) at an HBCU in North Carolina; second in the nation.

Black Nativity performances

The Theatre Arts Program is nationally ranked by Black Broadway as one of the top five Theatre Arts programs for African American students

Travis Alexander

Travis W. Alexander has been named National Conductor for the 105 Voices Of History National Concert Choir