N.C. A&T, N.C. Emergency Management Drone Partnership Helps State Prepare for Storm Season
Greensboro, N.C. (March 30, 2017) – As North Carolina prepares for the start of another hurricane season, emergency management officials are taking steps to use unmanned aircraft systems (UAS), or drones, to help them respond to and recover from disasters.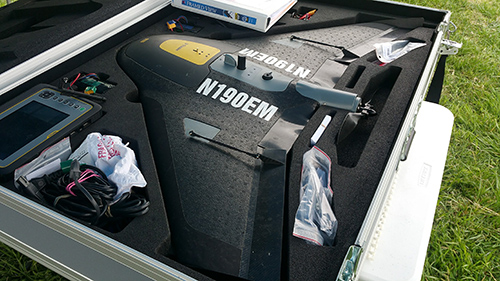 A partnership between the North Carolina Geodetic Survey, North Carolina Emergency Management, and the Geomatics program in the College of Science and Technology at North Carolina Agricultural and Technical State University is strengthening those capabilities by training more remote pilots and visual observers, collecting and processing aerial imagery of the state and supporting drone research. The work takes place on the N.C. A&T University Farm, a 492-acre site in Greensboro, where drones fly, pilots and observers learn and researchers look for ways to improve drone technology.
Hurricane Matthew's impact shone a spotlight last October on the deep need for this technology. Wind, heavy rains and flooding from the storm caused 28 deaths, closed hundreds of roads including sections of I-95, and prompted power outages for more than 800,000 customers. The Lumber, Neuse and Tar rivers crested at record levels, and flooding made roads inaccessible in numerous eastern North Carolina counties.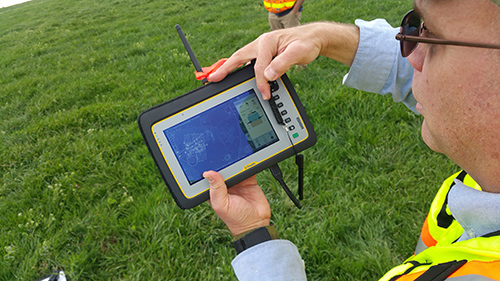 When flooded areas and washed out roads prevented emergency responders from reaching impacted residents, structures and infrastructure, drones played a modest role in the recovery. Telecommunications and insurance companies, for instance, used the technology to search for damage and check cellular sites for connectivity. A stranded veteran and his dog were located, thanks to a drone image of his flooded neighborhood circulated on social media.
"We're only beginning to scratch the surface of how we may be able to use UAS technology during emergency response and recovery missions," said North Carolina Emergency Management Director Mike Sprayberry. "Tropical systems and floods are just two scenarios in which drones may play a significant role. Big winter storms, civil disturbance incidents and hazmat spills are all events in which drones might provide helpful intelligence while minimizing risks to lives of first responders and other emergency personnel."
That's why this partnership with N.C. A&T is so important to North Carolina Emergency Management, Sprayberry explained.
A&T is a recognized leader in drone education and research through faculty in both its Colleges of Science and Technology and Engineering. The N.C. A&T Autonomous Control and Information Technology Center, as well as the university's Testing, Evaluation, and Control of Heterogeneous Large-scale Systems of Autonomous Vehicles (TECHLAV) Center and the Geomatics program in Science and Technology each focus on different areas of drone research and education. 
In 2015, A&T was selected by the U.S. Air Force for a $5 million, five-year project to develop control systems for large teams of unmanned autonomous system aircraft. Earlier this year, university researchers began work on a federally supported project to create data-driven intelligent prediction tools for the testing and evaluation of drones.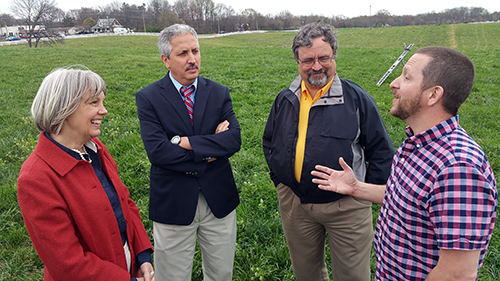 Science and Technology's Geomatics program – part of the Department of Built Environment – is working with North Carolina Emergency Management in an effort to prepare its graduates in the geomatics areas.  Geomatics focuses on the use of measurements to determine locations on the earth's surface and is part of the application of geographic information systems, which are essential to drone operation. N.C. A&T's Geomatics program is the only one in North Carolina that prepares students for professional licensure.
"Partnering with North Carolina Emergency Management helps us to educate and train highly skilled graduates who can enter the workforce with a strong understanding of new and innovative technologies," said N.C. A&T interim Science and Technology Dean Abdellah Ahmidouch. "Supporting their training and practice work at the University Farm provides great benefits for the people of North Carolina, so this is a definite win-win for our organizations and for this state."
Points of Pride
Largest HBCU

N.C. A&T is the largest public HBCU in the nation

Engineering

N.C. A&T is the No. 1 producer of engineering degrees on the undergraduate level awarded to African Americans.

Admired CEO

Chancellor Harold Martin Sr. is named among the Triad's Most Admired CEOs by the Triad Business Journal.

Academic Excellence

The university's Center for Academic Studies in Identify Science is the first and only National Intelligence Science and Technology CASIS in the United States.

Higher Research Activity

N.C. A&T is classified as an R2: Doctoral University of Higher Research Activity by the prestigious Carnegie Classification of Institutions of Higher Education.

Teaching / Research

N.C. A&T is the highest-ranked public school for combining research and teaching by the Wall Street Journal.

Engineering Professor and Student

N.C. A&T is an inaugural and pioneering tenant of the innovative Union Square Partnership for healthcare training.
2016 MEAC Champs

N.C. A&T Women's Basketball team are the 2016 MEAC Champions

Bowl Champs

Aggies win 2015 Inaugural Air Force Reserve Celebration Bowl and Black National Championship.

Tarik Cohen

Running back Tarik Cohen broke the university and MEAC record becoming the MEAC all-time leading rusher.

Hall of Fame

The 1968 Aggies football team was inducted into the N.C. A&T Sports Hall of Fame as the first A&T team to win a black college national championship.

Aggie Track & Field

Three track & field athletes are named to the NCAA All-Academic team for excellence in their events and in the classroom; maintaining a minimum 3.25 GPA.

Kim Terrell-Kearney

Former professional bowler Kim Terrell-Kearney named N.C. A&T bowling coach

Track & Field Ranking

The United States Track & Field and Cross Country Coaches Association ranked A&T men's track and field team among the top-25 in program history.
Gail Wiggins

JOMC Professor Gail Wiggins selected as the NABJ Educator of the Year

PALO! Lyceum Series

The Band PALO! performed at N.C. A&T for the Lyceum Series

CD - Jazz Preeminence

A&T Theatre arts performs first production of "Radio Golf" by African American playwright August Wilson.

Theatre

The Theatre Program at A&T was the first accredited Bachelor of Fine Arts (BFA) at an HBCU in North Carolina; second in the nation.

Black Nativity performances

The Theatre Arts Program is nationally ranked by Black Broadway as one of the top five Theatre Arts programs for African American students

Travis Alexander

Travis W. Alexander has been named National Conductor for the 105 Voices Of History National Concert Choir