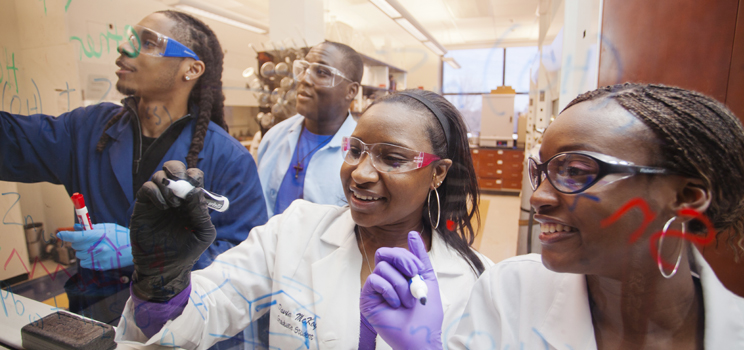 N.C. A&T to Hold Science and Technology Week, March 13-17
Greensboro, N.C. (March 8, 2017) -- Science, technology, engineering and mathematics (STEM) will be on display March 13-17 through the College of Science and Technology at North Carolina Agricultural and Technical State University's presentation of Sci/Tech Week: "STEM: Shaping the Future."
Throughout the week, high school and community college students will tour and witness STEM demonstrations conducted by college students and faculty and interact with professionals from such corporate concerns as IBM, Red Hat, BB&T, Clear Blade, IT-ology, John Deere, Cisco, Dell, Fidelity and others.  
Kicking-off the annual event, Provost Joe B. Whitehead will keynote the opening ceremony and program with the talk, "Futuristic Science and its Impact on Society." Whitehead not only serves as the university's chief academic officer and vice chancellor for the Division of Academic Affairs, but holds a Ph.D. in physics as well.
The eighth-annual Extreme IT Day, will be held Wednesday, March 15, introducing students to new and innovative computing technologies and concepts as well as offering hands-on, interactive exercises and challenges. Ebony Oaks, an alumna of the Department of Computer System Technology, will serve as the day's keynote speaker.
Also, on Wednesday, a STEM Mobile Lab will be available behind Price Hall for students to practice STEM exercises within the lab.
In what has grown to be a major and welcome addition to the week, the Women in Science and Technology luncheon for high school and community partners will close out the week of events, Friday, March 17. The luncheon will feature A&T alumna Dr. Endya Frye, a pediatric resident at the University of North Carolina Hospitals in the Pediatric Primary Care program. Frye expertly connects her scientific background with her passion for service and student development.
Sci/Tech Week gathers approximately 1,600 high school, community college, undergraduate and graduate students as well as the university community and corporate partners to participate in the full week of events. As the world becomes more globalized and dependent upon a knowledge-based economy, STEM preparation is becoming a necessary component of 21st century education. The week-long event offers to educate, inform and display the field of STEM and its place as a career choice.
A full listing of Sci/Tech week is as follows:
Monday, March 13, 5-7 p.m. - Opening Ceremony, keynoted by N.C. A&T Provost Joe B. Whitehead Jr. The Freshmen Innovation Challenge Competition, sponsored by John Deere and General Motors Corporation, will be included.
Wednesday, March 15, 9 a.m. – 5 p.m. - Eighth annual Extreme IT Day 
Friday, March 17, Noon – 2 p.m. - Women in Science and Technology luncheon for high school and community partners.
Major Days
Tuesday, March 14, 9 a.m. – 1 p.m.– Construction Management, Environmental Health and Safety, Geomatics, and Physics.
Wednesday, March 15, 9 a.m. – 1 p.m. – Electronics Technology, Information Technology, and Math.
Thursday, March 16, 9 a.m. – 1 p.m. – Biology and Graphic Communication Systems.
Friday, March 17, 9 a.m. – 1 p.m. – Applied Engineering Technology, Chemistry, and Motorsports Technology.
Each day's demonstrations and tours will be held from 9 a.m. – 1 p.m., Smith Hall, room 2014.
For additional information and to RSVP for any event, call 336-334-7359, or email bcwillis@ncat.edu.
Points of Pride
Largest HBCU

N.C. A&T is the largest public HBCU in the nation

Engineering

N.C. A&T is the No. 1 producer of engineering degrees on the undergraduate level awarded to African Americans.

Admired CEO

Chancellor Harold Martin Sr. is named among the Triad's Most Admired CEOs by the Triad Business Journal.

Academic Excellence

The university's Center for Academic Studies in Identify Science is the first and only National Intelligence Science and Technology CASIS in the United States.

Higher Research Activity

N.C. A&T is classified as an R2: Doctoral University of Higher Research Activity by the prestigious Carnegie Classification of Institutions of Higher Education.

Teaching / Research

N.C. A&T is the highest-ranked public school for combining research and teaching by the Wall Street Journal.

Engineering Professor and Student

N.C. A&T is an inaugural and pioneering tenant of the innovative Union Square Partnership for healthcare training.
2016 MEAC Champs

N.C. A&T Women's Basketball team are the 2016 MEAC Champions

Bowl Champs

Aggies win 2015 Inaugural Air Force Reserve Celebration Bowl and Black National Championship.

Tarik Cohen

Running back Tarik Cohen broke the university and MEAC record becoming the MEAC all-time leading rusher.

Hall of Fame

The 1968 Aggies football team was inducted into the N.C. A&T Sports Hall of Fame as the first A&T team to win a black college national championship.

Aggie Track & Field

Three track & field athletes are named to the NCAA All-Academic team for excellence in their events and in the classroom; maintaining a minimum 3.25 GPA.

Kim Terrell-Kearney

Former professional bowler Kim Terrell-Kearney named N.C. A&T bowling coach

Track & Field Ranking

The United States Track & Field and Cross Country Coaches Association ranked A&T men's track and field team among the top-25 in program history.
Gail Wiggins

JOMC Professor Gail Wiggins selected as the NABJ Educator of the Year

PALO! Lyceum Series

The Band PALO! performed at N.C. A&T for the Lyceum Series

CD - Jazz Preeminence

A&T Theatre arts performs first production of "Radio Golf" by African American playwright August Wilson.

Theatre

The Theatre Program at A&T was the first accredited Bachelor of Fine Arts (BFA) at an HBCU in North Carolina; second in the nation.

Black Nativity performances

The Theatre Arts Program is nationally ranked by Black Broadway as one of the top five Theatre Arts programs for African American students

Travis Alexander

Travis W. Alexander has been named National Conductor for the 105 Voices Of History National Concert Choir