N.C. A&T Student Receives Fulbright Fellowship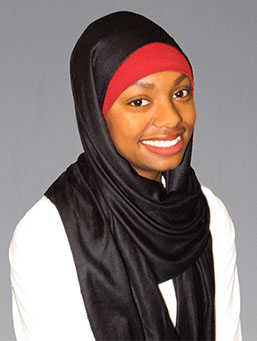 Greensboro, N.C. (March 30, 2017) – As a child, Zainab Ali watched the morning news with her father and paid close attention to the weather report.
"I like the weather – it's cool," she said. "I used to have a fear of thunderstorms and I had to learn 'what's actually happening.' I love storms now."
Her interest in weather led her to attend a meteorology summer camp at North Carolina A&T State University and ultimately enroll as a student. Four years later, Ali is the university's fourth student to receive a prestigious Fulbright fellowship.
Ali, 22, is the recipient of the UK-Fulbright Fellowship award. She will spend the 2017-18 academic years pursing her master of science in applied meteorology at the University of Reading in Reading, Berkshire in the United Kingdom. While she has traveled to the U.K. before, she is looking forward to immersing herself.
"The British are different and I want to get to know the culture," she said. "It will be different living there versus seeing it as a tourist."
In addition to the culture, Ali is also looking forward to research opportunities. The study of severe weather of the region will help the aspiring forecaster learn more about her craft.
"The U.S. and the U.K. are two different regions and I want to learn what happens in those different regions when severe weather happens," Ali said. "Weather varies here from state to state so I know it is going to be differences between the U.K. and the U.S."
In her time at N.C. A&T, Ali did not participate in study abroad but she says her entire childhood was a study abroad experience. When she was 3 years old, the Atlanta, Georgia-born Ali moved with her parents to Africa and the Middle East living in Egypt, Qatar and the United Arab Emirates until she was 18.
"Coming to A&T for college was a culture shock. I had to get used to how things were done, how things are said and how people are," she said. "I've definitely learned a lot about myself."
With most of her dad's family in Greensboro and many of them being A&T alumni, Ali decided to not only attend the family school, she made the most of her time. In her sophomore year, she was awarded the National Oceanic and Atmospheric Administration (NOAA) Educational Partnership Program with Minority Serving Institutions undergraduate scholarship.
The program provides scholarships for rising juniors majoring in STEM fields that relate directly to NOAA's mission. Students receive up to $45,000 in total support that includes travel and conference participation as well as two internships – one at NOAA headquarters in Silver Spring, Maryland, and one at another facility in the U.S. Ali spent her summer in Boulder, Colorado.
Points of Pride
Largest HBCU

N.C. A&T is the largest public HBCU in the nation

Engineering

N.C. A&T is the No. 1 producer of engineering degrees on the undergraduate level awarded to African Americans.

Admired CEO

Chancellor Harold Martin Sr. is named among the Triad's Most Admired CEOs by the Triad Business Journal.

Academic Excellence

The university's Center for Academic Studies in Identify Science is the first and only National Intelligence Science and Technology CASIS in the United States.

Higher Research Activity

N.C. A&T is classified as an R2: Doctoral University of Higher Research Activity by the prestigious Carnegie Classification of Institutions of Higher Education.

Teaching / Research

N.C. A&T is the highest-ranked public school for combining research and teaching by the Wall Street Journal.

Engineering Professor and Student

N.C. A&T is an inaugural and pioneering tenant of the innovative Union Square Partnership for healthcare training.
2016 MEAC Champs

N.C. A&T Women's Basketball team are the 2016 MEAC Champions

Bowl Champs

Aggies win 2015 Inaugural Air Force Reserve Celebration Bowl and Black National Championship.

Tarik Cohen

Running back Tarik Cohen broke the university and MEAC record becoming the MEAC all-time leading rusher.

Hall of Fame

The 1968 Aggies football team was inducted into the N.C. A&T Sports Hall of Fame as the first A&T team to win a black college national championship.

Aggie Track & Field

Three track & field athletes are named to the NCAA All-Academic team for excellence in their events and in the classroom; maintaining a minimum 3.25 GPA.

Kim Terrell-Kearney

Former professional bowler Kim Terrell-Kearney named N.C. A&T bowling coach

Track & Field Ranking

The United States Track & Field and Cross Country Coaches Association ranked A&T men's track and field team among the top-25 in program history.
Gail Wiggins

JOMC Professor Gail Wiggins selected as the NABJ Educator of the Year

PALO! Lyceum Series

The Band PALO! performed at N.C. A&T for the Lyceum Series

CD - Jazz Preeminence

A&T Theatre arts performs first production of "Radio Golf" by African American playwright August Wilson.

Theatre

The Theatre Program at A&T was the first accredited Bachelor of Fine Arts (BFA) at an HBCU in North Carolina; second in the nation.

Black Nativity performances

The Theatre Arts Program is nationally ranked by Black Broadway as one of the top five Theatre Arts programs for African American students

Travis Alexander

Travis W. Alexander has been named National Conductor for the 105 Voices Of History National Concert Choir